One of the Carolina Hurricanes' biggest strengths lies within their defense. Their squad is stacked on the back end and will be for years to come. Yet, quality depth scoring on offense was a shortcoming last season. With such a good core of defenders, should the club subtract from defense to address their lack of scoring?
Canes' Defense
Prospect defender Jake Bean looks like he is nearly ready to join the NHL unit. In his second pro season, the 21-year-old Alberta native amassed 10 goals and 38 assists totaling 48 points in 59 games for AHL affiliate Charlotte Checkers. It was good enough to earn him the Eddie Shore Award, which recognizes the league's best defenseman. Despite this recent success, there is little room in the Hurricanes' top-six defense group next season. They are set already with Jaccob Slavin, Dougie Hamilton, Brady Skjei, Brett Pesce, Jake Gardiner, and Haydn Fleury. Therefore, if Bean is ready to jump into an NHL role, someone will need to be moved.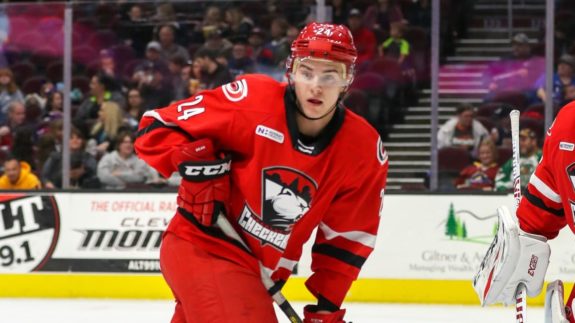 The most logical option to get a good return is to trade Pesce. The right-hander carries a large amount of value around the NHL. He could fetch a solid forward to help increase scoring. The 25-year-old was drafted 66th overall back in 2013 and has since taken part in 350 NHL games. What the 6-foot-3, 205 pounder brings most is a strong defensive zone play. He routinely shuts down the opposition and can log heavy minutes. His fantastic contract of $4.025 million until 2023-24, makes him an attractive trade target for any team.
Potential Trading Partners
Recently the Hurricanes shipped the rights to Joel Edmundson to the Montreal Canadians in exchange for a fifth-round selection. However, Pesce will fetch a much higher return. Looking at trade partners, either the Toronto Maple Leafs or the Winnipeg Jets would love to acquire this defenseman. Both teams have surpluses at the forward position and are potentially willing to move one if the right trade came along.
Toronto Maple Leafs
Maple Leafs general manager Kyle Dubas needs to make moves as they require a strong, defensive-minded, right-side player. Behind Morgan Rielly and Jake Muzzin, the Maple Leafs lack good defenders. Thus, they need to add to the blue line. The question is, who does Toronto have that Carolina would want enough to trade Pesce away?
Related: Revisiting the Hurricanes' Keith Primeau for Rod Brind'Amour Trade
It would likely take winger William Nylander. The 24-year-old had a great season scoring 31 goals and 21 assists for 59 points in 68 games played. He would be a welcomed commodity in Carolina and would impact their top-six forwards right away. However, Toronto may not want to part with the young forward who is starting to hit his stride in the NHL, so it may not be feasible.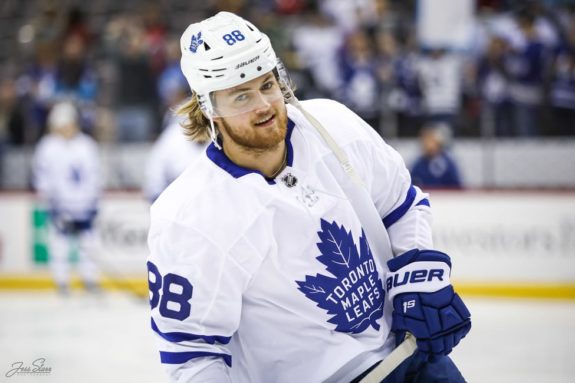 However, forward Andreas Johnsson is an individual who has been among trade rumors for some time. The former seventh-round selection in 2013 has played in two NHL seasons, his most productive being in 2018-19, scoring 20 goals and 23 assists. The Sweden native experienced an injury-riddled season in 2019-20, which resulted in limited production. If the winger can get back to being a 20-goal scorer, he would be good for the Hurricanes. Despite this, Johnsson alone will not be valuable enough to acquire Pesce, and Toronto would need to add more pieces. If more picks or prospects are added maybe something could be worked out.
Winnipeg Jets
Looking at the Winnipeg Jets, they lost key pieces of their blue line last offseason. Jacob Trouba wanted out of Winnipeg and got traded to the New York Rangers. Veteran Dustin Byfuglien terminated his contract with the team for personal reasons. This situation left the Jets with a big question mark on the blue line. Therefore, Pesce would be a useful acquisition for them. In terms of trade, two Jets' wingers made TSN Hockey's Trade Bait List — Patrik Laine and Nikolaj Ehlers.
Laine can score goals, both at 5-on-5 and on the man advantage. However, the 2016 second-overall pick is mostly a one-dimensional player meaning he can score, but that is about it. Hurricanes' head coach Rod Brind'Amour expects his players to contribute at both ends, so being one-dimensional will not be enough.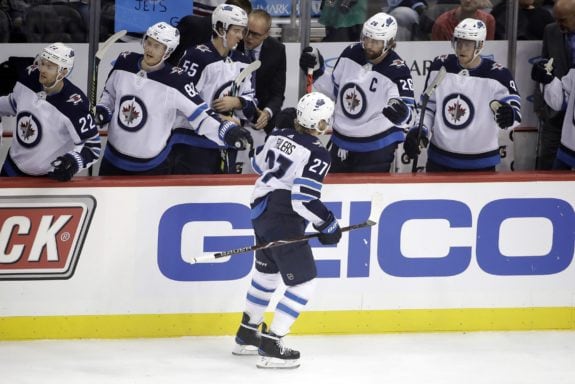 Depending on the cost to acquire Laine, it makes more sense for the Hurricanes to target winger Ehlers, who is the cheaper option and brings almost as much value to the team. The Denmark-native delivered 25 goals and 33 assists for 58 points in 71 games last season. He has played five NHL seasons since being drafted ninth overall in 2014. The 24-year-old could be exceptional for Carolina and reduce the overall workload for first liners. These two teams should be contacting one another to try and make a deal. A trade involving Ehlers and Pesce would be extremely beneficial for both teams. Each player is impactful and brings a lot to the table.
Related: Hurricanes' 5 Best Trades of All-Time
Depending on the offers out there, the Hurricanes should look to move Pesce. It is their best bet to add a high-end forward without sacrificing an insane amount from the squad. Whether it be Toronto, Winnipeg, or any team, someone will give up a decent package for the defenseman. The Hurricanes already owns one of the best defensive cores in the league. If Bean is ready for the NHL, someone will need to be moved. Why not utilize the trade value of Pesce to maximize their offense?
---
---
Tyler Hicks is a passionate NHL writer. Driven to spark an interest in longtime fans and new comers. He is currently covering the Carolina Hurricanes and takes pride in consistently delivering the highest quality content possible.