Although the Toronto Maple Leafs don't have the prospect pool that they used to, they still have some really solid options that will look to make an impact in the lineup soon. Having one of the best developmental programs in the entire NHL has allowed them to develop prospects with more efficiency and that has led to a lot of homegrown talent.
Related: Maple Leafs' 50-Goal Scorers
Over the past few months, there have been some changes to the system, so I think it's time to update the Maple Leafs list. They traded some players away but did acquire some enticing new pieces. From puck moving defensemen to playmaking forwards, here are the Maple Leafs' five best prospects.
5. Semyon Der-Arguchintsev
Semyon Der-Arguchintsev or SDA for short, has received a fair share of criticism since the Maple Leafs drafted him in the third round of the 2018 NHL Draft. Standing at 5-foot-11 and weighing only 163 pounds, some people thought he would be a long-term project.
Ever since being drafted though, he has proven that he can be a solid option in the near future. Playing for the Peterborough Petes alongside fellow Maple Leafs prospect Nick Robertson, Arguchintsev has managed to put up solid numbers over the past few seasons. In 117 games, he has managed to score 18 goals and add 103 assists for 121 points.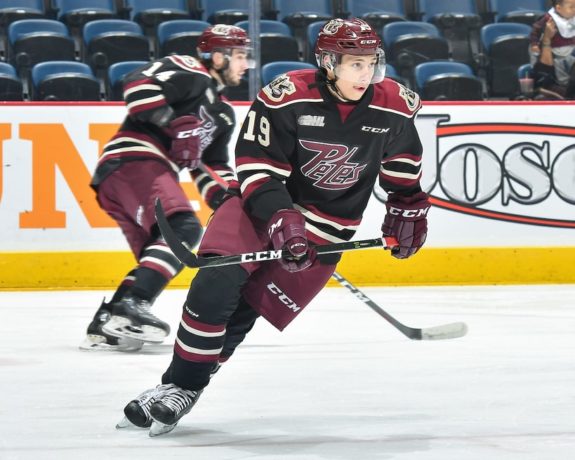 What impresses me the most about Der-Arguchintsev is the way he is able to see the ice with the puck on his stick. As witnessed with the eye-popping number of assists, he loves to set up teammates in the slot and can do so even with defenders draped over his back. His chemistry with Robertson was undeniable all season long and will be exciting to see how that works out over the net few years.
While Der-Arguchintsev will likely take another year or so to make the jump, he has the chance to be a solid option for the Maple Leafs down the line. He will most likely have to start off playing in the bottom six, but I have no doubt he will work his way up the lineup.
4. Timothy Liljegren
I don't know if it's just me, but it seems as though Timothy Liljegren has been with the organization for a lot longer than he has. Although it's only been three seasons since being drafted by the Maple Leafs in the first round, 17th overall, in the 2017 NHL Draft, he has continued to get better every season.
Splitting this past season between the Maple Leafs and the Toronto Marlies of the American Hockey League (AHL), Liljegren played a big role on the Marlies while continuing to develop his overall game. In 40 games, he scored 5 goals and added 23 assists for 28 points. He also made his NHL debut with the Maple Leafs and managed to collect an assist in 11 games.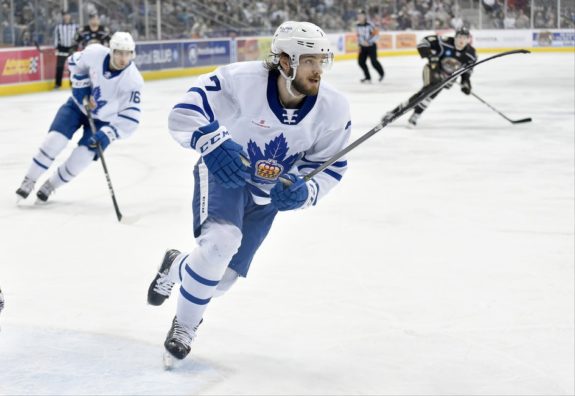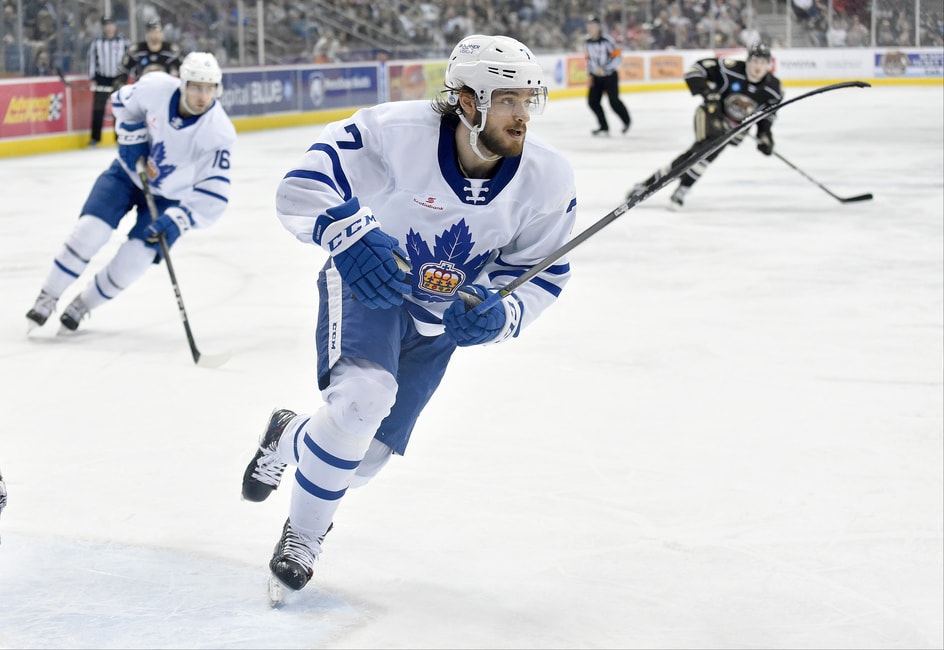 What I like most about Liljegren's game is the fact that he can contribute at both ends of the ice. With the puck on his stick, he is capable of finding his teammates in the slot and can run a power play efficiently. He has a hard, accurate shot and is good at getting it on the net. In the defensive zone, he makes sure his net is clear of any danger and makes a good first outlet pass to his forwards breaking through the neutral zone.
While I cannot tell the future, I expect Liljegren to make more of an impact in the NHL next season. Not knowing whether the Maple Leafs will sign anyone in free agency could impact his playing time, but I think he is ready for a full-time role in the NHL.
3. Filip Hallander
Acquired last month from the Pittsburgh Penguins, Hallander immediately becomes one of the Maple Leafs' top prospects. Not only has he been playing against men and holding his own, but he plays centre and the Maple Leafs don't have a lot of depth in their organization.
Hallander spent this past season playing for Lulea HF of the Swedish Hockey League (SHL) where he scored 5 goals and added 9 assists for 14 points. Drafted by the Penguins in the second round, 58th overall, in the 2018 NHL Draft, Hallander plays a great two-way game. With the puck on his stick, he makes heads up plays and creates space for his teammates. When the puck transitions the other way, he always makes sure to back check.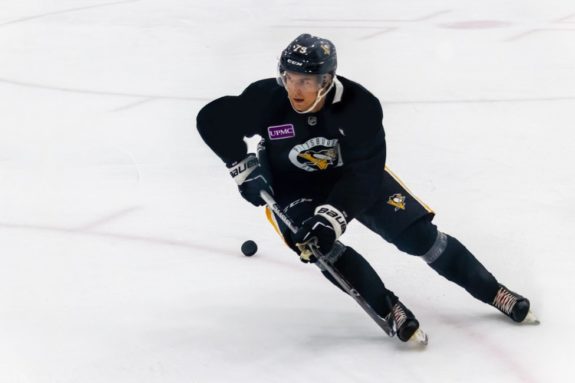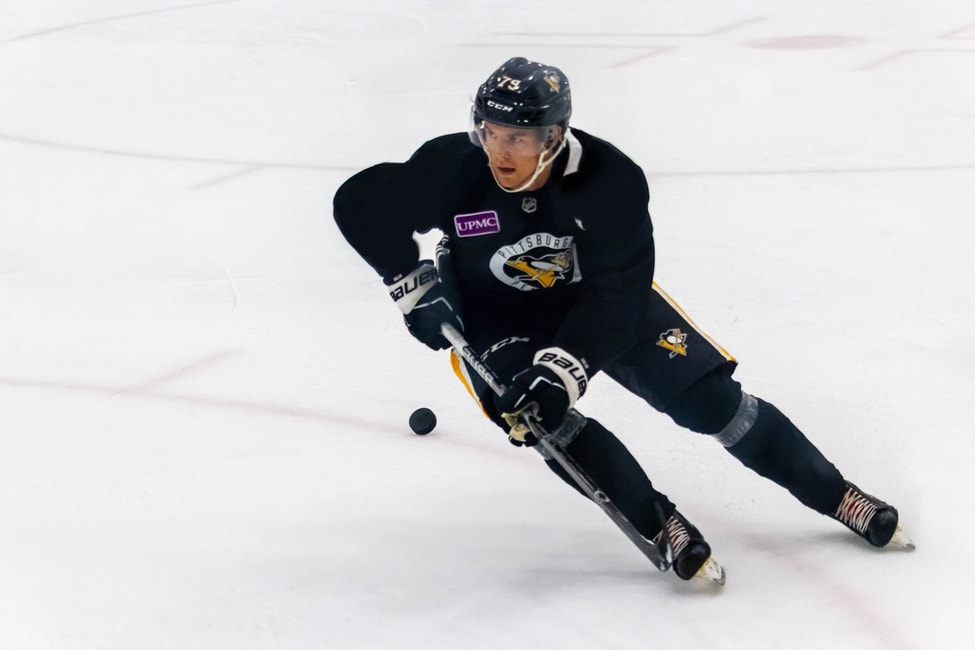 Hallander is always giving it his all whenever he steps out on the ice. Whether that be down in the corners or in the post-whistle scrum, he is always trying to impact the game in some way. He is also great at driving the net. He is not afraid to dig for rebounds and is often rewarded for his efforts.
While Hallander will spend this upcoming season playing in Sweden, I expect him to come over to play in North America pretty soon. He will most likely have to spend a season getting acclimated to the smaller rinks, but he will no doubt look to leave his impact on the NHL very soon.
2. 2020 First-Round Pick (15th Overall)
Although no one knows who the Maple Leafs will select with their first-round pick, they will be getting the chance to select a great player. The 2020 NHL Draft is one of the deepest in past memory and there will be no shortage of talent waiting for the Maple Leafs when they are called upon to make their selection.
An article was recently released by our own Peter Baracchini who highlighted some options that have been discussed for the Leafs including players such as:
Braden Schneider
"Even though he can contribute offensively, it's his defensive game and awareness that stands out the most. His strength lies in his gap control and board play. At 6-foot-2, 202 pounds, he has the size to go up against anyone to make a hit, tie up the opposition and provide excellent coverage and positioning in front of the net.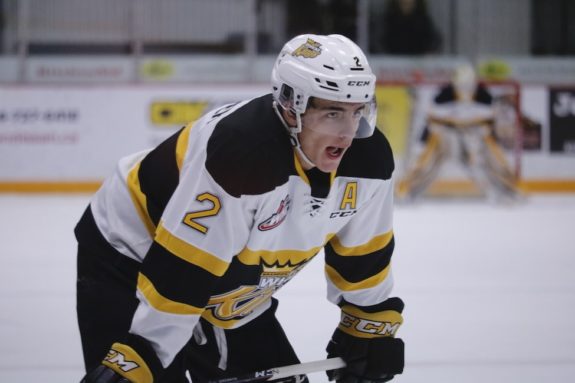 Schneider also has a long reach, which allows him to keep the opposition to the outside and makes it easy to poke check the puck away. Despite his size, he moves extremely well and has great speed."
Yaroslav Askarov
"With the uncertainty in the Maple Leafs' net, having an elite goaltending prospect like Askarov at your disposal is extremely beneficial. Teams that win a championship always have a reliable and consistent goaltender. We're just not seeing that with Andersen in the last four years. Even when he's at his best, it just isn't enough to get the team out of the first round."
Although there are so many avenues that the Maple Leafs can head down come draft day, it all depends on what the teams ahead of them do and who they call to join their team. The Maple Leafs will no doubt be adding a great player to their system and I am really excited to see who they pick.
1. Nick Robertson
Ever since we called Robertson's name with the 52nd-overall pick in the 2019 NHL Draft, he has looked like an absolute steal. Whether that be tearing up the OHL or making the Maple Leafs' playoff roster in the bubble, he has continued to impress wherever he has played.
Related: Revisiting John Ferguson Jr.'s Drafts – 2004
Although a hand injury caused Robertson to miss some time in November, he came back and continued his torrid pace, finishing the season with 55 goals in 46 games. More recently, he showed Leafs fans everywhere that he is ready for the NHL as he scored his first NHL goal in four games played inside the bubble.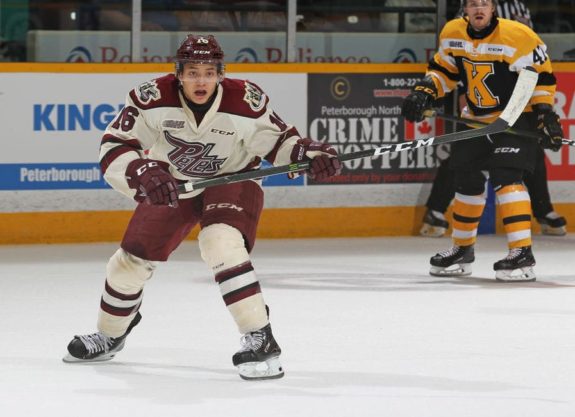 Robertson has solidified himself as the Maple Leafs' top prospect. He continues to receive rave reviews from anyone that watches him play and he will be an important part of the team's top six for a long time to come. His shot is his best weapon and he can get if off in a heartbeat. He can set up others with ease and his motor is always going. The future is definitely bright for Robertson and the Maple Leafs.
Solid Options
Although the Maple Leafs don't have the prospect system they used to, they still have some solid options in their system. With players available at every position, the Maple Leafs don't have to be worried about rushing any of their prospects and can let them develop at their own pace. Although they need to address their playoffs woes moving forward, their future is still very bright.
---
---
My name is Mathieu Sheridan. I am a writer here at THW who covers the OHL and prospects in general.