The Carolina Hurricanes welcomed the Buffalo Sabres along with 14,470 fans into Raleigh's PNC Arena last Friday night. The fans there got a glimpse at the future of the NHL – it was a good look, and hockey's future appears to be in excellent hands. Granted, it may be difficult to imagine that hockey's future can be viewed through the lens of two teams who are dwelling in the cellar of the Eastern Conference, but, with a bit of imagination, it's possible.
2015 Draft and the Future of Hockey
I've written about the awesome 2015 NHL Entry Draft in the past, most recently about two of its notables, Noah Hanifin and Mitch Marner. That draft was one to remember, for sure. The other three players that rounded out the top five were first-overall pick Connor McDavid, pick number two Jack Eichel, and Dylan Strome, overall pick number three.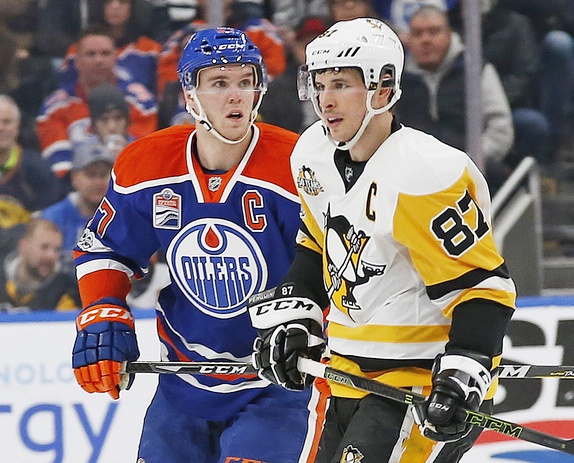 Rare is the draft that offers a franchise-changing prospect. It can be argued that 2015's offered several. Having been compared to Wayne Gretzky and Sidney Crosby, the world knows full-well the future of hockey is great when McDavid is in the conversation. The Great One himself said of McDavid,
He's as good as I've seen in the last 30 years, the best player to come into the league in the last 30 years, the best to come along since Lemieux and Crosby. He can definitely change a franchise's fortunes.
When the future of a franchise is changed, the entire sport benefits. Hockey becomes more exciting, more talked-about and more intriguing. This is the potential impact that just one player has who was drafted in 2015. But, that draft held more than just one such player.
Eichel a Franchise Player on a Bad Team
Even before the selections were made in 2015's draft, Eichel had the hockey world abuzz with anticipation. Eichel was himself telling those who would listen that he was a better player than McDavid. He has proven himself in tremendous fashion, backing up the talk and living up to the hype at every turn.
The Sabres acknowledged his value to their franchise with an eight-year, $80 million contract extension this past October. While not quite the $100 million McDavid inked over the summer, Eichel is in rare air and clearly is an integral part of hockey's future.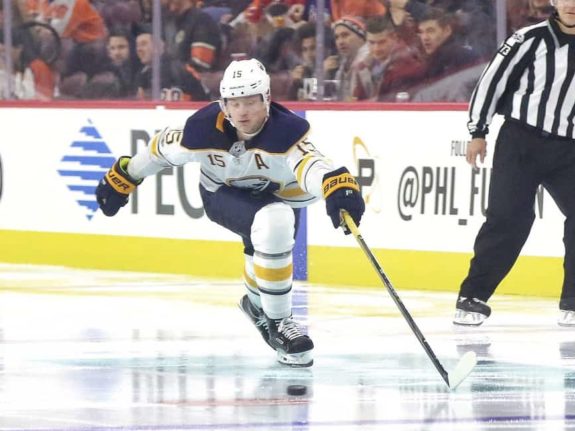 His first two seasons saw him put up 24 goals in each, and 32 and 33 assists. Missing last season's first 21 games with an ankle sprain kept his numbers close to what they were in his rookie season. He is on track currently to put up right at 30 goals and 40 or more assists. And for all intents and purposes, the ceiling for Eichel really has yet to be determined. But, alas, his team is awful.
Eichel came into training camp saying he can do better, actually judging his performance thus far as mediocre. That is the kind of thing one would expect to hear from a franchise-changing-player – lofty goals and ever-increasing personal /expectations. The sad reality is that the Sabres are not surrounding Eichel with complimentary players that can help turn the team around.
Jack Eichel's .81 career points per game ranks 14th in #Sabres history of all skaters with at least 100 games played for BUF.

— Buffalo Sabres Stats (@SabresStats) December 24, 2017
Eichel got two assists Friday night in a losing effort against the Hurricanes. Interestingly enough, I was trying to arrange a few minutes with Eichel after the game in hope of getting a comment from him on being part of hockey's future. But, I got the distinct impression that he was not in a very favorable mood, given his team's losing 4-1 to the 'Canes.
Even though I was disappointed and opted not to go after the interview, I was glad to get the sense that Eichel cares about his team and how they play. That's how winners and champions and players who represent hockey's future roll. Eichel is for real – everyone knows that much. And, he can change the fortunes of the Sabres, although not single-handedly. McDavid has a supporting cast and he has elevated the Edmonton Oilers quickly. It will be up to the Sabres management to give Eichel the help he needs so that he can have the full impact on the team of which he is capable.
Hanifin a Franchise-Changer?
Hanifin was drafted fifth overall in 2015, and started playing immediately for the Hurricanes. While carrying expectations that are high, albeit not as high as McDavid's or Eichel's, he has not disappointed. He was expected to make an impact right out of the gate and he has done so. On the forward line of hockey's future are players like Eichel, and on the back-end are guys like Hanifin.
His first two seasons have not been earth-shattering in terms of raw numbers, but Hanifin has contributed to the Hurricanes. He notched four goals in each of his first two seasons, and 18 assists in year one and 25 assists in year two. Already this season Hanifin is close to doubling his goal output, he sits on seven as of this writing.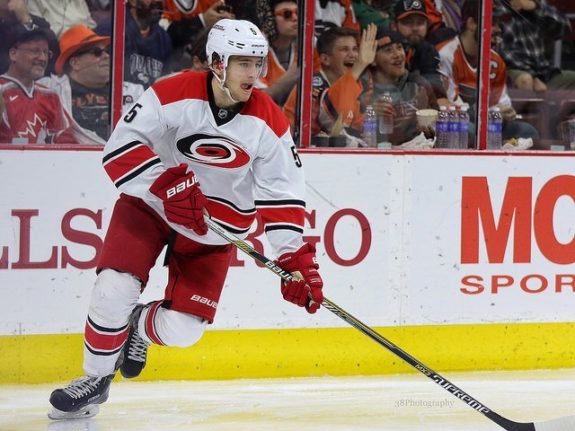 In a piece that looked at the Hurricanes' defensive corps, Chip Alexander of the Raleigh News & Observer wrote on Dec. 6 that Hanifin was aware of what is expected of him. Alexander quoted him as saying,
It's my third year now, and I'm starting to feel more confident. I know what I'm expected to do, and I know my role. That's the area of my game over the summer I really wanted to improve on and make sure I'm creating more offense.
One statistic that stands out is the number of shots that the Hurricanes are taking and that have been blocked. Alexander noted that Hanifin has had 46 blocked but has put 54 on net after a career-high seven shots Saturday against the Florida Panthers on Dec. 2. For the advanced statistic group, Shayna Goodman at www.fanragsports.com wrote on Dec. 22,
Already this season, it's clear Hanifin's evolving into the defenseman he was expected to become, and it's no surprise that a more effective partner (in both Faulk and Trevor van Riemsdyk) has helped that growth. He leads the team with a plus-4.94 relative Corsi for, that's highlighted by his offensive contributions. With Hanifin on the ice, the Hurricanes are generating shot attempts at a rate of 70.58, which leads the team.
The Hurricanes as a team are leading the NHL in shots on goal differential, which I wrote about in A Christmas Wish for the Hurricanes a couple of days ago. My wish boiled down to wanting to see the great barrage of shots they are throwing at the net start to turn into goals. If a good number of those were from Hanifin, that would clear up any question as to his value to the Hurricanes.
The difference when saying Hanifin is a franchise-changer in the same breath as saying it about Eichel, is that the two positions are fundamentally different. Eichel is up top, out front and a scoring dynamo. Hanifin is in the back, having to stop the opponents and work his way up the ice for scoring opportunities.
Obviously, the positions are different. But, Hanifin is absolutely crucial to the Hurricanes. If he were to be traded or sidelined, he would be missed. In the short time he has been in the NHL along with McDavid and Eichel, Hanifin has established himself as a valuable part of the team, in many ways a franchise-changer, even if admittedly, not as noticeably as an Eichel.
Hanifin told me after the Hurricanes' home win over the Columbus Blue Jackets on Dec. 16, "In the NHL it's an 82-game season. You've got to be calm and ready to win." I said, "Wow, you're not a rookie anymore, are you?" I meant it. Hanifin is growing up before our eyes, as is Eichel and the other young stars that make up the NHL's future.
Hockey's Future is Very Bright
The NHL stables are full of young horses ready to take the sport into the future. Notables like McDavid, Eichel, and Hanifin will take their youth and exceptional talent and help build the sport in their images. And there are more, many more that could be included as crucial, such as Auston Matthews with the Toronto Maple Leafs.
This has not been meant to be an exhaustive look at all of the great young talent in the NHL. But, when watching the Sabres and Hurricanes, two struggling teams fighting for relevance in their respective divisions, seeing Eichel and Hanifin bring an assurance that the NHL is in excellent hands, the hands of at least two incredibly talented, committed players. Standings and statistics notwithstanding, the future of the NHL looks to be exceptional. And, that's a good thing.