Ten days have passed since the Carolina Hurricanes last took the ice for an NHL game, but you wouldn't know that by watching their first game back. In a thrilling 1-0 overtime win against the Tampa Bay Lightning, the Hurricanes – for the most part – brought their mojo, and a big piece of that had to come from five new faces with a combined 89 games of NHL experience.
The Hurricanes had three games postponed due to COVID-19 concerns, and part of that protocol meant that their Thursday night return to play would have to be without defenseman Jaccob Slavin, and forwards Teuvo Teravainen, Jordan Martinook, Warren Foegele and Jesper Fast.
Stifling the high-octane Stanley Cup champions is no easy feat on its own, but to play a complete game after 10 days off and missing five key players says a lot about the culture the Hurricanes have built. While none of the five new faces hit the scoresheet, they each contributed in their own way to drive the Hurricanes to the win. Let's dive in and take a closer look at what they brought to the table.
Steven Lorentz
It's been a long time coming for Lorentz, who took to the ice for his first NHL game Thursday at 24 years of age. Originally a seventh-round pick of the Hurricanes in 2015, Lorentz has been biding his time in the farm system, from the ECHL, to the AHL, and now, the NHL.
The Waterloo, Ont. native was probably the most noticeable of the five. He played with high energy and tempo throughout 14:41 minutes of time-on-ice (TOI), which included 38 seconds of penalty kill time for his very first shift. Lorentz looked like an NHL player. It helps that he's 6-foot-4 and 206 pounds, but he's also a swift skater who gets engaged physically and even had a prime scoring chance, only to be thwarted by the glove of Andrei Vasilevskiy.
Head coach Rod Brind'Amour had plenty of praise for Lorentz when it was decided he'd be making his debut. "You talk to the guy, and you come away with a smile on your face," he said. "He wants to contribute. He doesn't just want to check off the list that he played a game in the NHL. He wants to do something special, and you root for guys like that."
Lorentz skated on a line with Ryan Dzingel and Hurricanes captain Jordan Staal, a player he admired growing up. Formerly of the OHL's Peterborough Petes, Lorentz also said he likes to model his game after Staal, who played his junior years in the Petes system himself.
Jake Bean
If there's another candidate for the most noticeable player on this list, it's Bean. The highly touted 22-year-old defenseman has been maturing with the AHL's Charlotte Checkers the past two seasons and made big strides last season when he was named the AHL's defenseman of the year.
A 13th-overall pick of the Hurricanes in 2016, Bean scored 48 points in 59 games from the Checkers' blue line in 2019-20. As the seventh defenseman on the Hurricanes' depth chart this year, he'll be in a tough battle for playing time, as Carolina's top six is particularly well defined. But in cases like this, it does wonder to have a depth defenseman of Bean's caliber.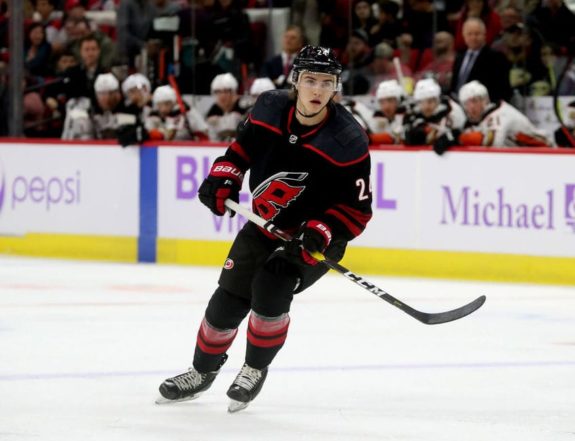 There were times Bean was physically outmatched in the defensive zone, but he shone with the puck, particularly in the offensive zone. With fluid strides and quick hands, Bean made good decisions in control and even netted himself a scoring opportunity with a tricky backhand shot in the first period. Overall, Bean logged 12:13 TOI in what was his third NHL game, and first alongside partner Haydn Fleury.
Bean should expect to play a dozen or so games this season, depending on the health of the roster. With so many upcoming back-to-backs, Brind'Amour has the option to rotate him in on the third pairing or dress seven defensemen to keep his players fresh. The value of Bean is that he can play both sides, and also can be deadly on the power play.
Morgan Geekie
Geekie made his booming debut at the latter end of last season when he registered three goals and an assist in his first two NHL games. Unfortunately, his momentum was immediately halted by the cancellation of the season.
This year, Geekie had already played one game with the Hurricanes before he took to the ice Thursday against the Lightning. While he didn't have the same impact he made in his first two NHL games, he and his line brought an intimidating forecheck that forced a turnover and drew a penalty in just his first shift of the game. Geekie skated for 9:53 TOI, 2:28 of which was on the power play, and was three-for-seven in the faceoff dot.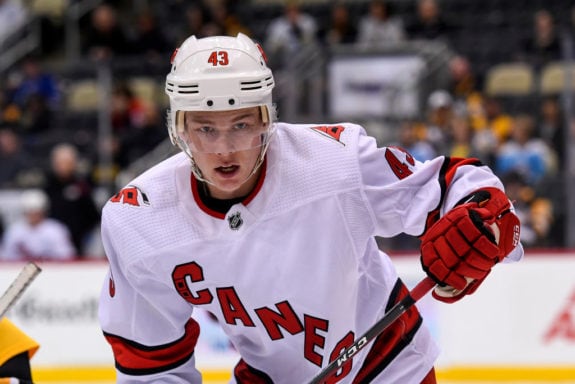 As the 13th forward, Geekie's value comes at his position. The Hurricanes have few centers to work with this season, and Geekie can provide a versatile mix of size, scoring, and physicality.
Max McCormick
Left-winger Max McCormick doesn't exactly fall into the category of "young gun", at 28 years of age, but he did make his Hurricanes debut Thursday so that counts for something.
McCormick spent last season with the Checkers, scoring 35 points and recording 120 penalty minutes in 56 games. He finished Thursday's game with four hits and one shot on goal in 7:18 TOI. The former Ottawa Senator has the most NHL experience of anyone on this list at 72 games. He'll be a fourth-line replacement option if the Hurricanes run into another flurry of injuries down the road.
Sheldon Rempal
Sheldon Rempal was the third amigo on the Hurricanes' new-look fourth line Thursday that brought a wave of high energy with their puck tenacity on the forecheck.
Rempal was signed as a free agent over the offseason after playing the previous two seasons in the Los Angeles Kings' system. The undrafted Calgary, Alb. native played seven games with the Kings in 2018-19 but was primarily signed by the Hurricanes to be an AHL forward. He logged a team-low 6:58 TOI Thursday, but meshed well with his linemates Geekie and McCormick, doing what a fourth line is there to do.
The Show Must Go On
The Hurricanes learned the hard way in the early going of the season that anything can happen. Thankfully, they have plenty of taxi squad options to fill in any potential holes in the lineup. Even if there's a different combination on the ice every night, that will be one of the challenges they'll have to face in the 2020-21 season.
Staal was placed on the COVID-19 protocol list on Jan. 15. Four days later, Teravainen, Martinook, Foegele and Slavin were added, and four days after that, Fast was added.
Judging by the timeline, it's possible the aforementioned four could return for the weekend doubleheader against the Dallas Stars, but nothing is set in stone. It's possible the 'Canes won't get their reinforcements until their Feb. 2 matchup against the Chicago Blackhawks, or even later.
The Hurricanes are one of four teams to suffer game postponements due to COVID-19 this season, following the Stars, Florida Panthers, and preceding the Vegas Golden Knights.
---
---
Matt Cosman is a Sheridan College print journalism graduate from Oakville, Ontario. I've been with THW since 2019 covering the Carolina Hurricanes, one of my favorite childhood teams. When I'm not in my hockey bubble you can probably catch me jamming out on the piano or losing money at the poker tables.