Kris Russell is a still a free agent. It's August. That's not uncommon in the NHL. There are still a number of players without a contract. That's usually for a varying number of reasons. They haven't found the right fit, or term, or are still mulling over options. Or sometimes, they are forced to re-think what kind of money they're asking for, since there haven't been any takers. Enter Russell. He had a great run with the Calgary Flames in the 2014-15 season when they surprised everyone (every game pretty much) and got to the second round of the playoffs. Now, he's still without a home. What's the hold-up?
Russell is an Example of the Intangibles
Just three years ago, Russell was placed on waivers by the St. Louis Blues, and then traded to the Calgary Flames for a fifth round pick. He was a serviceable guy for the Blues, but someone they didn't mind parting ways with. He found a rejuvenation of sorts while in Calgary, scoring a career high in points in his first two seasons there. During their playoff year, he had a +18 rating, the best of his career, a major bounce back from the previous season where he was a -11. When captain Mark Giordano was hurt, most thought it would derail the Flames season, but Russell was a big reason they stayed afloat.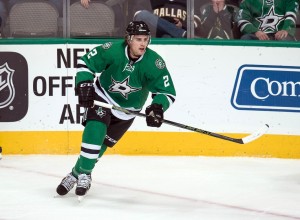 He had the big three intangibles on his side: grit, character and leadership. He was a shot-blocking machine. He was that guy coaches love, who put his body on the line each and every game to help his team win. He, along with the rest of the Flames, saw their value soar, despite everyone wondering when they would come crashing down. But still, although we knew that wasn't really who they were, we all enjoyed the ride, and Russell's status in the NHL was raised to new heights.
The question is, was it deserving? Kris Russell is a great guy to have around. He's a good teammate, he's a leader, and I do put a lot of stock into those things, just not in terms of monetary value. I believe in the intangibles in sports. I think they're important for winning. But in the case of Russell, they, more than his actual skill, became the reason for his stock to rise, making him a prime candidate for massive overpay in free agency. But perhaps the secret was out, considering he still remains unsigned.
Is Russell Really a Good Defenceman?
The analytics folk don't care much for Kris Russell. In fact, they didn't care much for that miraculous Flames team, that predictably came back down to earth, and have since replaced their head coach. In terms of fancy stats, Russell was bad in most categories. The Flames didn't have many shots, and they allowed a lot of shots while he was on the ice. They surrendered plenty of high-danger chances with him, despite much of his ice-time starting in the offensive zone. Russell's weaknesses were magnified last season, as was the case for the entire team.
Here's the thing to understand about Russell. He's got some offensive skill, but he isn't necessarily the guy driving possession. He was the beneficiary of good d-partners and teammates. He isn't as bad as many would suggest, but the problem is that he is likely asking for more money than a third pairing guy should get, and at best that's what he is. His best qualities came out when the Flames had their success, ballooning his perceived value. His trade to the Dallas Stars at the deadline made the analytics crowd shudder.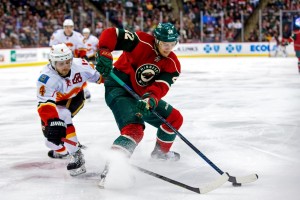 Calgary received defenceman Jyrki Jokipakka, forward Brett Pollock and a conditional second round selection in the 2016 NHL Draft, a decent haul for what was ultimately a rental player. The Stars were the best team in the Western Conference (stats-wise), and would have made the playoffs with or without him. They felt Russell would be a help to their blueline. In theory, he should have been. He's a solid two-way player. He plays on both the powerplay and penalty kill. But he struggled in Dallas, and though not the reason they were bounced from the postseason (that was because of goaltending), he wasn't part of the solution either.
What is Kris Russell Really Worth?
Russell made $2.6 million dollars last season, which is a decent number for a reliable bottom pairing guy. But obviously, he was seeking a raise, and probably assumed he would easily get one. Numbers like $5 mil a season (yikes) were being thrown around. Now he's only 28 years-old, which isn't old for a defenceman. But he's got some miles on his body because of the style of game he plays, and he's not that big, at just 5″10 and 170. For less than $3 million though, that's very doable.
Would Russell accept that kind of number? Well either he turned down such contracts, or he didn't even get any because of no one wanted to meet his asking price. Boston Bruins blog Stanley Cup of Chowder, upon hearing their team might be in the running for Russell's services, had this to say about the blueliner:
"He doesn't score goals, he doesn't set them up, he is HORRENDOUS in possession, and when he's on the ice, things happen. Usually bad things. Yes, he may hold the shot-blocking record. But the flip-side of this which his defenders either don't seem to consider or willfully ignore is that this means teams take a lot of shots when he's on the ice. This means that his team are under pressure a lot and giving up chances while he is on the ice."
Well then. Russell apparently turned down an offer from the Bruins for $4.25 mil over four seasons. So either he didn't want to play in Boston, or he wanted more money. Perhaps now he wished he'd taken that offer. Let's turn this conversation over to the Edmonton Oilers, who could still use help on defence. If Russell lowered his asking price dramatically, would you see him as a good fit in Edmonton? He seems like a guy Peter Chiarelli would like. But again, he would have to lower his demand if indeed it surpasses the three million mark.
Kris Russell camp is still waiting for a few teams to clear money. Free agency can be a tough waiting game.

— Darren Dreger (@DarrenDreger) August 4, 2016
Nice of Darren to put a positive spin on things. And he could very well be right. I don't blame Russell for wanting to cash in on his heightened perception. But he's essentially betting on himself that could he could live up to expectations of an expensive cap hit. At a reasonable cost, I could see him being a help for the Oilers, but he may be standing firm on a particular number, and I know that Chiarelli would not overspend. What do you think, Oiler fans? Is a cheap Kris Russell something you'd like to see happen?
Maybe, instead of teams not signing Kris Russell because they don't have cap space, teams aren't signing him because he isn't that good

— All In Hockey (@realallinhockey) August 4, 2016
Yes, that's another way of looking at it.