Amidst the aftermath of the most recent Matt Cooke head shot, I got thinking of a time when Sean Avery was the most hated player in the NHL because of his careless comments about his former girlfriend, Elisha Cuthbert (directed towards her current partner, Dion Phaneuf) when he was a member of the Dallas Stars.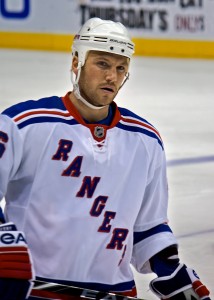 People were so angered at Avery's antics that many suggested Avery be expelled from the National Hockey League for his lack of respect, although the league only gave him a six game suspension.
Since the incident, Avery has calmed down a fair bit, and after working his way back into the NHL, he has proven to be a decent contributor to the New York Rangers third/fourth line over the past few seasons.
In light of Cooke's hit on Avery's current teammate, Ryan McDonagh, I would like to compare him to Avery and why I believe he deserves to be made an example of – just like Avery was.
Although Avery's comments that nearly ruined his reputation in the league were indeed tasteless, unlike Cooke's repeated offences, words cannot physically damage a player. So why should Cooke get any more slack than Avery? It's obvious that he clearly doesn't get the concept of respecting your opponent and avoiding checks to the head.
The NHL general managers recently met and brainstormed ways to get rid of these hits in the league, but I may have found a simple solution.
Whether or not you were unhappy with the Zdeno Chara ruling, one thing is clear: he is not known as a dirty player, and over the span of his career, his suspendable offences are little to none. For players like Chara, Brad Marchand and Dany Heatley, who all recently had incidents involving checks to the head but are not repeat offenders, an automatic two-game suspension for any checks to the head is what the general consensus seems to be.
Do it again – receive a harsher of a punishment and so on.
But for players like Matt Cooke, when will it really end? Over the past few seasons, how many head hits has Cooke accounted for, and how many suspensions has he been levied? For players like Cooke, who clearly don't get the message sent by the suspension, give them a maximum amount of suspensions you can attain before you are no longer welcome in the league.
Although this may be a controversial tactic and surely won't eliminate all head hits, it will certainly stop "dirty" players like Cooke from being able to return to the game and continue to offend. I mean, if a player gets suspended five or more times in one season for offenses that put another player's health in jeopardy, there's clearly something wrong.
If they continue to do it season after season and accumulate a hefty amount of similar suspensions, make a quota that cannot be passed.
Now, back to comparing the situation to Avery's… If the Dallas Stars can banish Avery from their team, along with the many figures throughout the hockey world that wanted Avery gone for good due to a few bad-choice words, why is it so hard to believe that it might be possible to expel a player for this type of unruly play?
Like this theory or not, it's players like Cooke that will eventually ruin the sport of hockey for everyone else. Hitting has always been a part of the game along with fighting, and it's crucial that these two aspects of hockey remain as they are. However, if these types of players continuously commit these dangerous offenses, the NHL will be forced to do even more and you can bet that any rule changes could change the game for the worse.
There's no doubt Cooke can be an effective player and leadership figure when playing good, clean hockey, but to have a team's assistant captain continuing to make these bad choices certainly doesn't set a good standard.
Cooke has yet to be suspended, but the play is being reviewed by the league.
For more on the hit and video replay, visit https://thehockeywriters.com/matt-cooke-elbows-ryan-mcdonagh/
Cooke Photo Courtesy: http://www.flickr.com/photos/clydeorama/