Somewhere in South Florida, Panther GM Dale Tallon is probably banging his head against a wall.
That's because Michael Grabner, who was cut by Tallon in favor of Mike Santorelli after training camp, has literally been skating circles around the competition all season long.
His top speed is certainly impressive, but he's involved in a race that he may not win and, he is not the favorite to win.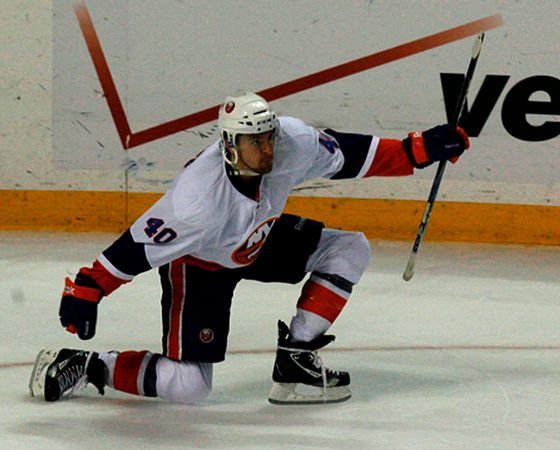 That would be the Calder Trophy circuit, which already has San Jose's Logan Couture and Carolina's Jeff Skinner at the front of the pack.
Skinner and Couture definitely deserve that type of recognition, however I will say that the NHL needs to give Grabner a look too because he's been making a case for himself this entire year.
Surely, everyone took notice when he scored 15 goals in 14 games after the All-Star break, but now it seems that people have forgotten that he's been just as good these days.
He's been so good that he recently reached the 30-goal plateau, a feat that Couture, Skinner and several other players (rookies and veterans alike) including the great Alexander Ovechkin have yet to achieve.
Perhaps it's because he plays for a team that struggles for recognition, but for whatever reason, Michael Grabner isn't advertised with the same hype as the other NHL freshmen.
It wouldn't be the first time a player was snubbed, just because he happened to be a member of the New York Islanders. Even this season, John Tavares, who by the way, has 60 points this year, was not even selected to the All-Star Game in January.
Forget Tavares, New York did not have one representative in Carolina for that game. Someone deserved to be there, whether it was JT, Grabner or Moulson (who also has 30 goals this year).
Mark Streit has, at the very least, been worthy of consideration for the Norris Trophy over the last few seasons, and though I doubt he would've won anyway, he wasn't even in the conversation. There is something very wrong with that.
Grabner wasn't selected for the actual All-Star Game either, but he was picked to participate in the SuperSkills Competition and the Young Stars Game. It was that Saturday night in Raleigh that the hockey world learned just what the Austrian bullet train could do, watching Grabs leave a vapor trail behind him during the fastest skater competition.
What worries me, is that Grabner may be overlooked, simply because he's on a team that's relatively obscure. There aren't many hockey fans who have seen much of the kid, making it hard for them to realize just how good of a hockey player he is.
Logan Couture is definitely going to be a great hockey player, but he's had some help from his Sharks teammates, a list that includes the likes of Joe Thornton, Patrick Marleau and Dany Heatley. San Jose is a very deep team, so it's easier for Logan to put up those numbers.
Jeff Skinner finds himself in a different situation. The Hurricanes definitely have other talented players, like Eric Staal and Erik Cole, but Carolina doesn't come close to San Jose when it comes to overall skill level.
On the other hand, Michael Grabner has 30 goals and a positive plus/minus with the Islanders, a team that has some talented younger players, but one that also gives up more goals than they score. The fact that he was able to shake off being cut out of training camp and emerge the way he has, that's just simply mind-boggling.
Grabner is one of the most exciting players in the National Hockey League. He's going to become one of those talents that you pay to see, because he brings the crowd out of their seats with the first stride towards the offensive zone.
Once he's burned you with his blazing quickness, he'll freeze the goaltender with his scorching shot.
Whether the Isles are up a man, down one or at even strength, Grabner will find a way to create opportunities for his team, because he's gone with one simple step.
He's certainly impressed Islander fans, but is the NHL equally entertained?
We'll find out soon enough.