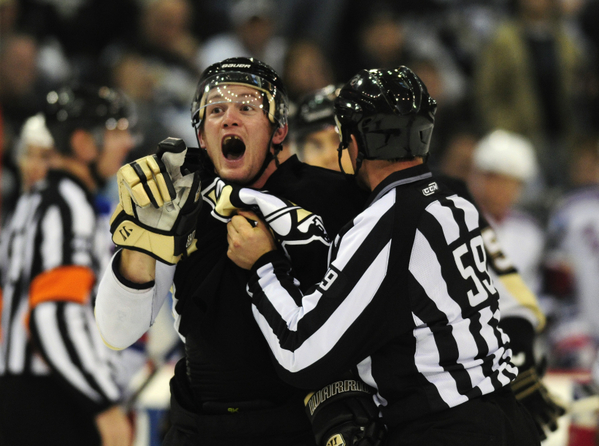 Senior Executive VP Colin Campbell and the NHL wanted to send a message. "Mr. Cooke, a repeat offender, directly and unnecessarily targeted the head of an opponent who was in an unsuspecting and vulnerable position," said Campbell via statement. "This isn't the first time this season that we have had to address dangerous behavior on the ice by Mr. Cooke, and his conduct requires an appropriately harsh response."
On Monday afternoon, Pittsburgh Penguins forward Matt Cooke received that message. Cooke will be suspended ten games, the rest of the regular season, as well as the first round of the Stanley Cup playoffs for his hit on New York's Ryan McDonagh.  Cooke will forfeit $219,512.20 in salary as a result of the suspension.
The outrage over Cooke's dirty hits only figures to grow in the coming weeks as critics chastise him for lack of respect.
Cooke's small group of supporters seems to be dwindling with every elbow, knee, and hit from behind.  His teammates are always quick to recite a memorable goal play-by-play.  On Sunday afternoon they were suddenly struck with amnesia when it came to giving their reaction to the hit.
"Personally, I didn't see it," Jordan Staal said.
"Honestly, I didn't see it," Chris Kunitz echoed.
With Cooke on the shelf until the second round of the playoffs, the Pittsburgh front office needs to decide how to rein in a player they've encouraged to blur the line between legal hit and devastating blow.  Penguins GM Ray Shero openly acknowledged Cooke's questionable behavior in an insightful Sports Illustrated feature last week by Michael Farber:
"Is he a dirty player? Yeah, he's a dirty player. [Former defenseman] Ulf Samuelsson was a dirty player. But there's value in that. Is there value in injuring players and getting suspended? No. But there are football players in the Hall of Fame who were dirty. There are brushback pitchers in the Hall of Fame."
Quantifying that value is easy.
Shero, known for his financial responsibility, handed Cooke a new three-year contract worth $5.4m in the offseason.  Players who receive more than two-year extensions under Shero's watch unofficially become part of the team's 'core'.  Translation: the Penguins showed this summer that they coveted Cooke's reputation and all that he stood for.
In fact, when Cooke has dialed back his physical play in the aftermath of media scrutiny, he hears about it from the coaching staff.
Farber said "Penguins coach Dan Bylsma has actually met with the winger this season to ask why he had turned down the opportunity for more heavy hits, which Cooke explained as a hangover from Rule 48—the Cooke Rule."
The dirty player Shero compared to Cooke would have never turned down an opportunity for heavy hits.
Samuelsson developed a cult following during his five seasons in Pittsburgh.  Best known for his uber-physical play, the defenseman's style would've been welcome across town as a member of the 'Steel Curtain' football defense.  In those days, the bigger and dirtier the hit, the louder the hometown crowd cheered.
When Ulf delivered a knee-to-thigh blow to Boston's Cam Neely in the 1991 Wales Conference Finals that left the Bruins star hobbling across the ice, the Penguins faithful roared in approval – delighted with the fact their Gladiator had successfully dismantled yet another foe:
Samuelsson returned to finish the job on Neely's leg later that series with a hit that turned the goal-scorer's thigh into bone – literally.
Neely developed an unusual condition known as myositis ossificans traumatica in his quadriceps resulting in calcification of the muscle. The Hall-of-Famer limped through a few half-seasons until the injury eventually forced him into early retirement in 1996 – a path similar to the one Marc Savard of the Bruins could be on.
When Matt Cooke laser-guided his elbow into the head of rookie Ryan McDonagh on Sunday afternoon, there was no acclamation or applause from the crowd.  A collective gasp and a smattering of boo's is all that accompanied Cooke on his lonely journey into the shadows of the locker room runway.  Penguins fans are very familiar with the danger of an elbow to the temple, but their reaction to the play was not unique.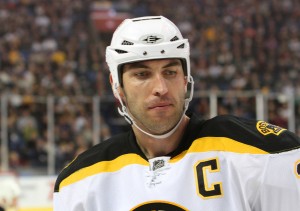 The culture of hockey is changing.
Boston's Zdeno Chara was booed every time he touched the puck in a road game against the New York Islanders last week.  Chara wasn't suspended for his hit on Montreal's Max Pacioretty, but that hasn't kept hockey fans across the country from voicing their displeasure over the 6-foot-9 giant's recklessness.
With the sport finally on the verge of serious rule changes, one has to wonder if players like Cooke have a future in the game.
The roster spot once reserved for the resident enforcer is already on the brink of extinction.  Georges Laraque and Donald Brashear find themselves cast aside in a league where one-dimensional fighters can no longer justify employment.  As the interest of the fan continues to shift towards skill and away from brute force or dirty hits, is there still room for the 'NHL pest'?
Sean Avery, a healthy scratch in three of the past four games, was not in the lineup to challenge Cooke on Sunday.  The $4m agitator, claimed off re-entry waivers from the Dallas Stars, seems to have fallen out of favor with Rangers coach John Tortorella as of late.  Avery's irritating style of play is often overshadowed by senseless penalties.  Just like enforcers, at some point players like he and Cooke become more risk than reward when games matter most.
Earlier today, Detroit coach Mike Babcock spoke with the Tribune Review about Cooke's value to the Penguins' lineup: "Well, I mean, he's a guy that works hard. He's a forechecker, a grinder, a worker. So I mean, he provides that for them. It's not like they don't have lots of guys that forecheck and work hard."
If the punishing hits and (completely pointless) scrums in front of the net after every whistle are eliminated some day, Matt Cooke will be reduced to a penalty-killing 15-goal scorer with a knack for costly penalties and now lengthy suspensions.  As Cooke said in the SI article, his on-ice persona is the key to success.
With or without the pressure from the front office and coaching staff, it's evident that Cooke doesn't have an 'OFF' switch.  Chris Simon didn't either.  The league suspended him seven times for on-ice conduct before Simon skate-stomped another player's leg on his way out of the NHL.
If you're scoring at home, Matt Cooke's suspension tally is now at five.
The fans have spoken.  Cooke's teammates no longer have his back.  Are Bylsma, Shero, and owner Mario Lemieux still content with having this type of player as a part of their team?  Quite frankly, is anyone?