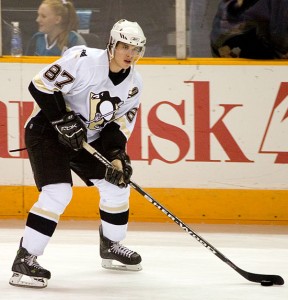 While Pens fans thought they would never see another talent like Mario Lemieux, they have been blessed with the next best thing, Sidney Crosby. Crosby is currently constructing a resume similar to that of Lemieux's. Thus far in his career, Crosby has a nearly 1.5 points per game average. Lemieux ended his career with a 1.88 points per game average. However, a good portion of Lemieux's career was plagued by nagging back problems, cancer, and an irregular heartbeat. Like Lemieux, Crosby recently dealt with his first serious health problem.
Like the glory days of the early 90's, the city of Pittsburgh has recently had to relive the harsh reality of having another superstar like Lemieux, sidelined due to injury. Crosby suffered a concussion that has kept him out of the Pittsburgh Penguins lineup since early January. Up until about one week ago, Crosby was dealing with ongoing concussion-like symptoms. To make his headaches worse, rumors were swirling around the hockey community that his career may be over.
Crosby was blind-sided by David Steckel in the Winter Classic, and hit from behind by Victor Hedman five days later. Crosby has missed 31 games due to his head injury. Recently, Crosby has begun to skate since his symptoms have gone away. Hopefully he will make a return to the ice by season's end.
The aggravation that comes with Crosby's 31-game absence is that neither Steckel nor Hedman received any disciplinary action from the league. Steckel more than likely did not deserve a suspension for his blindside blow to Crosby's jaw. On the other hand, Hedman's check from behind on Crosby was certainly a hit in which the Tampa Bay Lightning defenseman deserved a suspension. The replay showing Crosby getting his face smashed into the glass even shows that Hedman left his feet, or nearly left his feet, to deliver the hit.
Not only did the league fail to take action following these two incidents, but the most excruciating factor to accept is that no one on the Penguins roster took retaliatory action to protect their top scorer, Crosby. Someone needed to teach Steckel and Hedman a lesson. Steckel can apologize as much as he wants, but one of the Penguins enforcers needed to send a message to Steckel, and to the rest of the NHL, that cheap shots on Crosby will not be tolerated.
What makes anyone believe that another player won't attempt to take a run at Crosby? There isn't one player in an NHL locker room hesitant about dishing out a cheap shot to Crosby. Why would there be? There was no serious action taken by any Penguins player in relation to the hits delivered by Steckel and Hedman.
The Tim Wallace fight against Steckel was one of those hugging matches when nothing was accomplished. Steckel wasn't dealt proper punishment, and Wallace isn't even on the Pens every day roster.
The Penguins need to take a page from the Edmonton Oilers of the 1980's. Wayne Gretzky could skate freely, and dangle all over the ice. Players were terrified to come near Gretzky, and this was due to his bodyguard. Gretzky's guardian was Dave Semenko. Semenko didn't fight people; he annihilated any player attempting to get in The Great One's way. With the security of Semenko, Gretzky rarely, if ever, had to deal with any nonsense.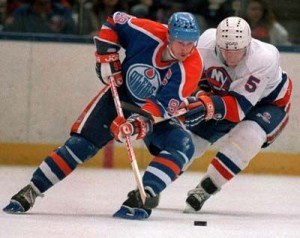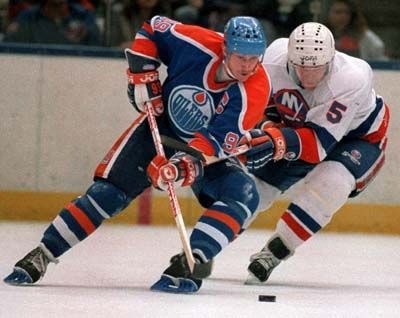 Crosby needs this type of guard. But is anyone on the Pens going to take responsibility and secure Crosby's well-being for the future? No one has volunteered to be Crosby's security guard to this point.
This begs the question why Eric Godard was signed to a contract? Godard is useless. He has no hockey skill whatsoever. He is on the Pens roster to be an enforcer, yet there isn't much enforcing taking place. Godard was signed as a free agent to protect Crosby, and there have been very few instances, if any, in which Godard put a beating on someone who harassed Crosby. Godard rarely wins any fight, and usually struggles to land one clean blow.
It is about time, that if an opposing player takes liberties on Crosby, that a Penguins player takes action and retaliates. That action needs to be more than hugging an opposing player on the other team, in what some would call a fight. That action needs to be more than wiping the palms of sweaty hockey gloves in someone's face.
Godard, or anyone considered a "tough guy" on the Pens, needs to obliterate the next player who is pestering Crosby. If Semenko was keeping watch over Crosby, Steckel and Hedman would have had to take a trip to the ER. The way in which the Penguins shield the best player in hockey is ridiculous. If someone takes out your franchise player, that someone needs to be injured in their own right, or dealt a punch, slash, or elbow they'll never forget. The Penguins need to deliver a memo to the rest of the league.
With goon Matt Cooke flinging around elbows to any skull he can find, the safety of Crosby will more than likely be in jeopardy when #87 returns to the Pens lineup. If Cooke is going to skate around with no respect regarding other players' safety, why would a player like Sean Avery restrain from trying to end Crosby's career?
With medical uncertainty about concussions, no one knows whether the next hit placed on Crosby will be the last hit he ever receives.
The moral of the story is that the best player in hockey, Sidney Crosby, needs much more protection than he has received to this point in his career because things in the NHL are heating up. These head shots have not diminished at all, and if anything, head shots seem to be occurring more and more.
The fans of Pittsburgh have already missed out on a significant number of games that Mario Lemieux could've played. If cheap shots and goons are continuously ignored by Penguins enforcers like Goddard, then the fans of Pittsburgh may also see Crosby's career cut short.
The NHL is not applying the proper armor to keep its stars like Crosby safe. If the NHL wants to keep goonery in the game, and not implement a rule that would limit hits to the head, then the Penguins need to take matters into their own hands. Since the NHL won't protect its most important superstar in Crosby, there will be a constant risk that the game could lose its most valuable asset going forward.
The NHL has already had multiple chances to stop head shots and cheap shots from reoccurring, but has failed miserably. Crosby's safety needs to be secured by his own teammates. If the Penguins don't send a message when Crosby returns, his career may be closer to the end than the beginning.