Within the NHL, an almost decade-long battle among elite players continues. Every season, these players collect titles and raise trophies and their fans, as well as a few detractors, are rarely surprised.  Make no mistake, these athletes are happy to get the hardware, but this toe-to-toe combat involves an even bigger goal.  Pavel Datsyuk, Alexander Ovechkin, and Evgeni Malkin want to be recognized as the best Russia has to offer.
What these supremely talented men have in common aside from being Russian is youth and a personal collection of accomplishments that makes them stand out among their colleagues at the NHL. At 26, Evgeni Malkin has a hefty collection of achievements under his belt which includes two Art Ross Trophies, the Conn Smythe and the Hart Memorial Trophy. Alex Ovechkin is the only player in NHL history to win the Art Ross, Maurice Richard, Lester B. Pearson and Hart Memorial trophy in a single season. Pavel Datsyuk may not have the flashy Art Ross or Hart Memorial Trophy but he swept the Lady Byng Memorial Trophy from 2006-2009 and the Frank J. Selke Trophy from 2008-2010.
You can expect to see more impressive work from the Russian Trio in seasons to come, but they're going to have some competition from Mother Russia in the near future. Meet the next wave of talent from the KHL ranks: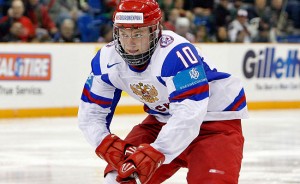 Vladimir Tarasenko
It's undeniable that the best two-way player emerging from the Russian prospect pool is Tarasenko. His combination of offensive skill and defensive presence is unparalleled amongst his Russian peers.
In the defensive zone he is a nuisance, using his speed and bulk (5'11", 191 pounds) to disrupt the run of play. Alongside that natural size is drive, a rarity amongst up and coming youngsters. He seemingly ignores the call to define himself solely as an offensive juggernaut. Instead he tracks back consistently, a trait that is admired by the defensive enthusiasts at heart.
On the opposite end of the ice Tarasenko is as polished as they come. His release is rapid and smooth, a pure snipers stroke. But unlike a sniper he is willing to fight in the corners and crash the net. In the offensive zone, there is truly nothing that Tarasenko won't do. Just ask the KHL.
In 2011-2012 Tarasenko ran rampant across Eastern Europe. In 54 regular season games he tallied 47 points (23 goals, 24 assists), ranking him eighth in the entire league. Those numbers are in spite of playing for two different organizations, HC Sibir and SKA St. Petersburg, and playing just over 16 minutes per game. In the playoffs he found another gear entirely, rattling off 16 points (10 goals, 6 assists) in 15 games.
It's not often that you witness the combination of raw skill and early success that Tarasenko has encountered. At 20 years old he is still evolving as a player and yet his game is complete. There are no visible weaknesses to be corrected (unless you are one of the few to question his quickness). All that is left to do is hone his already impressive skill set.
Evgeny Kuznetsov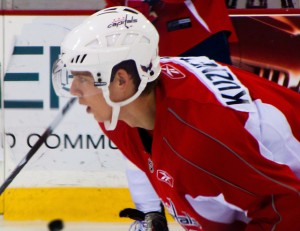 Evgeny Kuznetsov is essentially a fixture on any top ten prospect list. As most 19 year olds developed in Junior Leagues across the world he faced off against the best that the KHL had to offer, flourishing in the process.
Playing with Traktor Chelyabinsk in 2010-2011 he accrued 32 points (17 goals, 15 assists) in 44 games and averaged 14:12 minutes of ice time per game. His numbers rose in 2011-2012 to the tune of 40 points (19 goals, 21 assists) in 49 games as he led his team into the playoffs.
At 6'1" and 176 pounds there isn't anything impressive about his size. Instead it's how he uses it. He works along the boards, using his combination of size and footwork to hold onto the puck with defenders draped over him. The moment he is given space he accelerates and that's where the fun begins.
In the open ice his creativity is mesmerizing. Not only does he produce highlight reel goals but his eye for finding the open man. It would be hard to find another prospect who has so much raw playmaking ability at such an undeveloped age.
Where Kuznetsov begins to falter is on the defensive zone. He falls under the all too common spell of solely focusing on his offensive talents. Given his age and skill it can be ignored for the time being. But there will come a time that his defensive game will hold him back. Hopefully that can be corrected before that time comes.
Nail Yakupov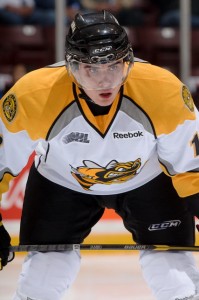 Surprise, surprise, it's Nail Yakupov. Was there any doubt as to whether we would see him on this list? He was the first overall selection in the 2012 Draft afterall.
Unlike Tarasenko and Kuznetsov, Yakupov opted to pass up the opportunity to play in the KHL. Instead he assimilated to the North American prospect style by joining the CHL. After being drafted by the Sarnia Sting of the OHL he began his two year dominance of the league.
During his rookie campaign he tallied 101 points (49 goals, 52 assists) in 65 games. Those totals were good enough to capture the CHL Rookie of the year award. His sophomore season had the feel of another astronomical year until an injury and the WJC shortened his season. Even with those setbacks he managed 69 points (31 goals, 38 assists) in 42 games.
In case you haven't heard there is a comparison being tossed around concerning Yakupov. According to many analysts he reminds them of some guy named Ovechkin. Both have a relentless drive, are willing to throw themselves across the rink at anyone and are lethal with the wrister.
Where the comparison ends is Yakupov's size. At 5'11" and 185 pounds he is undersized for his preferred style of play. With a smaller frame comes the must needed recognition of when to pull up and when to bang. If that recognition doesn't come then expect a lot of injuries in the future for the young Russian superstar.