According to Ryan Lambert of Puck Daddy,  University of North Dakota, junior goalie Zane McIntyre is an outstanding goaltender and the reason they're ranked number one in the nation.
Yes, it's true,  McIntyre is a very good collegiate goaltender. He also has the insane numbers to back up this claim.
Imagine if UND didn't have McIntyre. There's a very good chance they wouldn't be the top-ranked team in the nation or number one in the Pairwise Rankings. To date, McIntyre has been UND's most valuable player this season. This is the reason UND nominated McIntyre for the Hobey Baker Memorial Award.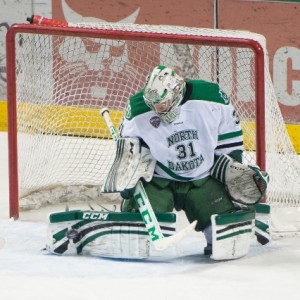 McIntyre's In-Zane numbers speak for them self
In almost three seasons of hockey, McIntyre has become UND's all-time leader in goals against average and save percentage. How good has McIntyre been?
Let's take a look at the numbers.
Since giving up four goals in the season-opening loss to the Bemidji State Beavers, McIntyre has held opponents to three goals or less in 32 appearances. The season-opening loss to BSU was the only time in the last 57 appearances where he's given up four goals in a game.
On November 29, 2013, the UND hockey team was having a tough start to the 2013-14 season. UND had a 4-7-2 record and was sitting in the bottom of the NCHC standings. They were going nowhere fast.
After the 5-2 loss to the St. Lawrence Saints, the team leaders held a "players' only" meeting. UND starting goalie McIntyre had a (2-5-2, 2.84 GAA and a .906 SV%). Like his fellow teammates, McIntyre was going through a rough stretch. UND would win the next night and turn their season around.
McIntyre would finish the season with an (18-5-1, 172 GAA and a .933 SV%) and lead UND to the semifinals of the Frozen Four.
Dating back to 11/30/13, G Zane McIntyre has lost just 11 times in 57 GP (42-11-4) and has allowed four goals in a game once (10/10/14).

— North Dakota MHockey (@UNDmhockey) March 3, 2015
Breaking it down further, in the 57 games since that "players' only" meeting, McIntyre is  (42-11-4,  1.78 GAA and a .934 SV%). During that time, McIntyre also has four shutouts.  Are McIntyre's numbers Hobey Baker worthy? I would think so.
McIntyre's teammates are very happy that he's their starting goaltender.
"I think night in, night out, he's our best player," senior forward Brendan O'Donnell said. "All year, he's been there for us. He's bailed us out numerous times. It gives you confidence as a player, being able to make plays, knowing that if you happen to make a mistake he's there to back you up. I can't say enough good things about Zano. I think for our hockey club he's huge. I don't think there's a word to describe what he means to our hockey team."
"He means a lot to our club," senior forward Michael Parks said. "I don't know if there's any other way to put it. He's so consistent. I don't want to say that we almost take him for granted now, but he's so reliable. When we need a big save, he just does it and he makes it look easy."
Chatting with Zane McIntyre
Eric Burton, The Hockey Writers: Since the 2-5-2 start last season, you've gone on an insane run, what do you attribute that to?
Zane McIntyre: I think our team has come a long ways. We've also gotten back to our brand of hockey that we're accustomed to. We're just working hard and coming to the rink and getting better. A lot of this has to do with the work we do with goaltending coach Karl Goehring.
EB: What went into your decision to come here?
ZM: Growing up, you just kind of fall in love with the UND tradition and what the program is about. I just wanted to stay close to home. I am pretty close to my family. It would be more difficult to see me playing out east. I was pretty fortunate to play in Fargo (Force) for junior hockey. Staying close to home in a two-hour radius was a huge factor.
EB: You're an O.T. student as well?
ZM: Yes. Psychology major with an emphasis in Occupational Therapy. With athletics, I wasn't able to apply for graduate school. I could, but it would be very difficult to do. I am just in the process of getting my psych major and I will finish out all of my pre-requisites for the O.T. program. Once hockey is done, whenever that may be, I can apply to O.T. school and away we go.
EB: So, education is really important for you?
ZM: Yep, for sure.  If I wasn't giving 100 percent in whatever I was doing, my grandmother would let me know. I think she was the biggest influence for my education as well.
EB: Do you have a favorite charity, or do you do some after school readings?
ZM: Every year I have gone back (to Fargo). There's a lady that originally lived in Thief River, a second-grade teacher, Kayla Delzer (West Fargo). I go back every year for Christmas break. I would read to the kids and show them my gear. It has been a kind of a good tradition that we've started. This year was the fifth year that I've done this.
Delzer is a big UND fan. She went to UND and played on the golf team. It's kind of cool to have that connection and go back and help them. I think that's probably the most hands-on stuff that I do with the children. There's the Special Olympics we do with the team. We also Skate with the youth hockey in Grand Forks.
EB: What would it mean to you if you made the Hobey Hat Trick?
ZM: It would be pretty cool. I think it would be really special to get that recognition, a little feather in your cap.  It's a cool individual accolade. Yeah. But at the end of the day, we're playing for one thing and that's national championship.
EB: It seems like this team is a really tight-knit group, is that a true observation?
ZM: I think there's a lot of cohesion with this group. There are no egos. We have our fun and we're a confident group.  But at the end of the day, we come to the rink with a purpose.  We try to get better. We try to improve our team.
Coach Hakstol hit the nail on the head the other day. Every weekend, we try to set the bar a little bit higher.  Each weekend after, we get a little bit higher. It's definitely a work in progress. We knew that coming in at the start of the year. A big reason why (we're so tight knit) is the leadership we have in our room and our coaching staff. They're kind of the foundation; they kind of set the tone on how things operate at UND.
Eric is a 1996, 1999 graduate of the University of North Dakota. Eric covers the University of North Dakota Hockey and Division I college hockey. Eric is the Contributing Editor for Inside Hockey.