The Carolina Hurricanes already faced a tough decision on what to do with defenseman Andrej Sekera. Sekera has been a big part of Carolina's defensive group since his acquisition in the 2013 Entry Draft. Trading Jamie McBain and a 2nd round pick for Sekera seemed like a good deal at the time, but his play since that trade has turned it into a complete steal. He put up 44 points in 74 games in his first year wearing a Carolina uniform, and his ice time per game is second only to All-Star Justin Faulk.
This year, his offensive production has dropped, but he still remains the same player that can, and has, played in all situations for the Hurricanes. It is, in large part, thanks to Sekera's play that the Hurricanes are ranked 7th in shots against league-wide, and have the 4th best penalty kill.
However, all the positives that Sekera brings to the ice could be overshadowed by off-ice decisions. At the moment, the Slovakian defenseman is in the final year of a contract that's got a 2.75 million cap hit, an absolute bargain for a top-pairing defenseman. Needless to say, he will be getting a well-deserved raise this offseason. However, Carolina may not be the team that gives it to him. With a lot of money tied up in the Staal brothers, Alexander Semin, Jeff Skinner and Cam Ward, paying Sekera the $6-7 million he could earn in free agency may not be a smart business move for the Canes.
Francis says there have been contract talks with Sekera, Tlusty but talks were "put on backburner." Said should soon pick up again soon.

— Chip Alexander (@ice_chip) January 10, 2015
Luckily for the Hurricanes, the trade market is rather sparse this year, and Sekera could be one of the best defensemen available at the NHL's trade deadline. Rumors out of Buffalo and Phoenix have Tyler Myers and Keith Yandle has available, but expensive, while the asking price for Sekera, according to Bruce Garrioch, is a 1st round pick and a prospect.
Injuries Throw Wrench in Plans
Garrioch mentions that a 1st and a prospect is a high asking price for an upcoming unrestricted free agent (UFA), and he's correct. However, there are a few teams that may be willing to pay that price after recent unfortunate injuries have put their defensive depth to the test.
The first is the Tampa Bay Lightning, who have lost both Radko Gudus and Matt Carle to long-term injuries over the past two weeks. Victor Hedman is also recovering from a string of injuries this season, though he is in Tampa's lineup. Andrej Sekera will fit nicely into the Lightning's Top 4, and could lessen the impact of losing both Gudus and Carle. In addition, the Lightning have two 1st round picks this year: Their own, and the New York Rangers' 1st, acquired in the Marty St. Louis trade. Both picks are going to be on the lower-end of the first round, so one could be moved with little hesitancy.
The Los Angeles Kings also have a depleted defensive corps of their own. Between Voynov's legal troubles and Robyn Regehr just recently coming off of injured reserve, the Kings could eye Sekera to add some defensive depth to their lineup. However, Los Angeles has lost 8 out of the past 10 games, and currently sit outside of a playoff spot. Adding Sekera could be the boost needed to push them ahead of Calgary, San Jose, or Vancover, but giving up a 1st round pick on a chance to make the playoffs is a risky one.
Finally, the New York Rangers had three scouts at yesterday's game between the Toronto Maple Leafs and the Carolina Hurricanes. Sekera has been rumored to be in their sights all season, though he will likely remain only a rental for New York. They have a solid defensive group already, especially after signing Marc Staal to his new long-term deal. They also have no 1st round pick to trade for the Canes' defenseman, nor would they likely want to pay that high a price for a player they will likely not attempt to re-sign.
Those Who Do Not Learn From History…
The situation surrounding Sekera and forward Jiri Tlusty should seem very similar to Hurricanes fans. Only a few years ago, defenseman Tim Gleason and forward Tuomo Ruutu were set to become UFAs and were garnering a lot of interest around the league around the time of the trade deadline. In a time when the emphasis was on physicality in the lineup, Carolina could have gotten a king's ransom for the two of them.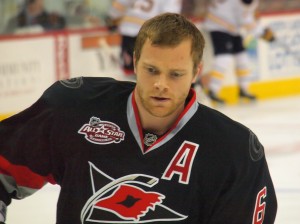 Instead, former general manager Jim Rutherford re-signed the two players to four year deals, paying $16 million to Gleason and $19 million to Ruutu. Neither player was able to live up to their contracts during its duration, and both were traded before they expired. Unfortunately for the Hurricanes, their value had dropped far below what could have been acquired at the deadline if the choice was made to trade them rather than re-sign them.
Now, general manager Ron Francis faces a similar decision. If he believes the Hurricanes can compete in the next few years, re-signing one or both players seems like the smart move. Sekera is a top-4 defenseman and Tlusty has a knack for scoring the dirty goals. However, if Francis believes the Hurricanes are more than a couple years away from making sustained playoff runs, trading both players to the highest bidders is the only correct decision.