Over the last month, New York Islanders fans have seemingly been through the ringer. With John Tavares tearing his MCL and meniscus at the 2014 Olympics in Sochi, Thomas Vanek being traded for a less-than-substantial package, and the Islanders' regression this season, there has certainly been lots for Isles fans to clamor about during a season where big things were being expected from a young team.
Despite the fact that the 2013-2014 NHL season has not gone the way that Islanders fans might have envisioned it, the recent rash of injuries could actually be of benefit to New York's future as a team. Of course, playing without the likes of key constituents such as Tavares, Michael Grabner, and Lubomir Visnovsky isn't an ideal situation for New York, but it is one that could prove to be an essential building block for a budding team.
Defensive Depth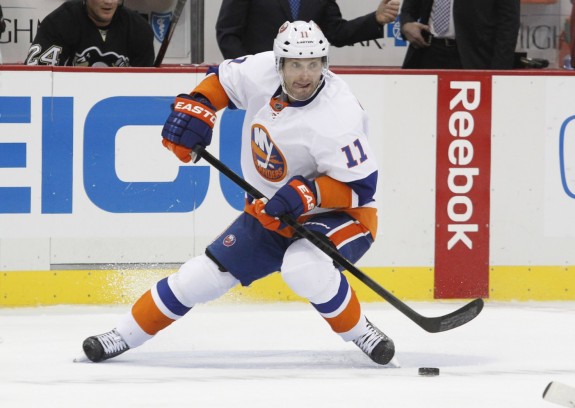 When Lubomir Visnovsky signed a two-year $9.5 million contract with the New York Islanders that extended him through the end of the 2014-2015 NHL season, fans undoubtedly expected the defenseman to be a key contributor on New York's blueline and man-advantage. However, after sustaining a concussion on October 19th, 2013, Visnovsky missed a substantial portion of the '13-'14 season – a period that exposed just how valuable the puck-moving defender was to New York's defensive core.
With added responsibility (in the form of ice-time) being delegated to defensemen such as Andrew MacDonald and Matt Donovan, the Islanders were tasked with over-relying and overworking some of their rearguards. As a consequence, certain holes in New York's defense were exposed as MacDonald's propensity to turn the puck over was magnified and Donovan's rough transition to the NHL was also made blatantly apparent.
While Visnovsky's return to the Isles' lineup provided New York with an added offensive boost (17 GP, 2G, 6A) and a veteran presence, word that the Slovakian d-man started experiencing a recurrence of his concussion-like symptoms certainly wasn't welcome news in Islanders Country. Although the Islanders face the possibility of playing without Visnovsky for the foreseeable future, the defenseman's recurring symptoms will give the Islanders an opportunity to see exactly what they have in Calvin de Haan (46 GP, 3G, 12A), Donovan (41 GP, 1G, 9A), and Kevin Czuczman (3 GP, 1A).
On the one hand, Donovan has shown that he still needs to adjust his game to the NHL level in order to earn greater responsibility with the Islanders. On the other hand, de Haan has demonstrated an ability to play intelligent hockey and shoulder the workload of a puck-moving defenseman. Czuczman – another intriguing young defenseman – definitely has the size to compete in the NHL one day, but his small sample size with the Islanders has illustrated that the young defender could definitely use some time in New York's pipeline.
The fact of the matter is that the Islanders can afford to roll out some of their blueline prospects for the rest of the season – something that could open up the possibility of bringing up either Andrey Pedan or Scott Mayfield to aid the defensive front for the remaining ten games. If anything, injuries to the Islanders' defensive core – at least for the time being – have shown that New York has a fair amount of defenders that are either ripe (de Haan) for NHL play or raw talents (Donovan/Czuczman) that could still use some seasoning before being displayed as a finished product.
O Captain! My Captain!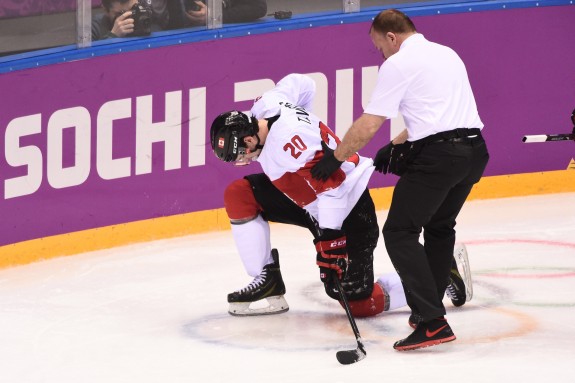 When John Tavares went down on the ice in Sochi after sustaining a hit from Arturs Kulda, Islanders fans probably experienced a collective cringe that was only exacerbated when it was revealed that New York's star center, and captain, would be lost for the remainder of the '13-'14 season.
Losing Tavares for the remainder of the season wasn't just a punch in the gut for the Islanders and their fan-base, it was arguably the most demoralizing part of an already trying season. Not only did the Islanders lose their leading point scorer when Tavares when he went down, they lost one of the team's biggest leaders. Of course, individuals such as Kyle Okposo and Evgeni Nabokov have been leaders for New York both on and off the ice, but not having Tavares' full-time presence is something that cannot be understated.
Much like the Visnovsky injury situation, losing Tavares has presented New York with obvious obstacles, but these roadblocks do have a silver-lining of sorts. While New York's top-six forward rotation has been altered for the remainder of the '13-'14 NHL season and offensive production has had to be found elsewhere, an Islanders lineup without Tavares has also been tasked with forging new chemistry.
Ever since Tavares' injury, Okposo has continued his torrid '13-'14 play (12 GP, 3G, 7A), but the brunt of responsibility has certainly not been placed squarely on the right winger's shoulders. Instead, other players such as Anders Lee (12 GP, 6G, 4A) and Frans Nielsen (10 GP, 4G, 3A) have stepped up during Tavares' absence.

Despite having a bit of inconsistencies in his game, Ryan Strome has also improved his play (12 GP, 3G, 3A) over the last month and has had to earn his minutes as his spot on the Islanders' bottom-six rotation has been anything but locked. Tavares' injury has essentially created a situation where New York's forwards will be forced to establish a consistent amount of scoring without their best attacker. This is not to suggest that the Islanders' forwards were relying on the first line to carry play before Tavares' injury, but if anything, the absence of New York's captain will acclimate the team to life without their star center – whether the players, coaches, or executives like it or not.
While it probably isn't the express desire of any team to play without their superstar(s), one of the caveats of playing professional sports is that anything can happen to any team at any given time. Playing without Tavares would be the last thing that the New York Islanders would want or need, but it is a situation that the team will have to work through for the rest of the season. Forging a new chemistry or flow is not an easy task for any team that loses a key component. However, if the Islanders' secondary scorers are thrust into a position where they must score in order to be competitive for the rest of the season, then it wouldn't be too farfetched to believe that New York's forwards could transcend their late-season experiences and build on them for the 2014-2015 NHL season.
Life Without The Regulars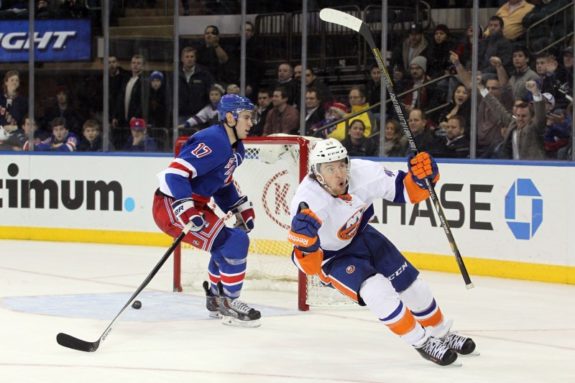 In a season filled with ups and downs, Islanders fans have been asked to watch their team play out its final games without the all too familiar faces in the lineup. Both Visnovsky and Tavares will probably be sidelined for the remainder of the season, but even the loss of individuals such as Michael Grabner (concussion) will impact the Islanders in some way, shape, or form.
Although Grabner hasn't performed up to par this season, the right winger will probably be missed most sorely on the Islanders' penalty kill. The threat of a short-handed breakaway is ever-present whenever Grabner is on the ice killing penalties, and the Isles will be hard-pressed to find a substitute for Grabner's presence on the PK.
Despite the fact that replacing Grabner – especially on the penalty kill – will be near impossible, it is still a situation that has allowed players such as Johan Sundstrom (5 GP, 1A) to get a taste of some regular season NHL action. Even though Sundstrom hasn't delivered any jaw-dropping performances while playing in New York's bottom-six rotation, Grabner's injury has opened the door for younger players to show off their skill sets.
Whether or not this limited sample size will help the Islanders understand what they have in some of their younger players remains to be seen, but life without some of the regulars will force the Isles to adjust to their opponents. Of course, Frans Nielsen won't be centering New York's first line next year, and it's fair to say that Ryan Strome won't be relegated to bottom-six minutes for the remainder of his career as an Islander.
Regardless of any lineup shuffling that will have to happen once Tavares, Grabner, and Visnovsky return, it wouldn't be a stretch to think that the younger players and secondary scorers would be imbued with a sense of what it's like to fend for themselves with key members missing. The absence of Tavares, Visnovsky, and Grabner has already allowed individuals such as Anders Lee the ability to forge new chemistry with linemates such as Okposo and Nielsen, and while not every prospect will enjoy the same success or prowess that Lee has had, it certainly isn't out of the realm of possibility to think that the same injuries that have decimated the Islanders so late in the season can't have some positive outcome/impact in the long run.