A tough road trip awaited the Hershey Bears last weekend, with a substantial opportunity to inch closer to a playoff spot. The Chocolate and White came out unsuccessful, winning just one of their three games, including losses in their final two games of the road swing to the Worcester Sharks and Manchester Monarchs. Hershey dropped to 12-15-3-1 on the road this season and 3-6-1-0 over their last ten contests. They trial the eighth seeded Norfolk Admirals by five points with just 11 games remaining.
Washington's AHL affiliate returns home Friday night to start a two game home stand before a long stretch of five straight road games from April 2nd to April 12th. They'll face two formidable opponents in Albany and St. John's this weekend, two clubs that are bound for an appearance in the 2013-14 Calder Cup playoffs.
During their recent slump, goal scoring struggles have been obvious. Hershey has netted just three goals once over their last seven games and has recorded 14 goals during that time, a miniscule average of two goals per game.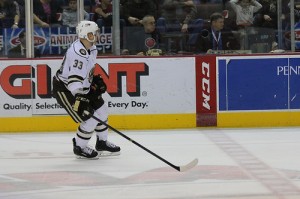 Their top players simply haven't produced. Hershey's leading scorer Brandon Segal has just one goal over his last 18 games and has just three points this month through ten matchups. Segal has had another good year in the grand scheme of things, trailing his point total of 44 from last season with Connecticut, now the Hartford Wolf Pack, by just three points.
Former top line player Nicolas Deschamps has three goals over his last 25 games, recently separated from Segal. Kris Newbury has performed adequately with his new club on loan from the Philadelphia Flyers, recording three assists through six games. Young Capitals forward prospect Stanislav Galiev has played just three times over the Bears last ten contests, but is only getting fourth line minutes when he does sniff the lineup.
Goaltender David Leggio has earned recent starts in goal due to the struggles in net with Philipp Grubauer, including a strong performance in Manchester. Hershey Bears first-year coach Mike Haviland will play the hot hand through the rest of the season and into a potential first round playoff series.
March 28th vs. Albany
Record: 34-20-4-7, 79 points, sixth in Eastern Conference
Power Play: 15.7% (23rd)
Penalty Kill: 82.8% (13th)
Goals per Game: 2.97 (14th)
Goals Against per Game: 2.62 (7th)
Goalies: Keith Kinkaid (21-11-4, 2.38 GAA, .909 SV %) and Scott Wedgewood (13-12-3, 2.46 GAA, .896 SV %)
Offensive Leaders: Joe Whitney (50 points), Mike Sislo (39), Kelly Zajac (37) and Scott Timmins (34)
March 29th vs. St. John's
Record: 41-21-1-3, 86 points, fourth in Eastern Conference
Power Play: 19.0% (11th)
Penalty Kill: 83.8% (8th)
Goals per Game: 3.35 (3rd)
Goals Against per Game: 2.67 (8th)
Goalies: Eddie Pasquale (17-13-1, 2.43 GAA, .920 SV %) and Tyler Beskorowany (4-1, 2.36 GAA, .927 SV %)
Offensive Leaders: Andrew Gordon (50), Kael Mouillierat (49), Jason Jaffray (49) and Brenden Kichton (45)
Bears Links
You can follow Matthew on twitter @m_speck and email him at mspeck21@yahoo.com with any questions or comments.
Matthew Speck covers the Washington Capitals organization for The Hockey Writers. He provides coverage of both Washington at the NHL level and prospect related content. Matthew also covers local sports for the Lebanon Daily News in Central Pennsylvania. You can email him at mspeck21@yahoo.com with any questions or comments.