When the New York Islanders traded for Lubomir Visnovsky on draft day in 2012, there were many confused fans wondering why the team needed another Mark Streit. When he refused to report to the Islanders, fans were understandably angry and upset at the defenseman. Now that he's suffered another apparent concussion this season which brings his career total way higher than any normal person's should be for head injuries, fans are begging for the best case scenario.
Visnovsky: The Islander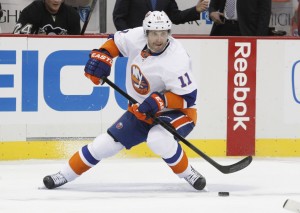 Lubo Visnovsky has been a really interesting story with the Islanders. He was a draft day deal in 2012 which saw him move from Anaheim in exchange for a second round pick. Shortly after being traded, he expressed that he did not want to report to the Islanders and instead wanted to stay in his native country of Slovakia.
Once the shortened season started, he did not report to the team. He was suspended until his eventual arrival in February. During his short time on Long Island last year, he signed a two year extension with the club that would keep him with the team through the 2014-15 season. He also quickly became a fan favorite for his impressive offensive abilities.
He mentored Thomas Hickey in his first season with the club, and has helped him to take steps forward in his game offensively. Lubo is considered to be a great leader and great in the locker room.
Visnovsky has had issues with concussions throughout his career, and while he was able to remain healthy last season, he did not have the same luck this season. If his new symptoms stem from a new concussion it would mark his seventh career concussion. He was concussed earlier in the season in Carolina and missed a substantial amount of games this season. Concussions are one of the worst injuries an athlete can get, so it's no surprise that at 37 years old the question of retirement starts to come into play.
All this leads to one vital question- how many head injuries can an athlete take? To compare, NFL Superstar Steve Young retired after suffering at least seven concussions throughout his career. At 37 years of age, it might be best for the defenseman to consider calling it quits for the good of himself and his family later in life.
What Would Come Next?
Obviously without Lubomir Visnovsky, the Islander defense and power play would take a pretty big hit. This is not to say that the Isles have nothing in the pipeline, however.
Last year's first round pick Ryan Pulock was knocking on the door to the NHL this season, and assuming Visnovsky isn't on the team, it might be wise to plug the young d-man into the rotation as a power play quarterback and give him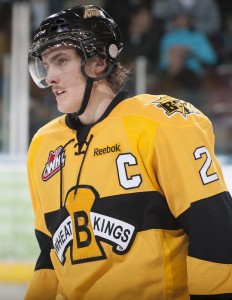 second or third pairing minutes.
Pulock has a slap shot which has been clocked at over 100 MPH in the past (thats about 160 KPH for my Canadian friends) and is considered to be a strong skater. This season for the Brandon Wheat Kings, he's tallied 63 points in 66 games with 23 goals scored.
While I'm not sure that Pulock would completely replicate what Visnovsky brings to the Islanders right away, he'd certainly be able to get himself there over time.
Of course, if the Islanders elect to keep Pulock in juniors for one more year, there are certainly other alternatives, such as Griffin Reinhart, Andrey Pedan, Kyle Burroughs and more who have all had good seasons with their respective clubs and may be ready to start taking the next steps.
Another thing to be considered is that they Islanders might shop for a defenseman in the off season, especially if the team were to lose someone like Visnovsky to injury related retirement.
In the past few years, the Islanders have taken some surefire steps forward in team development and it's starting to pay off as we see how talented drafted players such as Anders Lee, Brock Nelson and Ryan Strome are. Garth made a move to bring in Kevin Czuczman who has performed pretty well considering his extremely rapid jump from NCAA to the NHL. With or without Viznovsky on the team, the Islanders are poised to continue improving despite the obviously frustrating and disappointing season this year. However, it's up to Garth Snow and the rest of the Islanders front office to make the magic happen.