I'm not here to rain on anyone's parade.
Heck, I even enjoyed the buzz surrounding Teuvo Teravainen's debut with the Blackhawks. But there's a difference between anxiousness and overkill; funny and annoying, and unfortunately, it appears that the latter of the two are what prevailed through one game. And before anyone else accuses me of being a "hater," just know that I believe Teravainen is going to be a star in the NHL. It just so happens, however, that I believe the early unrealistic expectations are what's making Teravainen overhyped.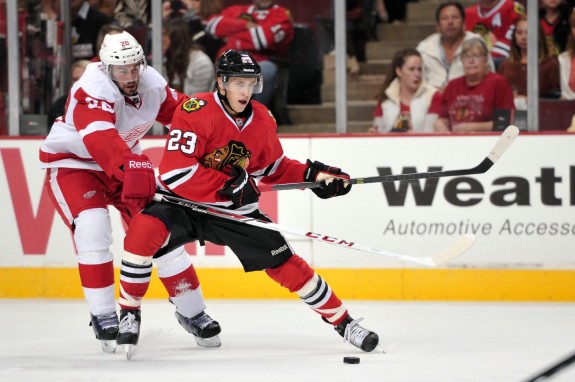 So Far, So Good
The excitement surrounding Teravainen is understandable, and yes, even fun. But the 19-year-old forward has played one game in the NHL and will inevitably go through his hockey adolescence with the ups and downs that every player faces when growing accustomed to the big boy league.
When it comes to getting accustomed, perhaps this effects Teravainen the most. Coming from Europe, the young Fin is used to playing on a bigger surface and against a different style than he'll see here in North America. And when it comes to getting his feet wet, that's just the tip of the iceberg.
"He's so young that you hope he feels comfortable," said Blackhawks forward Ben Smith before Teravainen's debut. "That's the biggest thing for a guy so young.
"He's a good player and he'll do what he does. I'm hoping he doesn't feel that pressure, but I'm sure that will be addressed here. Someone will talk to him and say, 'Hey, just play your game. Enjoy what you're going through.' "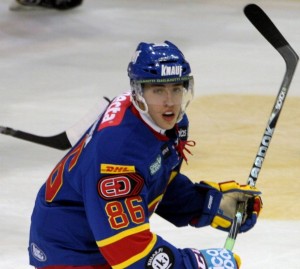 Captain Jonathan Toews added his own insight, which brings instant credibility. Toews, who is unquestionably one of the best players in the league, was the third youngest captain in NHL history when he was given the "C" for the Blackhawks.
"I don't care how skilled you are, there are always going to be some nerves when you play your first game, especially with the excitement surrounding him coming in here at this point of the season," said Toews. "But you just let him play his game, don't fill his head with too many things; he'll learn as he goes. But there's not too much to worry about with a player of his caliber."
Teravainen's debut against the Dallas Stars on Tuesday can be considered decent, but far from anything that would garner the monumental buildup that surrounds him. One can merely point to the goose eggs in points and shots to call Teravainen overhyped. That's not to say his effort against the playoff hungry Stars was uneventful. Not only did the former Jokerit star center Chicago's tricky second line, he was perfect in the faceoff circle, winning all seven faceoffs he took.
"I liked (Teravainen)," said Blackhawks head coach Joel Quenneville. "His awareness around the rink, both sides of the puck (and) in the faceoff circle were very strong. I thought he did a nice job. Good start."
Unrealistic Expectations?
After one game, it's easy to see Teravainen expects nothing but perfection from himself. The teenage forward took his pleasant debut in stride, but clearly expects more of himself, especially in the offensive category. In fact, calling Teravainen overhyped isn't a mantra he himself helped create.
"I felt like I could really play in this league and try to really help this team, but I think still that wasn't my best game out there," said Teravainen. "I tried to play simple and do [the] small things right. I really think I can play better. I tried to focus on faceoffs and [defense]. I think I need to play more offense too, but I think my defense was OK."
Fans on Twitter, nonetheless, created an illusion of their 2012 first-round pick. Don't get me wrong, I enjoy comedic tweets like anyone else. But even for Twitter, the useless information was a bit much, while some were still able to induce a chuckle at the very least. Even fellow THW contributor Lukas Hardonk was observant of the madness that would lead one to call Teravainen overhyped.
Is it just me or is there way too much hype surrounding Teuvo Teravainen? Kid is good but it's not like he was a No. 1 pick. #THW

— Lukas Hardonk (@LukasHardonk) March 21, 2014
For others, it was a mixed bag of fresh humor and haughty expectations. From pointing out Chicago's 1-0-0 record with Teravainen in the lineup, to calling him the Savior, the instant attention Teuvo Time has seized calls Teravainen overhyped when translated to laymen's terms.
#Blackhawks are 32-1-7 when they score first and 1-0-0 when Teuvo Teravainen plays.

— Amanda Kaschube (@amandakaschube) March 26, 2014
I think Blackhawks intermission analysts just gave Teravainen the Hart Trophy after 1 period in NHL

— Matt Kalman (@MattKalman) March 26, 2014
"@MarkLazerus: Teuvo Teravainen is literally walking on water as I type this. Then again, so is Mike Kitchen. #Blackhawks" #Savior

— Steve Suffredin (@stevesuffonair) March 25, 2014
There are, however, others who have paced themselves when it comes to the Teravainen frenzy, and with good reason. Not only is the NHL a beast of a different nature, the NHL playoffs take that beast and feed it anabolic steroids. Rushing Teravainen would not only be detrimental to himself, but the Blackhawks as well.
"Give me a break. A 19-year-old who's never played a game in the NHL is not the answer for the Blackhawks. The worst thing the Blackhawks could do with Teravainen is rush him over and place unrealistic expectations on him. It sounds like I'm beating this topic to death, but to throw Teravainen into the lineup and expect him to be the second line center amid this slump is ridiculous.

"When people tell me Teravainen is the answer it makes me want to throw up. What you're telling me is that you are confident a 19 year old, 5′ 10″, 175 pound kid will be able to withstand the grind of a playoff run. I don't if anyone's looked at the Hawks roster, but they already have enough forwards who are undersized, don't hit, and are afraid to get hit. Need an example, look at how Patrick Sharp overreacts with cross checks following a whistle because he got hit while in front of the net. Memo to Sharp, its called the dirty area for a reason, you're going to get hit. If you don't like it, stay away." — PuckRant.com
While the author may be splitting hairs over Patrick Sharp, the premise of his words ring true. Again, don't get me wrong. I'm not predicting or declaring Teravainen to be a bust. I'm just not sold on calling him the Savior of a team who possesses talent out the wazoo and is currently only one point shy of 100. I'll just agree with Joel Quenneville's take on him back in September.
"He's a young kid. And the Europeans, give them that extra year and they're stronger and ready for the (NHL) grind," added Quenneville. "He can turn out to be a real special player. Being patient with him is definitely the right thing to do. It's nice to know there's a real nice piece coming (in the future)."
Andy is a contributor for The Hockey Writers, covering the Philadelphia Flyers. He holds a Bachelor's Degree in Communications from Walsh University. He enjoys spending time with his family, golfing, and reading. He is married with a daughter. You can follow Andy on Twitter @ADudones.