The New York Islanders added defensive prospect Kevin Czuczman to their team on a two year entry level deal recently. It's believed that he will be in the lineup for Friday's game, and has joined the team on Long Island on Thursday. His last name is pronounced "Church-Man", somehow.
Who is Kevin Czuczman?
Czuczman is a 6'3, 205 lb. defenseman who played the last three years with Lake Superior State University. He hails from Port Elgin, Ontario. His best season was this past one where he registered 21 points in 36 games played. He profiles as a big, strong and physical defenseman who isn't afraid to join the rush. While he was not drafted at any point, he's considered to be a very nice player and is rated pretty highly amongst undrafted free agents. He was named the most valuable defenseman for the 2012-2013 season and was given the title of most outstanding freshman in 2011-2012.
What Does This Mean for the Organization?
It may seem as if the move is minor, but I don't believe it is. While I'm not suggesting that the move brings in the next Denis Potvin, but Czuczman has the size and potential to become a solid 4th or 5th defenseman on a team that right now is struggling to find success right now, but has so many potential blue liners just ready to come up. According to reports, Czuczman had received offers by several NHL clubs, but chose the Islanders due to the comfort level of playing with friends Ryan Strome and John Tavares.
Is he Griffin Reinhart or Ryan Pulock? Likely no, but no one is really sure what to expect from the young Canadian. I think there's reason to believe that he can become a NHL mainstay with the Islanders if he's given the opportunity to succeed.
Czuczman signed a two-year entry level contract, which is a similar deal that fellow NCAA-alum Anders Lee received to leave Notre Dame last year for the Islanders. The idea is Czuczman would be able to reach RFA sooner and if he does pan out, likely receive a decent pay increase. If he does not, then he can be released sooner and be off the books.
For all the bad that has been said about the organization and Garth Snow lately, I think the team and scouting department will look at this deal as a solid move in the future. Even if at best, Czuczman develops into a 7th defenseman, the organization was able to acquire young defensive help that is pretty well respect and appears to be ready to contribute almost immediately.
The move also adds another contestant to the already competitive pool of Islander defensemen prospects. With Travis Hamonic and Calvin de Haan already grabbing onto two potential NHL jobs for the foreseeable future, as well as other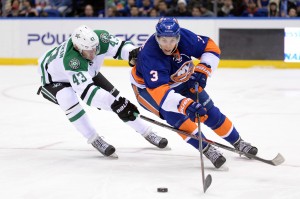 names such as Visnovsky, Strait, Hickey,  and more under contract, that only leaves 2-4 spots for prospects looking to take the next step. With players such as Reinhart, Pulock, Pokka, Mayfield, and now add Czuczman nearing NHL level as well as the potential to add more talent in free agency, it means that players will have to be even better to get the call from Garth.
This signing can only help the Islanders in the long run, and I think it will. With such limited information on the defenseman being online, the Islanders will be must watch TV for anyone concerned with the future every time he hits the ice.