It's been a December to remember for the Chicago Blackhawks so far in the 2016-17 season. They've sported a record of 7-3-1 this month and sit atop the Western Conference standings with 48 points. More notably, head coach Joel Quenneville's club has managed to stay afloat in the rugged Central Division while injuries envelop the roster.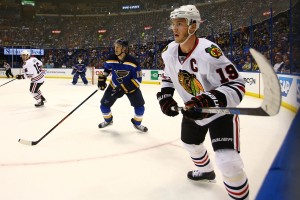 Over the course of the last month, the Blackhawks have been without captain Jonathan Toews, starting goaltender Corey Crawford and defenseman Brent Seabrook for various stretches. Toews returned on Dec. 13 after missing nine games with a pestering back injury. Crawford underwent an appendectomy on Dec. 3 and is scheduled to be in the crease this Friday against the Colorado Avalanche. Seabrook missed a week with an upper-body injury but was slotted back in to the lineup on the 13th as well.
Center Artem Anisimov is the most recent Blackhawk to be sidelined. He suffered an upper-body injury in the first period against the St. Louis Blues on Saturday. His status, according to Quenneville, is day-to-day. Yet, in the face of these ailments, Chicago hasn't skipped a beat in the standings. The Blackhawks were 5-2-2 without Toews, who is dominant at the face-off dot and in the defensive zone. Their possession numbers dipped slightly due to No. 19's absence in particular, yet the Blackhawks still found ways to pick up points. How have they been so resilient with these injuries thrown their way?
Penalty Killing Prominence
On Nov. 25, the Blackhawks penalty kill was comically dismal at a succession rate of 68.7-percent. That unit ranked 30th in the league and their number of shorthanded goals allowed (five) was also dead-last. In fact, they allowed four SHG's last season.
In December, Chicago is 17-for-19 when killing penalties. Also, they've secured the 29th spot in the PK category (passing Buffalo), sitting at 74.5-percent. Many factors have attributed to the recent prosperity of the shorthanded groupings, with tenacity at the forefront of it. At the start of the campaign, the Hawks were lackadaisical along the boards and lazy in front of their own net (which presented chances for deflections).
Now, it's a more aggressive box formation coming from Chicago when they find themselves in penalty trouble. Forwards up top are pressuring players along the high slot and forcing them to the perimeter. Defensemen (like Brent Seabrook and Nicklas Hjalmarsson, notably) are inserting their sticks into puck lanes and completing responsible clearing attempts when the puck rolls in behind the net.
Controlling the puck off the initial draw also helps discombobulate the attackers as they attempt to weave through the Blackhawks holding their own blue line. Their ranking in the penalty-killing department will ascend if they remain consistent with this manner of defending when down a man.
(Most of) the Core Leading the Charge
With their fair share of offensively gifted forwards, the Blackhawks always find a way to put pucks in the back of the net. Chicago has secured a spot in the top-10 of goals/game as a team for the last nine years, with the exception of the 2014-15 season. They currently stand in the ninth spot in the league (and fourth among Western Conference teams) with an average of 2.83 goals/game. Toews and Patrick Kane have been prolific scorers throughout their careers, yet they've taken a slight step back in their goal-scoring numbers in 2016.
Toews' scoring woes have been well-documented. The 28-year-old has a mere four goals in 26 games. He's been working hard at generating more scoring chances but is having trouble executing. A postseason performance in which he failed to score in seven games didn't do much for his confidence, either.
But, it's easy for the reigning Ted Lindsay Award, Art Ross and Hart Trophy winner to see a dip in production after an incredible 40-goal, 106-point campaign. Kane would be lucky if he registered 30 goals this season as he has 10 so far. He has kept up with his assists, though, adding 24 helpers through 35 games.
Beyond the highest paid duo on Chicago's lineup is an assortment of forwards pitching in up front. Marian Hossa is 37-years-old and leads the club in goals with 16, which was surprising after concerns of time catching up with him surrounded the Slovakian forward.
So much for that.
A Productive Supporting Cast
Artemi Panarin is also on a strong scoring pace, building off of his Calder Trophy-winning year (which drew a stat-line of 30 goals and 44 assists). The Russian winger leads the Hawks in points with 35 and is right behind Hossa with 15 tallies. Sticking with the dominant second line, Anisimov has been a direct benefactor from Panarin's play. He's well on his way to potting his second straight 20-goal season with a shot at 30 if he stays healthy (he's also eight shy of his career-high).
Recently, it's been the combination of Vinnie Hinostroza and Ryan Hartman who have come through for the Hawks on the scoresheet. The Bartlett, IL native, Hinostroza, has four points in his last three games, including his first career game-winning goal which came late in the third period against the St. Louis Blues. He seems to gain more confidence with every goal he scores and employs a rugged two-way style with explosive acceleration to boot.
Hartman has assumed an Andrew Shaw-esque mentality in Chicago, acting as the role of agitator and net-front presence. He's an everyday player and his average ice-time is 12 minutes a night. A first round pick in 2013, Hartman has six goals and six assists, but has added a disciplined attitude to his array of skills. He's picked up eight penalty minutes this season through 30 appearances. That's quite low for someone who likes to stir the pot after the whistle as much as he does.
Spotless Goaltending
Crawford was possibly playing the best hockey of his career before he was injured. However, backup goaltender Scott Darling has picked up the slack between the pipes for the Hawks and then some. The Lemont, IL native went 6-3-1 with Crawford out, sporting a 2.12 goals-against average and a .929 save percentage. His 10 starts were in consecutive fashion, including a grueling schedule of five in seven days.
He came up big, especially late in a key divisional matchup against the Blues, despite giving up four goals. Darling's found a way to stop that next shot and lock up points for his team, which is all you can hope for in a No. 2 goalie.
Moving forward, Darling proved that he can handle a heavy workload when called upon. He also upped his stock heading into the offseason, when he will become an unrestricted free agent. There's a possibility that his recent run will result in an increased number of starts down the line, even when Crawford is healthy.
The 28-year-old has repeatedly expressed his desire to stay in Chicago after his current contract expires, but what if he's offered a starting job? (Paging, Jim Nill) Would Blackhawks general manager Stan Bowman reach out to keep him on his hometown team? These concerns need to be addressed sooner rather than later.
A 1-A, 1-B system is not entirely unfamiliar in the NHL as St. Louis is known for implementing this strategy in the past. Boasting one stable back-stopper is sometimes difficult to come by in today's game. The Hawks are fortunate enough to have a pair.
For now, that is.
Looking Ahead
Leading the NHL in points 35 games into the season is a more than ideal start for the Blackhawks. The addition of Crawford should help further solidify what type of team they strive to be by the end of the year. With a majority of the bottom-six filled with inexperience, inconsistency could arise. Toews has to be a contributor in order for Chicago to stay at the top of the division. The penalty kill must trend further upwards along with the power play because their even-strength play has been terrific.
Most of all, they have to stay healthy down the stretch.