The Toronto Maple Leafs have begun to struggle on faceoffs after their top two faceoff-takers were injured. With Tyler Bozak and Ben Smith out of the lineup it's required the Leafs to look elsewhere for reliable faceoff-takers. In the game on Monday against the Anaheim Ducks, the Leafs tried William Nylander and Frederik Gauthier at center.
Neither player, or the rest of the team, fared well against the Ducks on the faceoff dot considering they lead the NHL with a 56.2 win percentage. And for comparison, the Leafs sit at 15th in the NHL with a 49.6-percent winning rate.
So to compensate for the loss of their two best players at faceoffs, the Leafs have recalled Byron Froese from the Toronto Marlies of the American Hockey League in hopes to stabilize their faceoff win percentage. If the Leafs have any hope of staying out of the bottom of the league, it means they need to at least stay at the league average for faceoffs. Otherwise, it will mean the Leafs are headed for a rough stretch of games.
.@SportChek Player Alert: The #Leafs have recalled Byron Froese from the @TorontoMarlies. #TMLtalk pic.twitter.com/6IuLmJd9Nh

— Toronto Maple Leafs (@MapleLeafs) December 21, 2016
Froese on the Dot
Froese has been called up to center the Leafs' fourth line and give the team support on faceoffs, and that's basically it. He's found some offensive success while in the AHL, but it's the complete opposite during his time in the NHL.
Froese's best AHL season, point-wise, came in 2014-15 when he tallied 42 points in 46 games with the Marlies and in 26 games this season with the Marlies he's fourth in team scoring with 17 points. His time with the Leafs last season was disappointing when compared to his time in the AHL. In 56 games with the Maple Leafs, Froese had just five points.
So don't expect Froese to be on the score sheet at all, but that's not what the team wants him for. It's all about the faceoffs.
With the Leafs losing Bozak's 57.8 faceoff win percentage and Smith's 53.2 faceoff win percentage, it's important that Froese can improve on his percentage from last year and give the Leafs some stability on faceoffs.
In his time with the Leafs last season, Froese had a faceoff win percentage of 48.3 and was sixth in team faceoff win percentage for players that took at least 100 faceoffs. So, not the best in the league, but it's enough to be solid on the dot.
Leafs' Lose Their Top Center
The positive thing for the Leafs is that Bozak is only listed as day-to-day, so he should only miss a few games at most. The Leafs were without Bozak in their game  against the Colorado Avalanche on Thursday night and it showed with the Leafs winning only 40 percent of the faceoffs.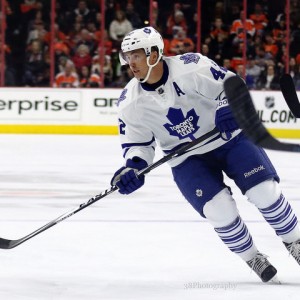 Bozak may not be the best center on the Leafs, as most would quickly point to Auston Matthews, but he is their best center on faceoffs. I already mentioned Bozak's faceoff win percentage as being 57.8, but it's a pointless stat unless there is some form of comparison. So to see just how good he is on faceoffs it means ranking his faceoff percentage in the NHL.
So to start I set a cut off base of players that have taken at least 200 faceoffs this season. This is to remove misleading information such as players that have incredibly high faceoff percentages, but have only taken a dozen faceoffs. So with a cut off of 200 faceoffs, it means the ranking is narrowed down to just players that are consistently playing center.
So with a 57.8 faceoff win percentage, Bozak ranks seventh in the NHL in faceoffs. This shows him to be an elite center on faceoffs. This puts him amongst names like Patrice Bergeron and Ryan Kesler, who are renowned faceoff specialists. And in a game against the Ducks and Kesler, he was sorely needed with the Leafs having an abysmal faceoff win percentage of 33.
So, with Bozak temporarily out, it severely impacts the Leafs possession stats, since they are now more prone to losing faceoffs it means they won't start as many plays with possession. Bozak is irreplaceable on faceoffs, but hopefully, Froese can step into Smith's role.
Replacing Smith
Froese's role on the team will be filling Smith's role now that he's been put on injured reserve. With Smith out, it means Froese will be taking over Smith's fourth line spot and will be relied on heavily for faceoffs in the defensive zone and on the penalty kill.
#Leafs lines in practice drills:
JVR-Kadri-Marner
Hyman-Matthews-Brown
Komarov-Gauthier-Soshnikov
Martin-Froese-Nylander

— Kristen Shilton (@kristen_shilton) December 21, 2016
Smith is fourth in time-on-ice shorthanded for Leafs' forwards and has taken a staggering 91 shorthanded faceoffs with a 52.7 faceoff win percentage. Leo Komarov has the second most faceoffs shorthanded with just 40, which makes it obvious that Smith is Mike Babcock's first choice on faceoffs.
Babcock's usage of Smith this season is identical to how he used Froese last season. Both have been heavily relied on for defensive zone faceoffs with Froese having 352 defensive zone faceoffs last season, second only to Nazem Kadri, and Smith leads the Leafs this season with 165 defensive zone faceoffs.
They are also the same in regards to time on the penalty kill. Last season Froese was second on the team, and led all centers, with 145:19 shorthanded time-on-ice and this season Smith is fourth in forwards with 62:27 shorthanded time-on-ice (the minutes for Smith are a bit skewed since he's now played five fewer games than the three forwards with more shorthanded time).
In Froese's first game this season against the Avalanche, he took just eight faceoffs and came away with a disappointing 37.5 faceoff win percentage. The only positive is that he had a 66.7 shorthanded win percentage on three draws. It was a disappointing game from Froese, in terms of faceoffs, but the stats were stacked against him since Colorado is second in league faceoff win percentage with 53.4.
Froese and Smith may just be seen as fourth line plugs that are easily replaceable, but the Leafs have depended on both defensively, on faceoffs and on the penalty kill. With Smith on the injured reserve, it's important that Froese can step into the lineup and immediately fill that key role.