The 2013-14 season has been one of change and transition for the Calgary Flames. After several years chasing the playoffs, the club has regrouped and is using this year to rebuild. The process has been both helped and hindered in one key way.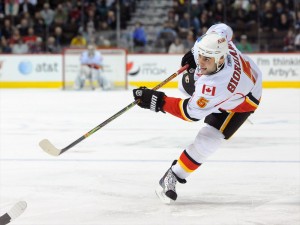 The Flames cannot get completely healthy.
As the club prepared for its first game after the Olympic break against the Los Angeles Kings, a quick glance at the team's game-by-game line-up revealed something rather shocking – the team has never, not once, dressed its full intended roster. They've missed at least one regular, established roster player in each of its 58 games prior to the Sochi Olympics.
THE BREAKDOWN
Veteran sniper Mike Cammalleri, arguably the team's most potent offensive threat, opened the season on the shelf. He was soon joined by Matt Stajan, the team's best two-way pivot. As Cammalleri was preparing to return, winger David Jones went down. He was soon joined by captain Mark Giordano and winger Lee Stempniak. Other key players that missed chunks of time were Kris Russell, Dennis Wideman, rookie Sean Monahan and T.J. Galardi. More recently, goaltender Karri Ramo has missed a stretch with a knee injury.
Just seven Flames regulars have avoided the wrath of the mythical injury ninja this season – goalie Reto Berra, defensemen T.J. Brodie and Chris Butler, and forwards Lance Bouma, Mikael Backlund, Joe Colborne and Jiri Hudler. In fact, every single Calgary Flames captain, alternate captain or substitute alternate captain, with the exception of Hudler and Backlund, has missed time due to injury during this season.
Captain Mark Giordano missed 18 games with an ankle injury
Alternate Mike Cammalleri ended up missing 17 games due to a hand injury, an illness and a concussion
Alternate Curtis Glencross missed 37 games with a knee and an ankle injury
Matt Stajan (an injury replacement alternate) missed 8 games with a lower body injury
Lee Stempniak (an injury replacement alternate) missed 7 games with a foot injury
As a result, the Flames have been without much of its established veteran leadership group throughout much of the season.
THE CONSEQUENCE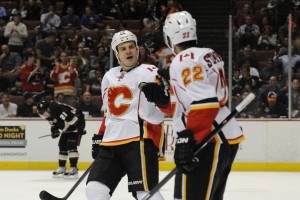 The upside of the parade to the injury ward for the Flames has been an uptick in ice-time for the club's younger and newer players, as well as new circumstances for those players. With key players out of the line-up, they've been given increased on-ice roles. With established leaders absent from the locker room, new voices have been given the opportunity to speak up and grow into roles. Flames head coach Bob Hartley has specifically praised individuals like Backlund and Stajan for their increased leadership roles and encouraged them publicly to continue to be leaders, even when the established captaincy group returned to the line-up. Players like Kris Russell and Lance Bouma, among others, were given increased minutes during these stretches and proved to be credible depth options in new situations. Joe Colborne got to try out playing on the wing, as well.
Another consequence of the injuries in Calgary has been the ability to audition newcomers from the American Hockey League – most recently goaltender Joni Ortio and forward Markus Granlund – and providing president of hockey operations Brian Burke with a better idea of where his club's youngsters stand in their progression towards full-time NHL jobs.
This first season of the Flames rebuild may ultimately be remembered as the year where Bob Hartley was able to institute good habits and instill a culture of hard work within the club, but don't discount the positive impact of Calgary's many injuries and the learning opportunities they provided for many of the team's young and emerging players.