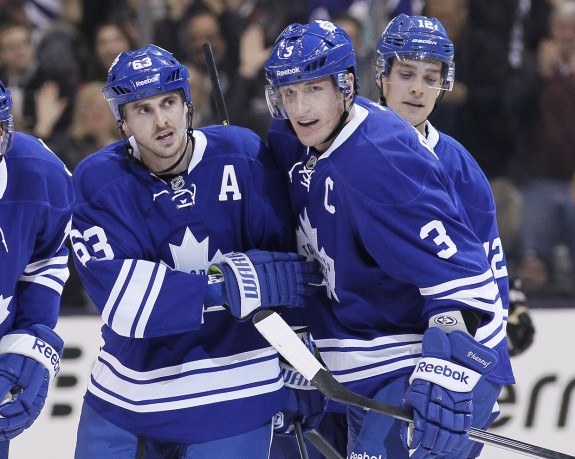 Dave Bolland may be close to a return from injury, but it's the centre's contract demands that are becoming painful for his club.
Bolland is reportedly looking for seven to eight-year deal at around $5 million a season, an ask which will not be going down terribly well with Dave Nonis and company.
Nor should it. Though the 27-year-old was a steady and surprisingly productive centre before his achilles injury in early November, Leafs management will be baulking at paying David Clarkson-esque levels of money to a player who has just suffered a setback in his quest to return to the Leafs lineup.
However, the thought will also be nagging Nonis that the Leafs do not exactly have an abundance of talent down the middle. Therefore a major decision now looms – do the Leafs gamble on Bolland like they gambled on Clarkson, or put their foot down and cut him loose?
The Leafs recent commitment to long-term planning would dictate that the latter be the most pragmatic option. At the very least they be looking to see how Bolland performs when he does eventually return. The Leafs have coped capably, if a little erratically, in his absence, but Bolland will likely be slotted into the 3rd line upon his return and those big bucks are excessive for that kind of player.
In addition, the performances of Peter Holland have been one reason why the Leafs have been able to win a number of games that they might have expected to lose in Bolland's absence – and Holland will not demand anywhere near to the astronomical amount being sought by the former Chicago Blackhawk.
It's a tough one for the Leafs, who also have major decisions to make on the futures of James Reimer and Nikolai Kulemin. Cap space is limited, yet so are options down the middle. Expect management to make a decision based they've seen how Bolland performs upon his return.
Check out our partners at TiqIQ for the best deals on Toronto Maple Leafs tickets for all 2013-14 games.