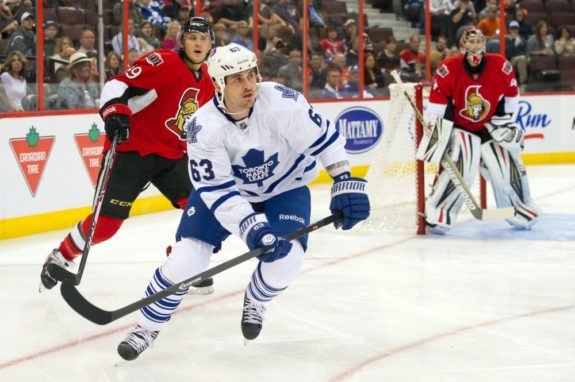 It was a bruising encounter for the Toronto Maple Leafs on Saturday night, in more ways than one. It was a night when the Leafs' habit of giving up a ton of shots finally came back to bite them, losing 4-0 to a Vancouver team who ran over a sloppy and slow club and had the game sewn up with 25 minutes to go. But it's the injury to centre Dave Bolland that could really give the Leafs a problem.
It will be a major concern to his club and to its fans that Randy Carlyle chose to compare the injury to the one sustained by Ottawa defenceman Erik Karlsson last season that kept the player out for 10 weeks.
Bolland, 27,  has continued in Toronto where he left off in Chicago, bringing an element of hardnosed leadership to the Leafs forward lines that has been lacking. The 3rd line chemistry he has formed with Mason Raymond will have been one of GM Dave Nonis's most satisfying surprises of the season. The pair have combined for 21 points already, with Bolland just one point behind Joffrey Lupul.
Bolland's reliability at centre will be sorely missed and be a major worry for pessimistic Leafs fans biting their nails and waiting for the inevitable slide after such a solid start to the season. It's not like the Leafs don't have options – both David Clarkson and James Van Riemsdyk would be willing to move into centre if needed – but it will nonetheless leave a significant gap down the middle.
All season long the Leafs have been giving up enormous numbers of shots and have been carried on a couple of occasions by superb performances by both Jonathan Bernier and James Reimer. There's also something to be said for the way the Leafs have made shots by their own players count for more than the opposition. But the fact remains that only the Ottawa Senators have given up more shots and only the Buffalo Sabres and New Jersey Devils have less shots on the opposing goaltender. Coupled with untimely injuries like Bolland's, it is not a recipe for prolongued success.
The Leafs will be hoping that their run of games will reflect the remarkable one that their Ontario rivals experienced last season when their club was decimated by injuries. With the losses of Karlsson, Jason Spezza, Matus Michalek, Craig Anderson and Jared Cowen, the Senators excelled with a mixture of farmhands and rookies to clinch a playoff birth by the skin of their teeth.
The Leafs have seen Joffrey Lupul, Nic Kulemin and Tyler Bozak miss several games through injury and only recently have back David Clarkson from suspenion. Through a primary combination of Phil Kessel, Bolland, Raymond, Bernier and Reimer, the Leafs have won a lot of games they might not have deserved to win. Dion Phaneuf has logged serious minutes at the back and Paul Ranger's performances have improved to the extent that upon his return, Mark Fraser will have to work hard to regain a place.
There is much to like about a lot of the Leafs play this season. But a player like Bolland – unflashy but dependable and, most importantly, productive with it – will be sorely missed and the onus will be on more hot and cold players (that's you Nazem Kadri and Nic Kulemin) to step up to the plate and keep the Leafs riding high.
Chris is a contributing writer on the Toronto Maple Leafs for THW. From Oxford, England, he writes mainly about hockey and soccer, where he is looking to turn his hobby of sportswriting into a career.