The insanity in Nashville has left Shea Weber a very wealthy man. But despite being the game's highest paid player, Weber failed to get what former teammate Ryan Suter got – an escape from Nashville. It didn't and doesn't have to be like this though.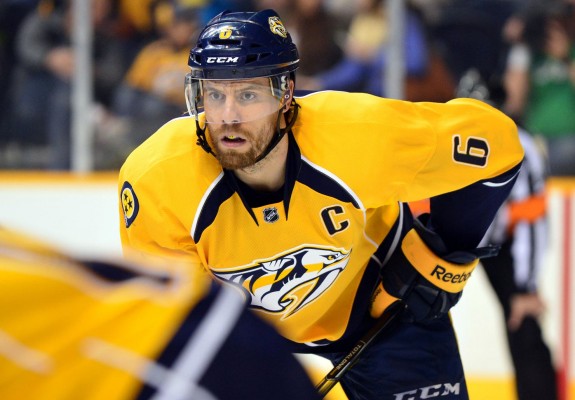 Insanity in Nashville – The Offer Sheet
When Shea Weber approached restricted free agency in 2012, he did so knowing that the Preds were facing a rebuilding process. Gone were his defensive pairing-mate in Ryan Suter, who cashed in on $98 million in Minnesota, along with Alexander Radulov, Jordin Tootoo, and Andrei Kostitsyn. In all Weber was faced with testing the open market with a leash, or openly rejoining a Nashville team that lost a pool of players who combined for 95 points from their 48-26-8 2011-12 season.
The Philadelphia Flyers, on the other hand, were coming off of a 103 point season of their own, losing to the New Jersey Devils in the Eastern Conference semi-final round. Although the Flyers were considerably more cap-strapped than Nashville, Philly GM Paul Holmgren still offered Weber the massive 14-year, $110 million offer sheet, in which Weber eagerly obliged.
"Once Weber's defence partner Ryan Suter bolted from the Predators as a free agent, signing a 13-year, $98-million deal with the Minnesota Wild, Weber started to look around. His agent said he no longer wanted to be part of a rebuild but wanted to go to a team with a chance to win a Stanley Cup championship.

"Weber and the Flyers structured the offer sheet to make it difficult for the perpetually cash-strapped Predators to match. It calls for $68-million in signing bonuses in the first six years. For example, even if the NHL does not start the season on time this fall because of a potential lockout, the Preds will still have to pony up $13-million as a signing bonus." — David Shoalts
https://twitter.com/WHLFromAbove/status/227844421998219264
https://twitter.com/RyanGillon47/status/227846314497556480
As we all know, the rest is history. Nashville GM David Poile matched Philadelphia's offer, and Weber has continued to be a Predator ever since. Even if Weber is saying all the right things in regard to staying put, it still doesn't mean he wanted to stay.
"It was a pretty exciting to have him (here); I knew he was in town and was being shown the area and all that kind of stuff," said Flyers forward Scott Hartnell. "I think he really thought this was a great sports stop for him. If he didn't, I don't think he would have signed. I'm sure there were a few others trying to schmooze him and lure him to their team."
Insanity in Nashville – Did Weber Want to Stay?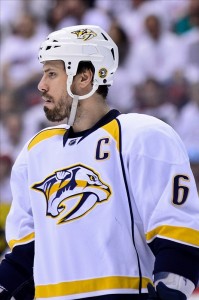 Of course there is also the other school of thought that insists upon the idea that Weber wanted to remain in Nashville all along. This interpretation suggests that had Weber truly wanted out, he would've signed a one-year offer sheet from the Flyers, leaving him open to unrestricted free agency at the conclusion of the 2012-13 season.
"If Shea had truly wanted to leave Nashville then he along with guidance from his agent would have signed a one-year free agent offer sheet with Philly in the $8-10 million range. An amount Philly could have still managed under the cap short term.

"The one-year offer would have guaranteed that Nashville would have lost Shea for nothing at the end of the season as he was an impending UFA. As Shea and his agent would have known, Nashville would have been prohibited under the last CBA from signing and trading Shea for one full year which would have taken him to UFA status. Shea had a chance to guarantee his freedom and get paid if he truly wanted to and he chose not to!" — Brian Lawton
This, of course, takes away the influence of over $100 million and from whom it was being offered by. Yes, Shea Weber could've endured another season in Nashville if he wanted to guarantee his escape from Nashville. And yes, he would still have gotten a deal that made him filthy rich – but not $110 million.
"I think at the point, he's really in a good situation," said Weber's agent, Jarrett Bousquet after his client signed Philadelphia's offer sheet. "I think he wants to explore his options. I don't think he would sign an offer sheet unless you were hoping you were able to go to that team."
Flyers GM Paul Holmgren knew he'd have to massively overpay Weber to give him the best chance at making the Predators either unable, or unwilling to match the offer sheet. And whether Weber was genuinely happy or not in Nashville, the security of $110 million over 14 years makes any situation bearable.
Insanity in Nashville – Where's Everyone Else?
After Poile locked Weber up on Holmgren's conditions, the star defenseman turned his attention to the team he'd potentially be spending the rest of his career with. Weber combined optimism with public relations management by saying the right things; that is, when he chose to speak. Upon his first visit to Philadelphia as a Predator since signing the offer sheet, Weber went on lockdown, declining to speak with the media about signing Philadelphia's offer.
Nashville PR wouldn't allow questions on Shea Weber signing the offer sheet with the #Flyers.

— Dave Isaac (@davegisaac) January 16, 2014
Weber would go on to announce his happiness playing for the Preds, along with the direction he perceived the team to be headed.
"We utilized the CBA the best way we could…I love it in Nashville," said Weber. "The team stepped up and showed that they're going to spend with the best of the teams, and now we can just focus on the season and getting more pieces of the puzzle."
The problem now lies within Nashville's penny pinching, quite the antithesis of what Weber said and potentially thought. After all, the Predators are among the fiscally struggling teams who benefit from the league's revenue sharing; an idea that Poile himself has proclaimed effective.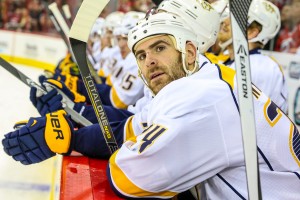 "If the cap goes up like it's predicted to go up, then it's contemplated that revenue sharing can go up," said Poile prior to the passing of the league's new CBA. "The formula is working."
If the formula is working, Poile isn't doing much for Shea Weber. And although Weber's front-loaded, robust contract may handcuff the Preds somewhat, they still found a way to guarantee goalie Pekka Rinne $7 million-a-year over seven years. All the while, only seven teams in the league have more wiggle room than the Preds, with Nashville's $38.689 million of cap space.
Nashville's free agency "splash" last offseason included names like, Viktor Stalberg, Matt Cullen, Eric Nystrom, and Matt Hendricks to the combined rate of $36.4 million. Needless to say, the Stalberg and Nystrom signings are a substantial cause for the insanity in Nashville. The two left wingers have shown the rest of the league what a combined $22 million is good for – a combined 34 points.
Although Hendricks didn't last long in Nashville, being traded to the Edmonton Oilers at the trade deadline, their return was goalie Devan Dubnyk. With 11 goalies on the move by the trade deadline, counting Dubnyk, Poile certainly could've done better than one that has given the Preds an .850 save percentage through two winless appearances. With the abundant cap space, there's no excuse for the Predators to allow names like  Tim Thomas, Viktor Fasth, and Jacob Markstrom to end up in other markets while they settle for Dubnyk in Rinne's absence.
If Shea Weber was happy to see the Predators as spenders, he couldn't have liked the rebuilding type trade that sent David Legwand and his 45 points to Detroit for Patrick Eaves' five points on the season – all with Detroit. Oh, can't forget the third-round draft pick Nashville got in the trade.
With all the insanity in Nashville, Shea Weber continues to waste away. The Preds are on the cusp of missing the playoffs for the second straight season, all while Weber is posting yet another 40 plus point season and racking up minutes. Weber's average time on ice of 26:49 is fourth in the league, while his 144 blocked shots ties him with another likely Norris Trophy candidate, St. Louis' Alex Pietrangelo, for 11th in the NHL.
https://twitter.com/TheViewfrom111/status/415319397532565506
If Weber isn't ultimately traded at some point in the near future, the Preds could reap the reward of their latest rebuilding process. Roman Josi is only 23-years-old and is saddled in for the next seven years, while the highly touted 19-year-old rookie Seth Jones was nabbed by the Preds with their fourth overall pick in last year's NHL Entry Draft.
As for now, though, Shea Weber will have to hold onto his memory of winning an Olympic gold medal when it comes to the current season. The Predators are in dead last in the Central Division with a minus-41 goal differential. Only three other teams have given up more goals than the Preds' 206. One, of course, is Edmonton. Hey, didn't the Preds trade for Edmonton's goalie? Yep, it's pure insanity in Nashville.