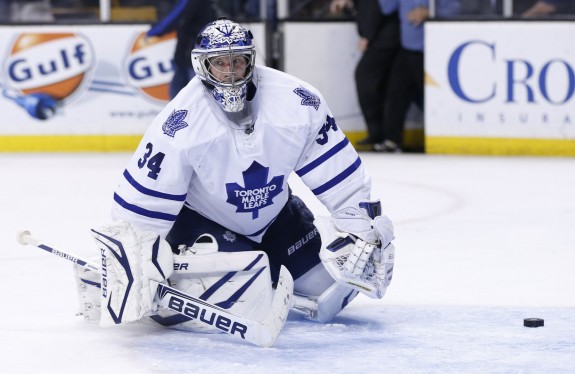 It's been everything we expected and then some.
When the Maple Leafs made their biggest splash of the 2013 off-season by trading for goalie Jonathan Bernier, everyone knew a circus was about to ensue in Toronto.
Despite injury issues in 2011-12 and never really playing a full campaign (thanks in part to last season's lockout) James Reimer had essentially been the incumbent number one for the three season leading up the acquisition of Bernier. It's not like Reimer was just given that title, either — he earned it.
Reimer posted a .921 save percentage while going 20-10-5 and stealing the top spot from both Jean-Sebastien Giguere and Jonas Gustavsson in his rookie season. He then rebounded from an injury-riddled campaign in 2011-12 to manage a 2.46 goals against average and .924 save percentage the following season while almost single-handedly getting the Leafs to Game 7 against Boston.
Reimer has not been so fortunate this season. A number of factors have kept him from seeing the same success he had in the past. Now with the playoffs on the horizon Reimer finds himself in a completely different situation than he did one year ago.
Why has Reimer struggled to maintain the starting role this season? Not only would it be easiest to answer with "Jonathan Bernier," it would be the correct answer. Let's be clear, though; Bernier isn't the reason for Reimer's lack of success in 2013-14. Rather, it's the Maple Leafs organization.
Take a look at these transcriptions of comments made by Sportsnet's Doug MacLean and Nick Kypreos courtesy of one of the best Leafs tweeters on the web, @Hope_Smoke.
https://twitter.com/Hope_Smoke/status/446317102777921536
https://twitter.com/Hope_Smoke/status/446317281123893248
https://twitter.com/Hope_Smoke/status/446317841260617728
Furthermore, Leafs coach Randy Carlyle commented on Reimer's play in what you could view as a rather inappropriate way following Tuesday's 3-2 loss at the hands of the Detroit Red Wings while saying, "I thought he was okay, you know, just okay."
Reimer was clearly displeased with the comments of his coach and how can you blame him?
"So he said I was just okay," Reimer said in a displeased tone. "I thought I played good, but obviously you'd like to make at least one of those saves in the third."
The Maple Leafs are lucky Reimer hasn't snapped yet. The tweets above show the lack of confidence, something that is completely unwarranted, Dave Nonis, Randy Carlyle and the likes appear to have in James Reimer.
Reimer did nothing but produce for the Maple Leafs leading up to this season. Again, that's excluding 2011-12, but it's surely never easy for a goalie to return from neck/concussion issues to a team that isn't exactly the best in the league (Toronto missed the playoffs by 12 points that season finishing 13th in the Eastern Conference).
Then there was this:
https://twitter.com/Hope_Smoke/status/446317526411014145
Placing Drew MacIntyre in net would have been a very questionable decision by Carlyle, who seems to be unable to realize that Reimer faces north of 30 shots in nearly every appearance. Furthermore, Reimer stopped all 31 shots he face in just 40 minutes of play against the Los Angeles Kings while stopping 29 of 32 against Washington. And let's not forget that Reimer can hardly be faulted for Sunday's game against Washington; the Leafs could not have played worse as a team in the first period.
Had Bernier been in the same situation, there's no doubt Reimer would be comfortably on the bench in the games that followed. It's a confusing plan that Randy Carlyle has seemed to implement.
So the question remains: How can a player be expected to succeed when his team unjustifiably shows no confidence in him, isn't willing to give him a real chance unless an injury occurs and is constantly finding new ways to insult him?
It's only a matter of time before James Reimer finds himself on his way out of Toronto. Unfortunately, that is entirely the fault of those who employ him: the Toronto Maple Leafs organization.
Twitter: @LukasHardonk | Email: lukas.hardonk@gmail.com | Lukas' archive
Lukas, a student at the University of Ottawa, covers the Toronto Maple Leafs on a part-time basis for The Hockey Writers. Contact Lukas at lukas.hardonk@gmail.com or follow him on Twitter, @LukasHardonk.