The front page of the Toronto Sun read, He fights. He scores. He's from Toronto. Guess who his idol was? The paper donned a photo of newly acquired Maple Leafs forward David Clarkson sporting a falsified moustache and mullet. The headline – WENDEL CLARKSON – plastered at the bottom of the page.
Toronto Sun cover: WENDEL CLARKSON! pic.twitter.com/1ixKoY14Bf

— Mike Zeisberger (@Zeisberger) July 6, 2013
The story was about the Leafs' signing of the former 30-goal scorer to a seven-year deal worth nearly $37-million. While many questioned the legitimacy of Clarkson's game, the Leafs' believed they signed the most coveted offseason free agent prior to the 2013-14 season.
But what added to this signing was the bonus of a Toronto boy returning home – donning the blue and white – and playing for the team he grew up watching. But wait, there's more. Not only did the Leafs acquire Clarkson. But in the midst of the 2014 draft, the team traded for the experienced Dave Bolland from the Chicago Blackhawks – another Toronto-area native.
Little did the Leafs know, both would play smaller roles than the team could've ever expected. In fact, thanks to injury, suspension, and lack of production, Clarkson and Bolland head a list of players that went from hometown heroes to major disappointments.
Fallen Leafs: David Clarkson and Dave Bolland
While Bolland's only played in 15 games for the Leafs this season – prior to suffering a serious injury – his presence early in the year was noticeable. He scored big goals and was on pace to set a career high in points. In the first 15 games of the season, he'd recorded six goals and four assists and two game-winning goals.
But as this story goes, Bolland suffered a torn tendon in his ankle similar to Senators' Erik Karlsson and has since been sidelined. Clearly, this hasn't been the year he was looking for in his return to his hometown – with no return date set in stone.
Clarkson's season, however, has been a different kind of tale. The 29-year-old signed a massive deal with the Leafs that ended up being highly criticized by those covering the team. And nothing has changed with the forward's performance so far this season.
David Clarkson to return to the #MapleLeafs lineup tonight. Looking for 'fresh start' after season plagued by injuries/suspensions.

— NHL EXPERT PICKS (@NHLexpertpicks) February 4, 2014
He started the year with a 10-game suspension stemming from an incident during a preseason meeting with the Buffalo Sabres. He missed another 10 games thanks to various injuries to his leg, elbow, and foot. And finally, he was suspended in mid-December for two games for a hit to the head of St. Louis Blues' Vladimir Sobotka.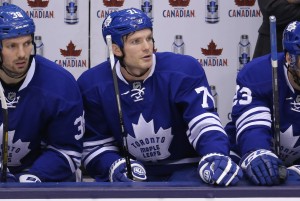 As if that wasn't enough, the gritty forward has only 10 points (4g-6a) in 48 games for his hometown team this season – a total that is sure to keep the critics within reach of this storyline. Now, it's certainly not time to write off Clarkson as a possible impact player. In fact, the first year after a huge contract can often force a player to play with unneeded weight on their shoulders. Add that to the constant in-and-out of the lineup for Clarkson and his season could just be an example of a bad year.
Whatever the case, Clarkson hasn't earned the calling of hometown hero just yet. It'll take a strong playoffs – if the team makes it – and a bounce back year in 2014-15 for fans to put this season in the back of their minds.
These two, however, aren't the only players to return home only to disappoint the applauding crowd. Here's a look at some others who haven't impressed at home over the years.
Olympic Disappointment: Evgeni Malkin and Alexander Ovechkin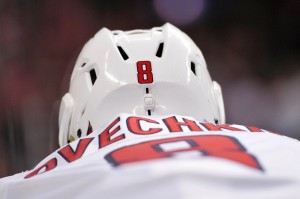 They are arguably two of the most successful scorers playing in the National Hockey League today. Heading into the 2014 Olympics in Sochi, Russia, there was a lot of hype surrounding the Russian team and their indisputable ability to score – Ovechkin, Malkin, Datsyuk, and Kovalchuk to name a few of their top players.
It was a homecoming for those playing in the NHL and another chance for the KHL players to impress their country on home soil. Instead, it was an utter disappointment losing to Finland 3-1 in the quarterfinals.
Ovechkin finished the Games with two points (1g-1a) in five games, while Malkin managed to put up one more – recording three points (1g-2a) in those five games. Stories surfaced after the Olympics about how the KHL players and the NHL players never gelled. It was said that there was a separation between the two groups.
Russian coach criticizes #AlexOvechkin after team's disapointing #Sochi2014 performance http://t.co/3iiM3YBkP3 pic.twitter.com/vnizrpFDuO

— Yahoo Sports (@YahooSports) February 20, 2014
However, as Dmitry Chesnokov writes, it was Ovechkin who was blamed by Russian coach Zinetula Bilyaletdinov.
"Tough to explain the loss, of course, why scored so little. Players who score so many goals for their clubs, like Alex Ovechkin who scored 40 goals for his club [didn't score]…Right now I cannot explain that."
Disappointment in Detroit: Mike Modano
For 20 years, after being drafted by Minnesota first overall in 1988, Mike Modano wore a star on the front of his jersey. Over those two decades, he recorded 1,359 points (557g-802a) in 1,459 points for the Minnesota/Dallas franchise.
The Red Wings honored Mike Modano's #90 by giving it to a guy who would spend most of the year injured just like he did.

— Winging It In Motown (@wingingitmotown) March 9, 2014
He returned home to the state of Michigan for the 2010-11 season and played one year with the Detroit Red Wings prior to retiring following a disappointing season. Although he missed 41 games that season due to a wrist injury, Modano only recorded 15 points (4g-11a) in the 40 games he did play in red and white.
#redwings Modano on his future: ""I think you just kind of keep grasping on to something that really isn't there."

— Bob Duff (@asktheduffer) May 14, 2011
A Mistake in Montreal: Denis Savard
Many people would argue that a total of 179 points (72g-107a) in 210 games is nothing to be ashamed of and would argue that it's anything other than a disappointing three seasons. However, considering Savard averaged close to 100 points per season with the Chicago Blackhawks, a drop to just under 60 points per season in Montreal certainly wasn't expected.
Savard did score 70 points (28g-31a) in 77 games during his second season with the Canadiens, but followed that performance with 50 points (16g-34a) in 63 games in 1992-93 and saw his point totals decline after that.
He only spent three years with his hometown Canadiens before heading south to Tampa Bay and returning to Chicago. Although it's not a regular case of hometown hero disappointment, Savard's drop in performance couldn't go unnoticed.
There's been many athletes to return home and play for the teams they grew up watching. Some excel in the situation, while others have to take their time getting used to wearing the familiar jerseys.
David Clarkson has had, simply put, a terrible season. He's not the first and he certainly won't be the last. But the next six seasons will show whether or not the 29-year-old can deal with the pressure of being a hometown hero.
Other players to succumb to hometown pressure: Eric Lindros (Toronto Maple Leafs), Daniel Briere (Montreal Canadiens), Chris Bourque (Boston Bruins), Mike Vernon (Calgary Flames – second stint), and Eric Fehr (Winnipeg Jets).
Questions or comments, follow Andrew on Twitter @AndrewGForbes or on Google+.