As is the case with all developing hockey players, the ultimate personal and athletic goal is to one day play in the National Hockey League.
In order to reach this goal, each and every player must embark upon a unique journey.
For most, this journey involves development at the major junior level, most commonly through the Canadian Hockey League and its three individual leagues. Although this particular path is typically seen as greatest in terms of quality of competition and player exposure, it is not a prerequisite for future success.
Other successful pathways to the NHL exist, however these paths are those less travelled, and although they are typically more challenging, they tend to offer an ultimately more rewarding journey from both a personal and athletic perspective.
This is the path which goaltender Benjamin Patt has chosen to walk.
About Benjamin Patt
At the age of 18, Patt has already enjoyed a hockey career rich in both quality and experiences.
Following a considerable stint in the Greater Toronto Hockey League (GTHL), Patt, rather than holding out for selection in the Ontario Hockey League draft, chose a more intellectually and personally stimulating experience, accepting an offer to play at the Canadian International Hockey Academy (CIHA).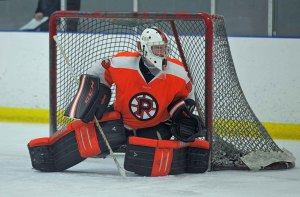 Located in Rockland, Ontario, CIHA is situated east of Ottawa on the shores of the Ottawa River. Born and raised in Brampton, Ontario, living away from home at the age of 16 was a major cultural shift for Patt, as for the first time in his life he was living on his own.
Although the CIHA team did not enjoy outstanding success, Patt grew tremendously as a hockey player, receiving instruction from top hockey trainers while concluding his second last year of high school.
Following his time at CIHA, Patt ultimately decided it was time to move on to a greater challenge, accepting an offer to play at the PEAC School for Elite Athletes.
Based in Toronto, Ontario, Patt continued to play an increased quality of hockey, competing against elite AAA teams and prep schools throughout the United States such as Shattuck St Mary's, which has produced NHL players such as Jonathan Toews, Zach Parise, Nathan MacKinnon and Sidney Crosby.
All in all, Benjamin enjoyed a successful season with PEAC. Not only did PEAC win various tournaments, but Patt was honored with the Under-18 Award for Best Goaltender. Alongside his success in hockey, Patt successfully completed  the final year of his high school education, making his time with PEAC successful from both a personal and athletic perspective.
The Big Decision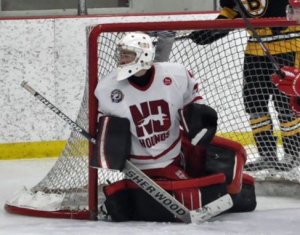 Following his graduation from PEAC, Patt was immediately faced with an incredibly difficult and immense life decision. Would he attend camp with the reigning Ontario Hockey League champion Guelph Storm, or would he keep his National Collegiate Athletic Association (NCAA) eligibility intact? If Patt chose to attend training camp with the Guelph Storm, the time spent with the team would dissolve his opportunity to pursue an NCAA scholarship.
In the end, Patt elected not to join the Guelph Storm. A potential University scholarship and education would simply be too great of an opportunity to pass up.
As a result, Patt reviewed a plethora of offers from elite development teams throughout North America. Hockey clubs from Alaska to Texas showed considerable interest in Benjamin, all of which were seeking to add en elite goaltender. Eventually, Patt accepted an offer to attend the Athol Murray College of Notre Dame located in Wilcox, Saskatchewan. The decision would ultimately allow Patt to continue his education, retain his NCAA eligibility and play for the Notre Dame Hounds of the Saskatchewan Junior Hockey League (SJHL).
Benjamin Patt spoke about hockey in Saskatchewan and himself as a goaltender in the following interview:
The Interview
Brett Slawson (THW): Ben, you've had the opportunity to play in multiple provinces and even countries, how does hockey in Saskatchewan compare to where you have played in the past?
Benjamin Patt (BP): "There are clear differences in each hockey culture, but I think Saskatchewan is probably the most passionate about hockey of everywhere I have played. Around 90 percent of people I talk to have a strong interest in our team and are up to date with how our club has been playing. Although life in Wilcox is much more simplified than in Ontario hockey wise, if you have a bad game chances are you will be hearing about it the next day from someone you probably haven't met before."
THW: Wilcox, Saskatchewan is a small of town of a little over 400 people, how have you enjoyed your time there so far?
BP: "Having been born in Brampton which is home to almost 600,000 people, moving to Wilcox has definitely been a change in atmosphere, but has been a great experience. Everyone has been extremely welcoming, almost like a big family, people care to talk to you and make an effort to get to know you. By simply walking into a gas station or the local arena, you begin to recognize everyone and are almost immediately struck in conversation as everyone is interested in how everything is going, which is great. It is certainly a big change living in a town of about 300 when my old high school had just shy of 3000 students."
THW: This is your first year playing hockey at the Jr. A level, how has the quality, or difficulty, of hockey altered from where you have played in the past?
BP: "It's a difference of playing against boys versus men. In my past few seasons I had always played with players of the same age group, but now I am an 18 year old stepping on the ice against 20 year old, young men. The game is much faster in every aspect, while the players are both bigger and stronger. Overall, you have to have the mindset that however big or strong these players are, at the end of the day it's still just hockey."
THW: Every goaltender plays a unique style of hockey, whether it be standup, butterfly or hybrid, how would you characterize your style of goaltending?
BP: "I like to think that I'm a hybrid style of goalie. My roots have all been based on butterfly goaltending, as that style is what most goalie schools are teaching these days. But if I have learned anything from playing and teaching hockey, it's that at the end of the day all that matters is if you make the save, whether it is done by a perfect butterfly, hands in front, deflected into the corner or by rolling on your back and kicking a leg in the air."
THW: Based on your hybrid style of goaltending, what NHL goalie would you compare yourself to?
BP: "Although it might sound like a generic answer given he is a top five NHL goalie, I would have to say Jonathan Quick. He gives the Kings a chance to win every game and has the ability to make those key one or two game changing saves. That is the style of play I try to put on the ice every game. You have to give your team a great chance to win. If you can make that one save that not only keeps the score tight, but changes the momentum of the game, you're doing a great job."
THW: Benjamin, one final question to wrap up the interview. You seem to be surpassing your goals and finding success everywhere you play, ideally, what is the next step for you in your hockey career?
BP: "My dream has always been to play NCAA Division 1 hockey. The thought of being able to play at an elite level of hockey while getting an education is perfect. I also want to be able to tell my parents they have no need to worry about my schooling from a financial standpoint, as they have already done so much for me. I can never thank them enough for their years of supporting my hockey dreams. The scholarship won't come without hard work; I can't wait to see where the hockey road will take me!"
END
Benjamin Patt has enjoyed great success in his rookie year in the SJHL. The Notre Dame Hounds, who at one point this season were the number one ranked Jr. A team in all of Canada, are having a fantastic season, largely in part to Patt's strong work in net. Patt, who posted two shutouts in his first six SJHL games, was recently named as an SJHL player of the week, while he was featured in the "Who's Hot?" segment after recording a shutout, a 0.72 GAA and .973 Save Percentage in winning three straight games.
Clearly, Benjamin Patt has cemented himself as a budding hockey prospect. His hard work and dedication have seen him enjoy countless success at various levels of hockey throughout North America. Although his hockey future remains somewhat unclear, one factor remains certain, Patt's determination to become the best hockey player, and person, he can be.
Brett Slawson is a four-year veteran of The Hockey Writers who covers the Toronto Maple Leafs, NHL prospects, and the OHL's Mississauga Steelheads.
Contact Brett on Twitter @brettslawson92, or by email at brett_slawson@hotmail.com.