In this translated interview, originally appearing on the popular Russian portal allhockey.ru, New York Rangers prospect Igor Shestyorkin recalled the WJC finals.
– Igor, you are an alumni of the famous "Soviet Wings" school. How did you get to move to Spartak Moscow?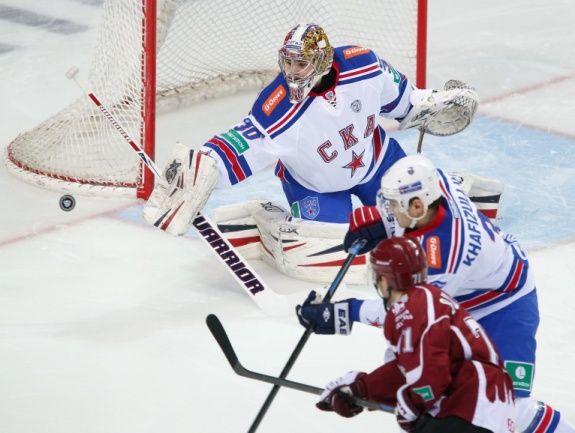 – It was simple: during the [2012] KHL Junior Draft I've been picked by Spartak.
– In spite of the hard financial situation, Spartak last year won the Kharlamov Cup in the Russian junior league. Was it a hard season for you? Was it hard to play during such hard times for the team?
– We had a very good team with many older players who were very responsible. Our head coach Oleg Bratash before the playoffs told us that if we wanted to win, then we should forget about the financial problems and keep on playing as hard as possible.
– Let's talk about the WJC. What are you impressions about the tournament? Did anything surprise you in Canada?
– The tournament gave us only the best impressions. It wasn't my first time in Canada, so I can't say anything surprised me. I just want to emphasize one thing: people there truly live hockey.
– How did they greet you in Canada?
– There has been no special treatment, no tension, the atmosphere has been very friendly.
– Is there a single moment you remember the most about the tournament? Can you rate Team Russia's performance? What did you miss to win the tournament?
– It's hard to select a single moment, there were many of them. I am glad that we managed to be a truly united team and thanks to this unity we managed to get to the finals. We played well, we fought hard, we didn't spare ourselves, but we lacked something. Maybe we lacked some luck, yes I didn't play well myself and I couldn't help the team in the most needed moment.
– You were drafted in the NHL by the New York Rangers. Do you talk often with their scouts? Did they invite you to the training camp? Do you think about playing in the NHL?
– Yes, I talked with them. They invited me to their training camp, but I couldn't attend it as there were problems with my visa. I'm not thinking about the NHL right now, I need to progress here first.
– Many goalies have many rituals before a game, do you have your own ones?
– I have my rituals, but I'm not going to talk about it, it's personal stuff.
– What are your plans for the future? Winning a spot in the senior National Team?
– Yes, of course I would love to play for the National Team, but I still have a long way in front of me to achieve this.