Imagine a world where Mike Modano only played for the Stars franchise and Jarome Iginla wore just the flaming "C" on his chest. The accomplishments from both of these players will never be taken away and stories will be told of their greatness for millennia. However, being employed by just one team would likely make those achievements shine even brighter.
Goaltender Martin Brodeur would have fallen into the one-team wonder category. The famed New Jersey Devils netminder played for one franchise from 1991-92 until the end of the 2013-14 season. Unfortunately, both the Devils and Brodeur, 42, decided to part ways the following summer as Cory Schneider became the new face of the crease in New Jersey. Brodeur went on to sign with the St. Louis Blues in December and his former team became nothing but a memory — one that holds crowning achievements that will likely not be matched for quite some time … if ever.
"For me, the Devils … I played my career," he said after reaching a deal with St. Louis. "I got drafted by them. I've won three Stanley Cups. I've done so much with the Devils. I mean, that's never going to go away. This is a new challenge for me. Right now I'm a St. Louis Blue. But when it's going to be all over, I'll be a New Jersey Devil slash St. Louis Blue – little slash."
The latest in the Brodeur saga came on Thursday, when it was announced that the three-time Stanley Cup champion was taking a leave of absence from the team to ponder his future.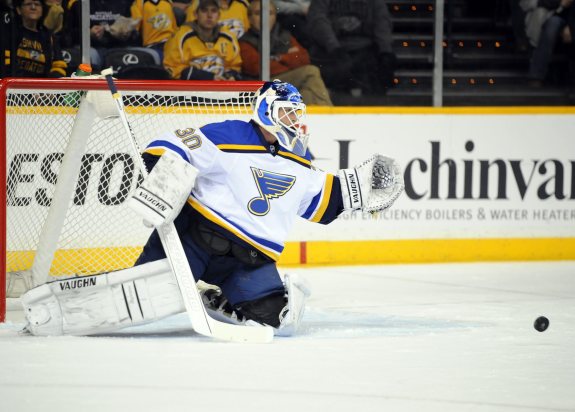 Almost 1,000 miles away, the Devils are fully engulfed in a saga of their own. After making the decision to stick with Schneider, the team looked to improve over the summer by adding forwards Michael Cammalleri and Martin Havlat, while a slew of young defensemen were working their way through the pipeline.
The result hasn't been what was expected. The team's dismal 16-22-8 record plots them in 14th place in the Eastern Conference. It has been a forgettable first half of the season for the Devils and things seem to keep getting worse.
To go on top of a 4-7-1 record in the franchise's last 12 games, the Devils may have lost their goaltender for an extended period. After blocking a shot from Anaheim Ducks forward Matt Beleskey with his head, Schneider finished the first period, but was unavailable for the remaining two periods.
If Schneider were to miss time, the Devils would roll out a goaltending duo of Keith Kinkaid and Scott Clemmensen – a situation that would leave something to be desired for Devils fans. What if the Devils ventured out of the goaltenders within their organization to fill the role?
Why Brodeur fits
It's a situation with which the Blues are familiar. With the team close to the salary cap, general manager Doug Armstrong signed Brodeur to a low-risk, $700,000, bonus-laiden contract that can nestle inside any team's budget. New Jersey sits about $2.56 million under the cap, which means bringing the veteran netminder back would not be of consequence to the team's financial restrictions.
Brodeur did not play Vezina Trophy-winning hockey for the Blues, but he was serviceable as a makeshift starter. With the Blues, he accumulated a 3-3-0 record, to go along with a 2.87 GAA, .899 save percentage and one shutout. The most important part of his game came from providing rookie Jake Allen a reliable backup option, as well as a solid mentor at practice. Those are attributes that simply cannot be calculated in statistics.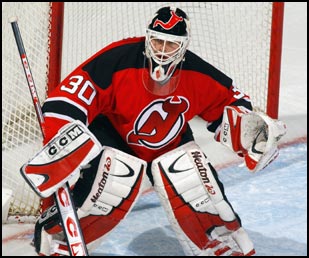 He could provide the same for Kinkaid. Although Schneider, 28, is the team's starter for the foreseeable future, it couldn't hurt to equip Kinkaid, 25, with the best of mentors until Schneider's return. Plus, it's likely the Blues would trade him for next to nothing (at most, a seventh-round draft selection). Reacquiring the most valuable player in franchise history would be a warming moment that would be difficult for NHL pundits to debate over, given the minimal return the Blues would expect.
If Brodeur does falter in the games he receives starts, it won't be as crucial as if he did the same for St. Louis, who is in a heated battle for the Central Division title. Let's face it: the Devils are out of the playoff race at this point.
The current pace of the NHL standings suggests that the eighth and final playoff spot in the East would finish with 102 points. The Devils, who currently have 40 points in 46 games, would have to win 31 of those 36 games to reach that mark; even the 1969 Miracle Mets would find that number staggering.
That's not to say that acquiring Brodeur would be throwing in the towel; it means quite the opposite. If Brodeur has anything left in the tank, which he confirmed in St. Louis that he does, he could provide a few solid outings to push the Devils out of their season-long slump. He needs just nine wins to reach 700 in his career; a roster full of players that know Brodeur on a personal level could receive a lift when knowing they are working toward a goal that seems unattainable for any other NHL goaltender.
He already knows the team and Lamoriello's system. The state of New Jersey adores him. The Devils need extra motivation in a bad way. The stars seem to be lining up perfectly for a reunion that the entire NHL would embrace.
Right now, Brodeur's Wikipedia page claims he's a goalie for the St. Louis Blues. That can simply be a smudge on the timeline and a short reference on his Hall of Fame plaque. It can be Mark Messier returning to the New York Rangers. It can be Peter Forsberg returning to Modo in Sweden. It can be Daniel Alfredsson retiring as an Ottawa Senator.
It can be what it was supposed to be: Martin Brodeur a New Jersey Devil for life.