On December 9th the Colorado Avalanche fell to the Nashville Predators 3-0. Their record following that game was 9-13-6. Since that game Colorado has gone 10-4-4, and have played a much better brand of hockey, for the most part. Their record now is 19-17-10 and they sit just 3 points out of the playoffs. But the question is how likely is that to happen. 3 points is not insurmountable by any stretch, but in the highly competitive Western Conference Colorado could see their poor start come back to haunt them.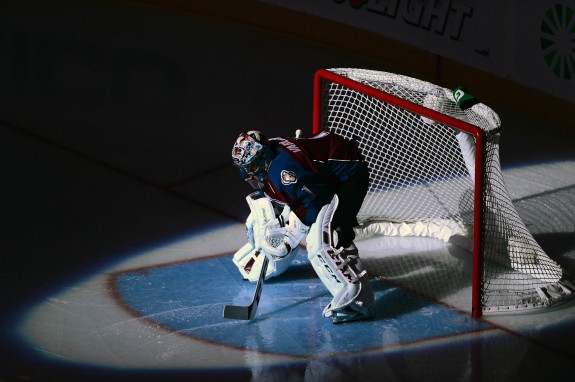 Race to 95 points
In recent years the conventional wisdom is that 95 points is the key to getting into the playoffs. Last season it was actually 91 points that saw Dallas make it in the last spot, but the Avalanche can't hope for 91 points. They have to aim higher. That 10-4-4 record since December 9 is a points percentage of .667%. This is good, this is something that Colorado needs to keep up. Colorado only have 36 games left, and that means 72 points left on the table. Keeping up a .667% points percentage for the rest of the season would net them 48 points, which would give them 96 points. If recent trends hold then a 96 point season would see them back in the playoffs for the second straight season.
The question is of course can Colorado sustain that point percentage. 18 games is a much smaller sample than the 19-17-10 record that Colorado have through 46 games. Colorado have been fairly inconsistent this season, not just game to game, but from period to period. Getting to 96 points would require a record around 22-10-4 for the rest of the season. It also requires Colorado to have fairly little adversity. Losing goaltender Seymon Varlamov to injury again could be a big problem. Young Calvin Pickard has been terrific this season filling in for Varlamov, but he hasn't been in an NHL playoff race, and his inexperience could be a factor.
Colorado needs to start scoring as well. Big names like Matt Duchene and Nathan MacKinnon have struggled this year, and it's hard to see the Avalanche keeping pace without contribution from their big time forwards. Colorado are on a knifes edge right now. A lot has to go right for them to keep up with the current top 8. Statistic site, Sports Club Stats, only has Colorado at a 8.3% chance of making the playoffs.
 Tough Competition
The biggest hurdle to Colorado's playoff hopes might just be the brutal Western Conference, and the infamous loser point. In the Western Conference Colorado are within 10 points of 5 teams. They are Los Angeles (51 points), Calgary (51), Vancouver (53), San Jose (54), Winnipeg (56). With the exception of Winnipeg, those teams all have games in hand on Colorado. Colorado needs those teams to start losing.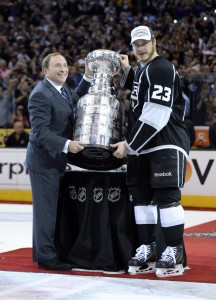 Los Angeles is currently sitting just outside the playoffs, they are tied with Calgary, but the Flames hold the tie breaker. It seems hard to imagine that the defending champions would miss the playoffs, but they have struggled this season. But for them to get to that 96 point mark they only need a point percentage of .608%. If the Kings eventually figure out how to win again they could put some distance between them and Colorado. If that happens Colorado should be looking more at Vancouver and San Jose as a team they could potentially catch.
The top 3 in the Central Division is, baring some miracle, not going to happen for Colorado. Nashville, St. Louis and Chicago have those 3 spots and it seems unlikely that they would give them up. But those teams could help Colorado. If they can beat these wild card teams with some regularity it could give Colorado a window. Colorado needs the top teams to win, and they need them to beat all those teams on the bubble.
3-Pointers
During the rest of the season the likes of Los Angeles, Calgary, Vancouver, San Jose and Winnipeg will all play each other. Colorado Fans will have a tough time deciding who to cheer for in those match-ups. The ideal result in all of those games would be to hope they end in regulation. The loser point, as it has come to be known is one of the reason these playoff races have become so close. Colorado has been a beneficiary of this, they have 10 more points this year than they would if they lost all those games in regulation. Colorado started yesterday two points ahead of Dallas. Thanks to the extra point they gained in Tampa Bay they remain one point ahead of the Stars.
Taking the season as a whole Colorado are on pace for 85 points. That wont get them into the playoffs. But Colorado's pace since December 9 would see them with 96 points, that might be good enough. There are no guarantees in this game. The Western Conference is filled with quality teams that could all potentially make the last 8 come April. Even teams that have struggled like Minnesota are not completely out of contention.
Colorado are going to fight their poor start all season. If Colorado started off playing as well as they have over the last 18 games they could be on pace for about 109 points. That's quite a what if for Colorado though. They need to focus on what is, and not what could have been. If Colorado can't keep up their current pace for  much long then it will be time to focus on next year, throw this season in the trash and learn from it.