Rob Davison is remembered by many Sharks fans as a stay at home defenceman who was never shy to drop his gloves and step up for a teammate. In his 29 regular season fights in the NHL, he has taken on some notorious fighters like Derek Boogaard, Daren McCarthy, Todd Fedoruk, Jamal Mayers – the list goes on. He has had to pass all the tests for a hockey player who wants to make it to the NHL. He first had to earn recognition in the Ontario Hockey League where he was voted 'Best Bodychecker' in the league. In his three years in the OHL he racked up 544 PIMs. The next logical step was the American Hockey League where he spent two full seasons splitting time between the Kentucky Thoroughblades and the Cleveland Barons. It was during his third year in the AHL that he had his first NHL call-up to the San Jose Sharks. He then became a full time member of the Sharks for the next three years playing 161 games in total. During his tenure in San Jose, the Sharks came mighty close to capturing the Stanley Cup – the 2003-04 Western Conference Finals was the furthest the Sharks have ever ventured.
In 2008, Davison was traded to the New York Islanders for the seventh round pick (with that pick the Sharks drafted Jason Demers). He then spent a few more seasons in Northern America playing for the Vancouver Canucks, the New Jersey Devils, and the Albany Devils before moving across the ocean to play in Europe. He spent some time in the Czech League playing for the Trinec Ocelari HC before finding his place with the Red Bull Salzburg of the Austrian League.
The Ontario native will forever be remembered for scoring one of the longest goals in the history of the NHL. Davison scored from 180 feet away on his former Sharks teammate – Vesa Toskala, who at the time was in the net for the Toronto Maple Leafs.
Davison's current team – the Red Bull Salzburg – has been a national champion several times, and is becoming a force to reckon with in Europe. The Red Bull's capture of the European Trophy in 2012 is proof of that. Austrian hockey in general is on the rise – just a few days ago, the Austrian National hockey team earned a place in the 2014 Winter Olympic Games in Sochi. At the time of the short break in the Austrian League schedule, the hard working defender was kind enough to share his thoughts on who he thinks the best hockey player in the world is, his favourite hockey memory, advice on how to break into the NHL, and much more.
Ilya Davydov (ID): Many fans remember you for standing up for your teammates – you have taken on some notorious fighters like Todd Fedoruk, Jamal Mayers, and Darren McCarthy. Have you fought anyone while playing for the Red Bull Salzburg?
Rob Davison (RD): I fought a couple of times last year, I had I think two fights. And this year I fought twice as well, but it's a little more difficult than back home because of the style of play. I have a bit of a reputation for being a tough guy, and sometimes me just being on the ice it kind of settles things down. There is a couple guys over here that I think if something happens a fight could break out, but for the most part it's a lot more skill over here. And it's not as physical as North American hockey.
ID: Did it take long for you to get used to bigger ices surfaces?
RD: Well, last year my first year in Europe, I came over and I started in the Czech league, and some of the rinks there were North American sized. It was an adjustment playing on the bigger ice surface with the skating involved, but that particular league is kind of a North American style league, and it made the transition to the bigger ice surfaces and European hockey easier for me.
ID: There are a lot of Canadian players currently playing for the Red Bull Salzburg – was that at all a deciding factor for playing here, or were there some other aspects on which you based your decision?
RD: Well, Red Bull has such a great name, it's known worldwide. Everyone worldwide knows Red Bull. When I was having a little bit of difficulty with my team in Czech last year, I was contacted by Red Bull and asked if I'd be interested in coming here, and I jumped into chance. In the Czech league there was only one other North American on my team, and seeing that there were like ten North Americans on this team – you know it made sense.
ID: Who do you like to hang out with from your current team?
RD: I get along with Alex Auld, really well. Him and I played three years of Canadian Junior hockey together, way back in the day. So when I was already here, he contacted me in the summer asking me about the team, and what it's like in the city, and that sort of thing. We kind of just picked from where we left off back in junior. We are hanging out, and our wives get along really well, and the kids as well too.
ID: Could you please tell me how you started playing hockey? How did it all begin for you?
RD: Well, surprisingly my parents had me in figure skating, and I quickly looked around and saw that it wasn't overly popular with the boys, it seemed to be more girls doing it. I think my parents just wanted me to learn to skate, you know being in Canada, and that what was available. So from there, the next year my mum saw that there was a sign-up for house league hockey, and she enrolled me, and from there I went to travel team two years after that. I think near the age of 9 I started travel hockey back home.
ID: How did you decide to be a defenseman rather than a forward?
RD: It's an easy answer. At the age of 9 when I started playing travel hockey, I was the biggest player on the team, so the coach automatically put me on defence. It wasn't really my decision, it was more coach's decision.
ID: What was your favourite team when growing up?
RD: Boston Bruins
ID: Who was your favourite player when growing up?
RD: Cam Neely
ID: What do you do during the offseason to stay in shape?
RD: I enjoy working out and going to the gym, I stay active in that way. Obviously we have a weight training program we need to follow. I like to do outdoor cycling as well, and like most hockey players I do enjoy golf. I know it's not keeping in shape, but it is something fun to do.
ID: What would be your advice to those juniors who want to break into the NHL? Any specific tips?
RD: I'm not the most naturally gifted player as far as the skill goes. So I got to where I was by hard work. It seems like such a cliché, but that's all I can say. Even going to the minors, I've seen a lot of great skilled young hockey players, and they don't make it for a number of reasons, opportunity or whatever. But a lot of it has to do with the work ethic. I just feel like if you do work hard, the team that has drafted you or the team that you're trying to make – they recognize that, they respect that, and you'll get a chance.
ID: Can you tell me about your typical game day routine?
RD: Well, it changed over the year. But now, I get up, and we go to the rink here, and we have a video meeting, and then depending on the type of game it is or the point of season, we will have a pregame skate or we won't, and then just ride the bike – do something to get the legs going. Then I come home, have a meal, my wife usually cooks me spaghetti and meatballs or some sort of pasta or chicken or something like that, spend some time with the kids, and then I lie down for a couple of hours in the afternoon, and then I'm off to the rink at night.
ID: Do you have any game day rituals or superstitions?
RD: I used to, when I was younger, and I kind of got away from them, just because I sat down with someone one day, and they just said this is just too much. The guy that did it said "You know, you're going to get to a point where it's going to be tiring on you. Try to let things go". I used wear the same undershirt to the games, I used to do something in practice that I would do every time before the game. He was right, I just needed to get away from that, and don't be superstitious. There were number of things over the years, like taping my stick a certain way, taping my socks a certain way, putting my left skate on before my right, or something like that. But after the years, I got away from that, and realized it's not something you need to spend time on.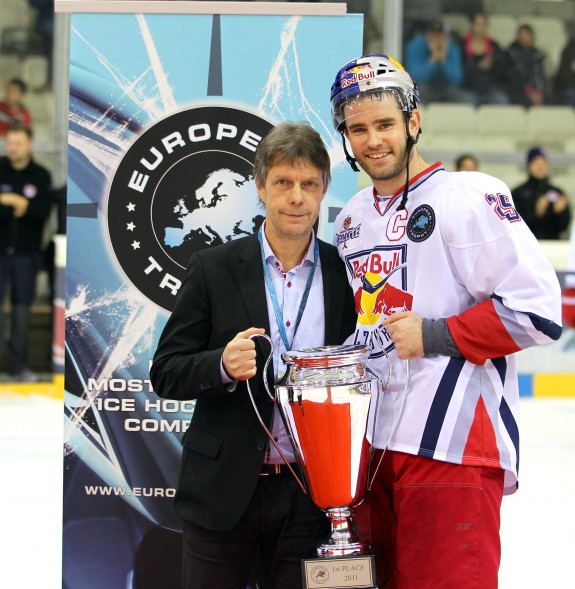 ID: What is your favourite hockey memory?
RD: That would be with the Sharks. My favourite hockey memory was playing in the Western Conference Finals in '03-'04 [ID: against the Calgary Flames]. I don't think I played in the first two rounds, and then Ron Wilson gave me the opportunity to play in the Conference Finals, and I played five games, and those were the most exciting games I can remember in the NHL. You know we never won the Stanley Cup, or we never won the Conference Finals in the NHL – and then last year, they have a big tournament here – it's called a European trophy –the team named me captain, and we won it. We beat teams from Finland, Czech, and in the finals we beat another team from Finland, and to finally win something with a team – it's something you can never experience anywhere else, because you can win an individual award – you are like "I did this", but to work together with other people – it's amazing. It was a great day, and I know it meant a lot to the team here, to Red Bull, because it was something they had in the works for a number of years, and they were really excited about it as well.
ID: Who is the best hockey player in the world right now?
RD: Right now? Probably Pavel Datsyuk. To me it's probably from seeing him so much when I was with the Sharks going to Detroit, and having to play against him, Zetterberg, and Lidstrom. The way he plays the game. I mean, Ovechkin is probably the most exciting player in the NHL, and Crosby is probably the most skilled players in the NHL, but I think Datsyuk puts everything together – he's great with the puck, he's a great point scorer, he plays the body, he works hard. To me he does everything, and I can respect that – being great at everything, rather being the best in one thing.
ID: Would you say that Datsyuk was the hardest forward to contain?
RD: Of all my games ever in the NHL, to me the hardest player to contain in the corners was Peter Forsberg. The way he used his body, he would push himself back into you, just get space. He would feel where you were and turn one way or the other. There were nights when it was really frustrating.
ID: What was your favourite arena to play in?
RD: I always loved playing in San Jose, in that rink. Growing up, I would never have thought that, but when I was in San Jose playing in the playoffs – their rink is so loud, it's an experience. You go to some other rinks in the NHL, and it's quiet, and you don't expect that. Any Canadian city you would think would be very loud, but with the exception of Calgary – I don't think there was another rink that was as loud, or as an exciting place to play as in San Jose.
ID: In San Jose you wore numbers 38 and 5, number 3 when you played for the Islanders, you wore number 4 in Vancouver, 34 for the Devils, 55 for the Trinec Ocelari, and you are now wearing number 25 for Salzburg Red Bull. How do you decide which number to wear?
RD: This is a good question, and I have a reason for every single one of them. My favourite number is number 5, it always has been. I wore 38 when I was called up, I think I played 15 games as a call-up, in 02-03. That was the number that was my training camp number, and when I got there – that was the number that was on the back of the jersey. The following year, the coach Ron Wilson came to me and said "Rob, you're on the team. What number would you like to wear?". You know, as a rookie you don't want to make any mistakes and cause any trouble so I said "38 is fine". Then Ron Wilson was like "No Rob, you don't understand – you're on the team, you can choose whichever number you want!". So at that point I chose 5, and that was my favourite number, and I wore it my whole San Jose career, until I got traded to the Islanders. Number 5 is retired there, so I couldn't wear it there. Then I signed with Vancouver, and Lukas Krajicek was wearing number 5, so I couldn't wear number 5 there, and then I signed with the Devils, and the way the Devils organize their numbers is from what I've been told is – Lou Lamorello picks the numbers for the guys, so I didn't have a choice there, unfortunately. But even if I did, Colin White was wearing number 5, so I wouldn't have been able to wear it anyway. Last year in Czech I wore 55, and it's because number 5 has been taken again, so I put the two number together – 55. Then I came to Red Bull, and number 5 was taken again by a forward, surprisingly, because it's not typically a forward's number, so they asked me to choose another number, and I went with 25.
ID: During previous interviews, you have described yourself as a stay at home defenseman, with strong work ethics. You are also the guy who is never shy to drop the gloves. What is your personality off the ice? How would you describe yourself?
RD: I'm a really family oriented guy, I love my family a lot, I love my kids – as any father would say. I truly enjoy spending time with them. As far as my personality – I'm pretty easy going, things don't really bother me unless I feel that it affect my ethics or my beliefs, then I'll stand up to whatever subjects it's about. But I think people that know me well, know me as a happy guy. I can be serious at times, but I kind of go with the flow, not a tonne of stuff really bothers me, unless, like I said, it's something I believe strongly in.
ID: If you could create an all time fantasy hockey team – 3 forwards, 2 defenders, 1 goalie – who would make that team?
RD: I think you go with the all time leading scorer Gretzky, I think it's a pretty easy one. Depending on how the fantasy was setup, whether PIMs and those things count, I'd probably have Gordie Howe; and Sidney Crosby – tonnes of points, centerman, takes lots of face-offs. As a goalie? That's a loaded question. Patrick Roy was successful wherever he was, so Patrick Roy. Defence – Nick Lidstrom, and Bobby Orr.
ID: Were you surprised when you scored on Vesa Toskala from over 180 feet away?
RD: Yeah, it was a shocker. It was funny that it came on Vesa. I've had people over the years ask me about it, I can joke and say "I was aiming for that shot". It was a PK, and I just cleared the puck out, and the puck was hopping when I slapped it out, and it just kept hopping all the way down to Vesa… Poor Vesa. Our rookie seasons in the minors were together in Kentucky, and we came up from the San Jose farm system together, we played in San Jose together, and we were really good friends during our time in San Jose. We hung out a lot, and we had a great relationship. Until that goal. Just kidding. I talked to him after, and I remember him saying "If one guy was going to do it – I am glad it was you". I was told this last year when I got to Red Bull – one of my teammates on this team [ID: the Red Bull] was on the ice with me when I scored that goal. It was his first plus in the NHL. He was happy with that.
ID: After playing hockey all their lives, some athletes lose interest in playing their sport. Do you still have passion for the game of hockey?
RD: I really love hockey, I love all aspect of hockey. In the last couple of year, I've taken on more of a mentoring role – my last couple of years in the New Jersey system I worked with some of the younger guys there, just giving them tips and things like that. Over here, the Red Bull brings over younger players that they want to develop and send back to hopefully make the NHL, and I work with them – with defenseman they bring over, and some of the forwards – not so much on their scoring, but how they can be better in protecting the puck in the offensive zone and things like that. After hockey, I'd love to stay in it, I really would. I haven't decided in what capacity – whether it's coaching or scouting or something like that, but I like going to the rink every day, seeing the guys, talking with them, practising. Even in practice – my competitive edge is still there. I love hockey. I hope that there will be an opportunity for me to continue hockey after my playing days.
ID: Last but not least – who do you think will win the Stanley Cup this year?
RD: Right now, I'm staying up with the Power Rankings on TSN, and they have San Jose as a number one team [ID: at the time of the interview]. I don't know. Every year San Jose is strong in the West, and with Detroit losing Lidstrom – I think they have a very good chance. Chicago has been strong. I think Vancouver as well. I think the Stanley Cup is going to stay in the Western Conference this year. I think one of these three teams will come out on top. That didn't really answer the question. How about if I pick two teams – I think either San Jose or Vancouver will win the Stanley Cup this year. [ID: Which team do you think will come out from the East?] I think Pittsburgh will, as long as Sidney Crosby is healthy. He is the best player on the team, and as far as the skills level I think he is the most skilled player in the league, and I would never bet against Pittsburgh as long as he's healthy.