The NHL draft weekend is the epicenter of NHL rumors. As Tampa Bay Lightning GM, Steve Yzerman struggles to make personnel decisions to fit under the expected salary cap for the upcoming season, his team already leads the league in rumors.
One of the most prevalent tales has the Lightning rumored to be trading their number one goalie, Ben Bishop. While time will tell if the rumor turns out to be fact, this particular gossip begs the question: If the Lightning trade Bishop, is Andrei Vasilevskiy ready to be a #1 NHL goalie?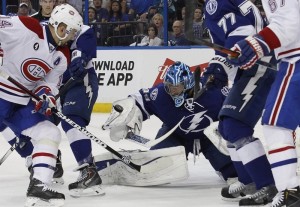 Some see the 22-year-old Russian as ready to take over right now while others point to his lack of NHL playing time as the main reason he is not ready. The fact is that Vasy has only played in 40 regular season games over the course of the last two seasons. That isn't even half a regular NHL season. Are you sure that's enough time for a goalie to be pronounced ready to take over for an NHL team?
In case you weren't aware, Ben Bishop only had 58 NHL games under his belt when the Lightning acquired him. Granted, even after joining Tampa, Bishop wasn't handed the top spot, he had to battle Anders Lindback for a bit before he became the #1 goalie.
In those 58 games, Bishop actually started only 50 of those games and won 26 contests. In his 40 games, Vasilevskiy has started 34 of those games and earned a victory in 18 games. Unlike Bishop who never had experienced any playoff game until last season, Vasilevskiy has already played in 12 NHL playoff games, starting seven of those and the one thing that jumps out is that his save percentage is almost ten percentage points higher in the postseason than in the regular season.
Rock and Hard Place
Yet the question looms, is Vasilevskiy ready to take over if Yzerman comes across a deal for Bishop that he cannot pass up? It is too bad that the Lightning have to trade one of their goalies because of next year's expansion draft. The Lightning simply will not be able to protect both goalies when the Las Vegas team drafts their initial roster.
Both Tampa goalies will have too much NHL seniority to be able to protect both of them, so Yzerman must trade one of them or run the risk of losing one without any compensation. Sure, he could trade Vasilevskiy but at eight years younger than Bishop, on the heels of a stellar performance in this year's Eastern Conference Finals, it stands to reason that conventional wisdom trades the older Bishop.
There are quite a few GM's who will be calling about Andrei Vasilevskiy this summer…

— Dan Kingerski (@Budmoonshine) May 21, 2016
In case anyone hadn't noticed, Vasilevskiy was the only goalie that took the Stanley Cup Champion, Pittsburgh Penguins to the full seven games in a playoff series this year. It wasn't as if the Penguins didn't face stiff goalie competition either. They went up against Henrik Lundqvist in round one and Vezina Trophy winner, Braden Holtby in round two and Martin Jones in the Cup Final. Yet, Vasilevskiy was the only goalie that battled Pittsburgh this postseason to the brink.
There is little doubt that Vasilevskiy has the goods to be a top NHL goalie. He has the size (6'3″) to man the net effectively and the work ethic to continue improving his game. Most all who have seen him play are of the opinion that Vasilevskiy is the real deal. But is he the real deal right now?
The answer to this question has franchise-wide ramifications as this Tampa team by all accounts is ready to challenge for the Cup now. That window opened in last year's Stanley Cup. It continued with a consecutive trip to the Eastern Conference Finals before losing to this year's Cup champion. How long this window remains open is difficult to predict but obviously, whoever is in net is a critical component.
You Make the Call
Can Vasy lead his team to the hockey Holy Grail? Perhaps, he can but is he ready to as we speak? For the last couple of years, it was a given that Vasilevskiy was considered the Lightning goalie of the future. How will he handle it if the future is now?
Easy to forgive Yzerman if he vacillates on this question. It is easy for those of us who can lean one way or the other to our circle of friends but Yzerman has to make this call for real. If he trades Bishop and Vasilevskiy lays an egg, the second guessers will have their "I told you so" locked and loaded.
If he goes against the grain and trades Vasilevskiy and Bishop fails to lead the team to the Promised Land, the other group probably consisting of Vasy fans will want to run Bishop and Yzerman out of town.
For now, both goalies remain under contract with the Lightning. Both goalies are under contract with Tampa through the end of the upcoming season. Yzerman does have time to make this decision but the expansion draft is looming.
Trading Bishop will be a tough call because the guy has done everything and then some that has been asked of him to give his team a chance to have their names engraved on the Cup. If the expansion draft was not inevitable, it is more than conceivable that Yzerman could keep both on the roster for years to come.
If Yzerman pulls the trigger on a Bishop deal, it is because he believes that Vasilevskiy is ready for prime time. If Yzerman makes the trade, Vasilevskiy will need to step up and do what he has dreamt up since he was a boy. Become a #1 goalie on an NHL team. Is he ready? Plainly put, he will have to be.