When the Columbus Blue Jackets passed on right-winger Jesse Puljujarvi, it threw a wrench into the Oilers plans. They were likely going to choose defenceman Mikhail Sergachev at the number four slot, but simply couldn't pass up on the talented Finn when he fell into their laps. The Oilers made the right choice, because Puljujarvi was the best player available, but it certainly did little to address their glaring needs on defence.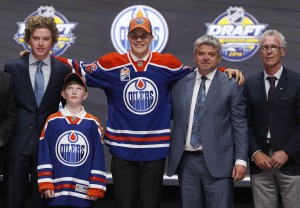 At the end of the day, though, Peter Chiarelli got the guy he wanted. The Oilers should have been in that position all along had they not lost the draft lottery. And he didn't feel there were any number one defensive prospects to be had. So now what? Teams don't just trade top defencemen away, and if they do, it comes at a hefty price. There's the old offer sheet route, although that hardly seems like a viable option. There is free agency, although the pool of talent is thin. But what if they sign a free agent forward, making some of the ones they have expendable, therefore facilitating a trade?
Is Steven Stamkos Worth the Money?
I would say, maybe not. If he were truly a generational talent, the Tampa Bay Lightning would pay him whatever he wanted to keep him around. Of course they'd like to have him on their team, but they're unwilling to break the bank. Some team out there is going to offer him the moon, you can be sure about that, because he's a pure goal scorer, he plays center, and he's 26 years old. If someone offers him a six or seven-year contract, that would only put him into his mid-thirties when it expires. So I could understand why a team wouldn't shy away from offering him $10 million dollars a season.
But Stamkos' production has been in decline, and he's suffered some difficult injuries over the past few seasons. Still, you have to bank on the track record, and on the skill. Plus, he wasn't always used efficiently in Tampa, which could be a reason for his numbers suffering a little. When he hit 60 goals and 97 points in the 2011-12 season, we thought we had a real superstar on our hands. But the closest he's come since then is 43 goals and 72 points in the 2014-15 season. Those aren't numbers are nothing to sneeze at, don't get me wrong, but there will be concern he has already hit his peak. Will a new environment rejuvenate him? I would certainly give him the benefit of the doubt.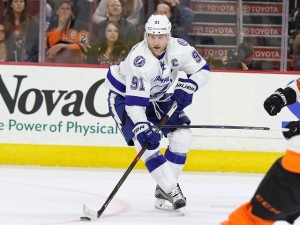 Stamkos knows he has a good situation with the Lightning. They're a true Cup contender. If he takes a little less to stay with them, he has a better chance to win. But if he wants top dollar, say with the Buffalo Sabres, Toronto Maple Leafs, or Detroit Red Wings, he may have to start over a little. The decision really lies with him. As for the Oilers, obviously they should be kicking tires to see what he's asking for, because a one-two punch of Connor McDavid and Stamkos down the middle certainly looks good on paper.
Let's say Edmonton would be in the running. Bringing in Stamkos means a guy like Ryan Nugent-Hopkins or even Leon Draisaitl is expendable. One (or both) of those guys in a trade would fetch something interesting. I like Draisaitl, and I'd like to see the team hang onto him. He could play the wing, or provide the Oilers with a heck of a third-line center. As for Nugent-Hopkins, if they got another centerman to fill his role, well it would be a no-brainer to put him up for a trade. But, Stamkos would take up a lot of the Oilers cap, and I don't even know if he sees Edmonton as a viable option.
Signing a guy like Stamkos would open up a lot of other options for the Oilers, and he would make their team better. I don't know that they would like to go that route. He's the big fish of free agency, and will have his share of suitors. It would be something to see a player of his caliber in Edmonton. For the Oiler fans out there, what do you think about the Stamkos situation, yay or nay?
How About Milan Lucic?
The Los Angeles Kings decided to part ways with gritty winger Milan Lucic, partly because they can't afford him, and mostly because they know he will eventually become a regretful signing to whoever gets him. A few years ago, Lucic was the kind of player every team wanted. He hit like a freight train, he scored goals, and he could skate. He was a key piece in the Boston Bruins championship run. But that was a few years ago. His style of play isn't as effective as it once was. Of course you'd still love a guy like him around, but unfortunately, he's just going to demand way too much money.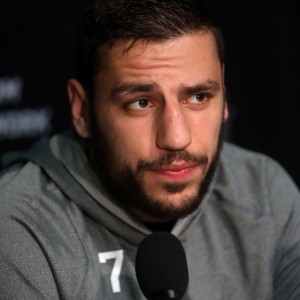 I feel as though Oiler fans are really on board the Lucic train, and I can understand why. He provides the grit and size that the Oilers could use, and he brings that respected veteran leadership that they really need. If we were talking $3 million, or even $4 million a season, I could stomach that. But it's likely wishful thinking. He was previously making $6.5 million a season, and will either want the same, or be looking for a raise. That's a lot of money for a 28 year-old with a few miles on his body.
If you want to bring in Lucic, you have to identify what kind of player he is. In terms of production, at his best he'll be a 20 goal, 50 point guy. Would you want him on the first line with McDavid? Or would you want him to be in more of shutdown role? If you're looking mainly for physical play, there are likely cheaper options out there. The trouble with Lucic is that he's been too inconsistent to be a mainstay in the top-six. So if you're going to pay him in and around six million, you have to accept that he may end up a third-line guy.
Lucic is 28 years old, and I would venture to say his best days are behind him. But of course you love the intangibles that he brings, the energy, the toughness, the physical edge and of course the experience. Lucic will command respect in the locker room, which is one of the things you can't measure with goals and points. I like the idea of bringing him in, but I'm concerned about the price tag. The Oilers have a poor man's Lucic in Patrick Maroon, who happens to play the same position. Who is on the outside looking in if you bring in yet another left winger? Have at it Oiler fans. Try to sign Milan Lucic, yay or nay?