"Columbus Blue Jackets are proud to select from Cape Breton…"
Wait. What?
Friday night in Buffalo was one for the ages. As expected, the Toronto Maple Leafs made Auston Matthews the top pick. The Winnipeg Jets followed that up by selecting Patrik Laine second overall. Finally, the moment Jesse Puljujarvi had been waiting for had finally arrived. He was about to hear his name called as the third pick.
That is until he didn't hear his name called.
The shock in the stands could be cut with a knife, it was so thick. At that moment, the very course of the NHL draft and the immediate future of the NHL changed. Everyone, and I mean most everyone (sans Sam Cosentino) had Puljujarvi going third. The Blue Jackets didn't trade down. This seemed to indicate no surprises with the pick.
Then, Blue Jackets head amateur scout Ville Siren made the announcement that the hockey world will remember for a long time. He announced the third pick as Pierre-Luc Dubois.
Over 60 hours later, still can't believe Pierre-Luc Dubois was drafted ahead of Jesse Puljujarvi.

— Daniel Friedman (@DanJFriedman) June 27, 2016
As you could imagine, social media went off after that. Experts were baffled. Blue Jackets fans were baffled. It led to many questions. What did the Blue Jackets see in Dubois? What didn't they see in Puljujarvi? How could they pass on one of the "big three"?
Those are interesting questions. But in the end, they're really not all that important. The events that led to the Blue Jackets taking Dubois third is not the most important takeaway of the night for Columbus.
The Real Takeaway For Columbus
Once the dust settled on the weekend, one thing became abundantly clear for Columbus. Do you realize how good their farm system is now?
This is the most important takeaway from the weekend for me, and it's not close. We won't know for years who was right or wrong at this draft. This can be debated until you're blue in the face, and it won't accomplish anything.
We do know however that the Blue Jackets' farm is stacked. Even though they traded Kerby Rychel to Toronto, the Blue Jackets still boast one of if not the best current farm system in hockey.
As we start Blue Jackets development camp this week, take one look at who they have. They have 2014 first-round pick Sonny Milano. They also have a pair of 2015 first-round picks in Zach Werenski and Gabriel Carlsson (Werenski is not participating in development camp as he is resting from the recent Calder Cup run.) If that wasn't enough, Calder Cup hero Oliver Bjorkstrand has a real chance to earn a permanent role in Columbus this season.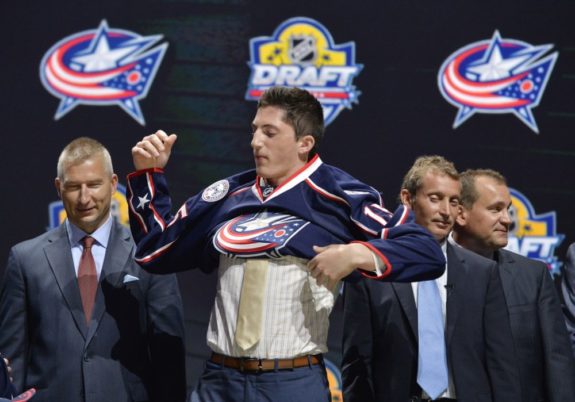 Now add Dubois to this mix of talent. If you consider the Blue Jackets feel they got two other first-round picks this year in Andrew Peeke and Vitaly Abramov, and you see why the Blue Jackets like their position with the farm team. I haven't named everyone yet in regards to who has a good future with the Blue Jackets.
While social media, experts and fans debate the validity of the third pick, the Blue Jackets accomplished the goal they set out for at the draft. They got their guys. Whether we agree with them or not is a whole separate issue, you can't deny that the Blue Jackets' youngsters have incredible talent and is one of the best systems in the league given their overall collection of prospects.
Congrats to Pierre-Luc Dubois and welcome to @BlueJacketsNHL we can't wait to have you!

— Brandon Dubinsky (@BDubi17) June 25, 2016
Let me remind you how good they are. They won the Traverse City prospects tournament the last two years, and just won the Calder Cup. Now add Dubois, Peeke, and Abramov to this mix. While others argue who the Blue Jackets should have taken, I'll be excited for the future of the Blue Jackets with this group.
Bottom line is this, the Columbus Blue Jackets got a top-five pick in Dubois to add to their collection, and that is nothing to be disappointed with.