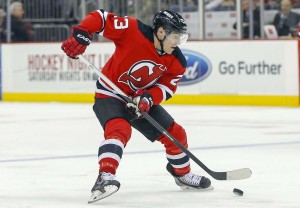 New Jersey disastrous season has hit a new low with the loss to the lowly Edmonton Oilers on Monday night while being outshot 24-14. Along with the defeat, they have to face a brutal back-to-back with the Chicago Blackhawks and league-leading Nashville Predators. Being 12 points out of a playoff spot, questions are beginning to arise if anyone is untouchable on this team. It may not look like it, but there are at least three players who come to mind that GM Lou Lamoriello should definitely keep beyond the looming trade deadline.
Yesterday we saw the first blockbuster trade before the deadline with Winnipeg dealing Evander Kane, Zach Bogosian, and Jason Kasdorf over to the Buffalo Sabers in exchange for Tyler Myers, Drew Stafford, Joel Armia, Brendan Lemieux, and St. Louis' first-round pick in 2015. Kane was in trade speculation for seemingly years, but hasn't been traded because he was locked up long-term.
New Jersey may not have a bona fide star like Evander Kane, but here are three players New Jersey shouldn't trade at the upcoming deadline.
#3 Keith Kinkaid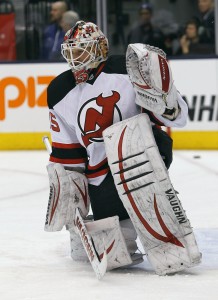 There isn't a chance Cory Schneider gets moved, and Keith Kinkaid is a very interesting option New Jersey has to work with.
Kinkaid has played in 11 games with New Jersey this season, and has gone 2-4-3 with a .910 Sv% and a 2.76 GAA. Those numbers are a bit misconstrued because he was lit up against Montreal in a terrible effort from the team in front of him. Same can be said for when he had to come in-relief of Cory Schneider against the Anaheim Ducks during their west-coast swing.
Kinkaid isn't untouchable, but New Jersey would be able to get more for him at either the draft, or sometime during the off-season. Another reason could be his sample-size isn't big enough for teams to consider investing in him. The chances of Kinkaid replicating what Devan Dubnyk is doing in Minnesota are slim to none.
Kinkaid is traveling the path of many current goaltenders have gone to get to this point in their careers. Names like Jimmy Howard, Corey Crawford, Pekka Rinne, and of course Cory Schneider, have all had to wait till around 25 years old for their chance to overtake the starting role. Kinkaid won't supplant Schneider just because he's 25, but his chance at a starting position will come sooner than later.
New Jersey is almost out of the playoff race, so now's the time to get Kinkaid starts in hope of increasing his value.
#2 Mike Cammalleri
There's no way New Jersey would trade away the best free agent signing in the past two seasons. Cammalleri has been everything the Devils were hoping when they signed him to a 5-year $25 million contract, as he's put up 18 goals in 42 games which lead the team.
Cammalleri's been great in all other facets for the team. He's had no problem taking with the media, and he's become a leader in the locker room. On the ice, he's the kind of guy who is not afraid to shoot from anywhere, which is something New Jersey needs more of.
When New Jersey eventually begins moving pieces out, hopefully they will consider giving Reid Boucher another chance up with the big club. If so, then Cammalleri would be the ideal player to teach Boucher how to be a professional, as well as shooting the puck.
Maybe two or three years down the line he'd become a nice piece to move, but until then, he's the guy New Jersey looks towards to produce offense.
#1 Adam Larsson
It has been almost uncanny on how Adam Larsson had progressed in such a short period. At one point early in the season, it looked almost for certain that Larsson would be moved because of constantly being a healthy scratch, courtesy of Pete DeBoer. Now Larsson has become a guy who plays over 25 minutes a night, and in every situation.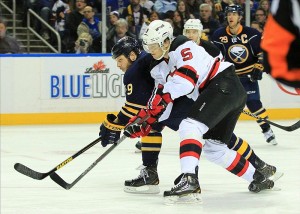 Obviously the next couple weeks will show if Larsson can continue to play at this pace. If he can, then the Devils would be fools to move him at the deadline. On the other hand if Larsson begins to regress, New Jersey may not have a choice but to move him.
What may show us the answer to that question is the return of Damon Severson. He's begun skating, and is probably another week or two away from playing; but in the short time he skated with the team, he showed flashes of top-2 defensemen material. How this relates to Larsson is that maybe Severson takes away some of his minutes, and power play time. Anything is up for grabs at the point in the season.
Anyone who watches Larsson can see the potential in his game, and that obviously includes other teams. However, what makes Larsson different is the amount of trade speculation that's surrounded him since the second year of his career. If another team wanted to trade for Larsson, they should have done it by now. At this point, Larsson's play has skyrocket, and with it, his trade value.
Do you think anyone on New Jersey is untouchable?