When the name Cam Ward comes up in discussion among fans of the Edmonton Oilers, it can be viewed, at least in this neck of the woods, in both a positive and negative light. It is rather difficult to be anything but absolutely thrilled for a kid who grew up in Sherwood Park, Alberta to have gone on and enjoy the sort of National Hockey League career the now 31-year old netminder has managed to put together since being selected in the first round of the 2002 Entry Draft.
Having said that, Ward is also the single biggest reason Edmonton did not finish off their surprise run to the 2006 Stanley Cup Final by adding a sixth Championship banner to rafters at Rexall Place. While he broke more than few hearts across Oilers Nation with his play all those years ago, perhaps the Saskatoon native could be the perfect short-term solution to help this organization get to where it wants to go during the upcoming 2015-16 campaign.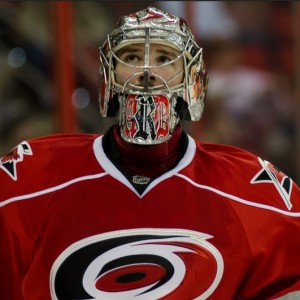 Canes Are Open For Business
After taking over for Jim Rutherford as Executive Vice President and General Manger following the 2013-14 season, Ron Francis tried his very best to move his veteran netminder in the summer of 2014 but was ultimately unsuccessful. With a couple of years still remaining on his deal at a cap hit of $6.3 million and coming off what were two of the most disappointing years of his career, no one should have been surprised to see Ward back in between the pipes for the only organization he has ever known as a professional.
Despite the Hurricanes struggles through the better part of last season, much of which can be attributed to what was a rather lengthy injury list earlier in the year, the 2007 IIHF World Championship Gold-Medalist bounced back with a fairly solid campaign and appeared in over 50 games for the first time since 2011-12. While nowhere near the workhorse he once was, from a statistical standpoint he essentially performed at or near his career average and more often than not…gave his team a chance of being competitive on a nightly basis.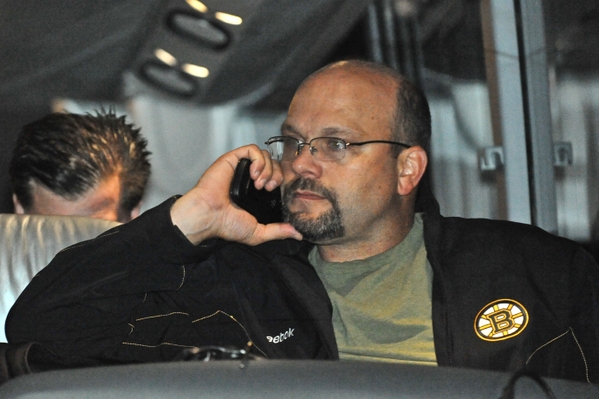 Chiarelli Unlikely To Be Pressured Into Move
While on the surface that may not seem like much, considering the level of netminding the Oilers have received over the last two seasons, it would be a massive upgrade. With Connor McDavid on the way and the young core of this team another year older, the time for this organization to finally start showing a marked improvement in the standings is now. Peter Chiarelli is well aware of the fact he needs to address both his blueline and goaltending in order to have any hope of that becoming a reality, but chances are, the newly appointed general manager won't be jumping into something that makes little long-term sense for the organization.
Yes, another dreadful showing in the Western Conference is not an option but neither is giving up real assets for a "maybe or band-aid solution". We all know the names of the second-tier guys who could likely be had via trade, but none has proven capable of being starting goalies and by the sounds of it, trying to pry someone like Craig Anderson away from the Ottawa Senators could prove to be rather costly. Clearly that would not be the case when it comes to Ward.
 $6.8M Ticket Works In Oilers' Favour
While his cap hit is $6.3 million, the former Red Deer Rebels standout is set to be paid $6.8 million in real dollars for 2015-16. As far as goaltender salaries are concerned for next season, that number would make Ward the seventh highest paid goalie in the league. Only Henrik Lundqvist ($10M), Sergei Bobrovsky ($8.5M), Tuukka Rask ($7.5M), Carey Price($7M), Jonathan Quick ($7M) and Pekka Rinne($7M) will earn more and with all due respect to the 2006 Conn Smythe Trophy Winner, there is only name on that list which looks completely out of place.
Something tells me Francis would love nothing more than to get out from under that money for the coming season, especially with the quartet of Eric Staal ($9.5M), Alex Semin ($7M), Jordan Staal ($6M) and Jeff Skinner ($6M) set to be paid a combined total of $28.5 million. Let's be honest here, Carolina is not going to be very good next season and chances are ownership isn't looking forward to coughing up nearly $36 million on five players who are currently not performing anywhere near their peak levels.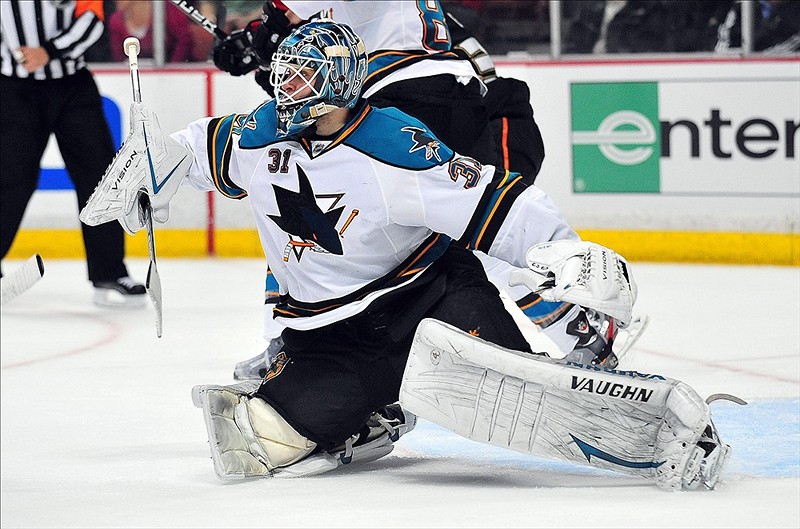 Niemi Remains An Option
Should a team like the Oilers or anyone else be willing to take that entire ticket off their hands, even if it is just for one season, the Hurricanes cannot expect much of anything in return. Could they hold on to No. 1 until the NHL Trade Deadline and turn him into a draft pick or two? Possibly but again, what would they rather have? A couple of mid-round picks or a savings of millions on their bottom line…in this situation, my money would be on the latter. With Anton Khudobin already in the mix, the Canes have a guy who has proven to be a very capable of being used on a somewhat regular basis.
From an Oilers perspective, they could certainly go the unrestricted free agent route and throw big money at Antti Niemi but any offer for the former San Jose Sharks starting netminder would have to include a multi-year extension. Is anyone honestly sold on the soon-to-be 32-year old as the answer in goal for the foreseeable future? Not sure how you could, which makes targeting Cam Ward the far more sensible move. In my mind, it should not be Plan A but it would likely not be too far off.
Rob Soria is the Author of Connor McDavid: Hockey's Next Great One. He has chronicled the Orange and Blue since creating his Oil Drop blog in 2011 and has also had his writings featured over at HometownHockey.ca and Vavel USA, where he has covered the NHL, MLB and ATP Tour. Rob was born, raised and still resides in Edmonton, Alberta and can be reached via twitter @Oil_Drop.