For the vast majority of Edmonton Oiler fans, it was next to impossible to even think the tandem of Ben Scrivens and Viktor Fasth could have been anywhere near as horrible in 2014-15, as the duo of Devan Dubnyk and Jason LaBarbera proved to be during the opening weeks of the 2013-14 season.
Despite the chances of a repeat performance being a very real possibility, many continued to hold out hope that either one or a combination of the two would somehow find a way to hold their own playing behind what was without question the league's worst defensive side.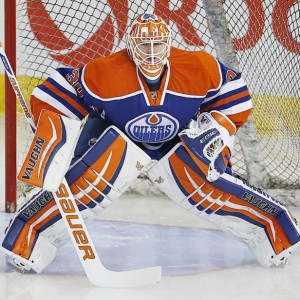 Two-Headed Monster Was A Disaster Waiting to Happen
Unfortunately, the Scrivens – Fasth tandem was not only unable to step up and seize the moment they were handed but were frankly even worse than the disaster fans had the misfortune of sitting through during the aforementioned '13-'14 campaign. Can you say back to the drawing board?
Coming off a second consecutive season in which this team finished dead last in goals against, it appears as though this organization has finally accepted their current predicament for what it is. In order for the Edmonton Oilers to have any hope in hell of improving in the standings, general manager Peter Chiarelli is going to have to actually attempt to legitimately improve this lineup along the blueline and in between the pipes…something which his predecessor was clearly unwilling to do.
The days of being able to not only recognize what this roster's shortcomings are but also display both a wherewithal and desire to act on those findings looks to have finally arrived and it is a breath of fresh air for those who follow the Orange and Blue. While Craig MacTavish made the disastrous miscalculation of handing over the reins of his team to a pair backup goalies, that is a mistake which will not repeat itself under the guidance of the former Boston Bruins GM.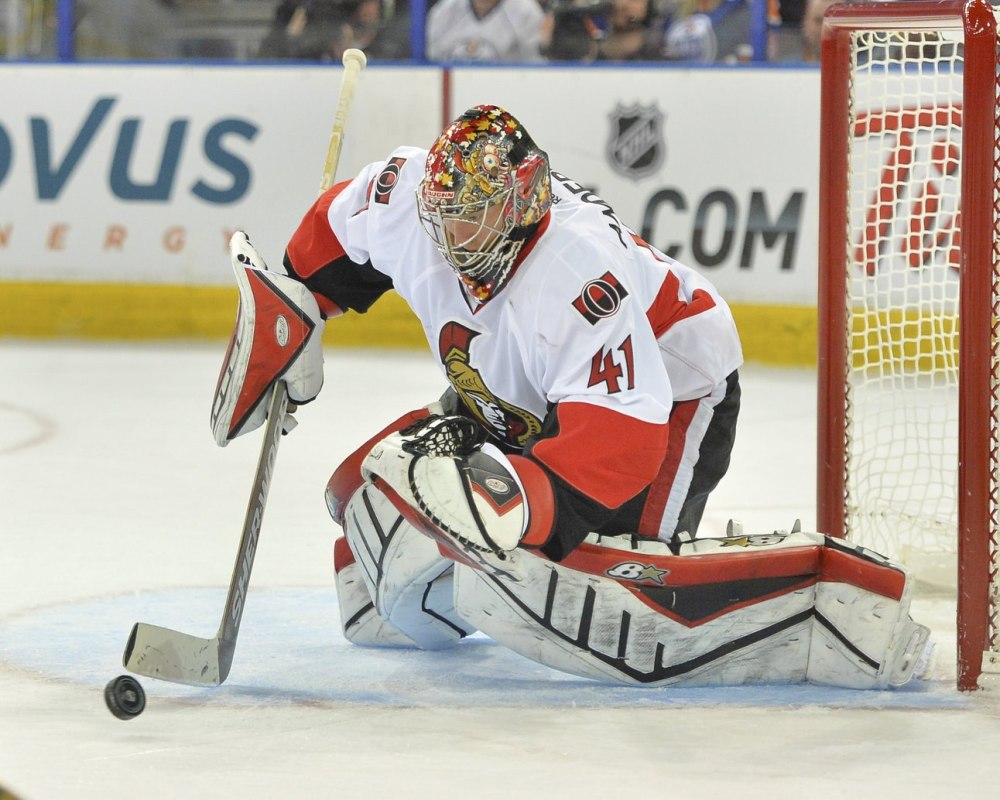 Craig Anderson, Antti Niemi and Cam Ward
Yes, the defence needs to improve but when it comes to goaltending, this current edition of the Oilers is in desperate need of some sort of stability. Could they go the route of a Jhonas Enroth, Martin Jones, Robin Lehner, Michael Neuvirth or Cam Talbot? Possibly but that is a gamble this franchise can simply ill afford to take. They need a proven commodity to step in and lead the way in goal, which means depending upon availability…Edmonton is likely staring at four options.
The three obvious and most talked about choices would be Ottawa Senators starter Craig Anderson, Cam Ward of the Carolina Hurricanes and unrestricted free agent Antti Niemi. All three have proven to be more than capable of carrying both the workload and responsibility that comes with being a starting netminder at this level. With that said, all three are on the downside of their respective careers but could still prove to be viable short-term solutions.
However, there is one other possibility out there and while some seem to believe he may not have what it takes to be a true No.1, his last two seasons tell a different story. That is right folks, we are talking about Jonathan Bernier of the Toronto Maple Leafs. After working on his craft as Jonathan Quick's understudy for three years with the Los Angeles Kings, the former eleventh overall pick of the 2006 NHL Entry Draft has been pretty darn good during his two seasons in TO.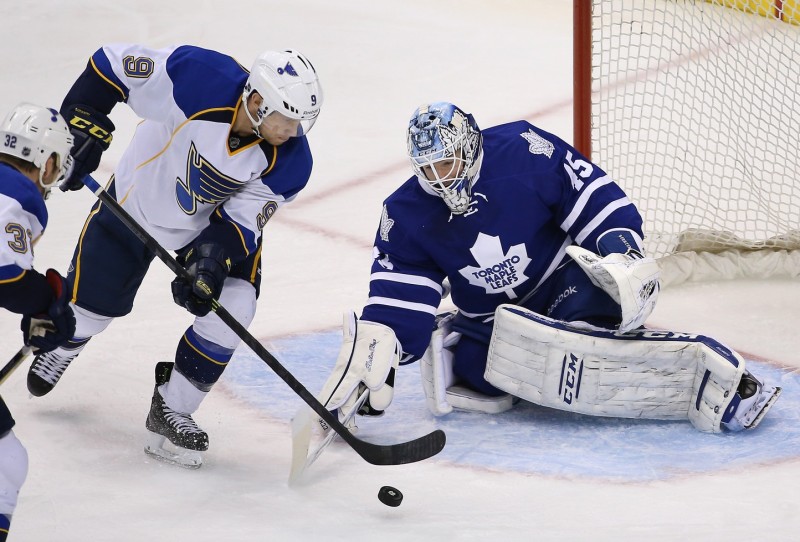 Bernier's Been Good For The Maple Leafs
There are those out there who will tell you Bernier has not been nearly good enough to get the Maple Leafs over that hump and into the playoffs since being acquired prior to the start of the 2013-14 season in exchange for Matt Frattin, Scrivens and what eventually turned into a second round pick at this summer's draft in Florida, in my opinion, those people are out to lunch. Anyone who actually believed Toronto was good enough to qualify for the post-season in either one of the last two seasons was frankly kidding themselves.
In all honesty, were it not for the play of the soon-to-be 27-year old, one could argue the Leafs would have embraced this notion of "re-building" much sooner than they actually did. Bernier has proven to be more than capable of giving a team as defensively challenged as the Leafs a fighting chance on a nightly basis and at this stage of the game…that is exactly what the Oilers need and have been lacking over the last couple of seasons.
Has he had his hiccups along the way? Unquestionably but we are not talking about Edmonton going out and acquiring Carey Price. With a one hundred and seventy-five appearances already under his belt and entering what should be the prime years of his career, this is no gamble. This kid is coming off back-to-back seasons in which he has seen action in fifty-five and fifty-eight games while putting up fairly respectable numbers playing behind a god awful hockey team.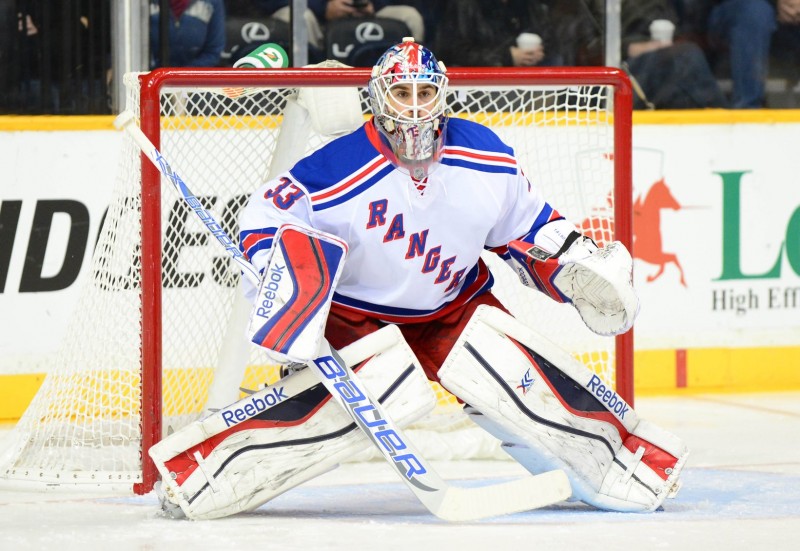 Cam Talbot, Martin Jones And Small Sample Sizes
Obviously, going out and making such move would be solely dependent on the cost of prying Bernier loose from the Maple Leafs but with more than a few lean years in their immediate future, one would think Brendan Shanahan and good ol' Mike Babcock would be more than willing to listen to offers for the pending restricted free agent, should the return make sense for what it is they are trying to accomplish. Considering the direction Toronto appears to be going in and Bernier is coming off a two-year deal that saw him earn $5.8 million, perhaps this is the perfect time for the two sides to go their separate ways.
If you would rather the Oilers roll the dice and take their chances on the likes of Talbot and his fifty-seven career appearances or Martin Jones and his even smaller sample size of thirty-four games, so be it but you had better remember two very important pieces of information.  Neither one has shown to be capable of handling the workload of a National Hockey League starting goalie over the course of an entire season and both have played behind defensively sound teams that are extremely responsible in their own end of the rink…something which currently does not exist in Edmonton.