Put Me in Coach!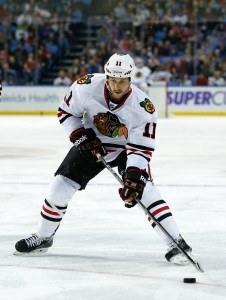 Chicago Blackhawks' fourth liner Andrew Desjardins currently has just one point in these playoffs with a minus-4 rating. Not exactly player card numbers to write home about. But while most fourth liners don't score a whole lot, the good ones find ways to contribute in other areas. And that is exactly what Desjardins has done for Chicago. He has worked his way into a full time role on a Blackhawks fourth line that is arguably the best in hockey. Desjardins may not score a lot, but he makes an important impact.
Desjardins' one point was the first goal of the game in a crucial Game 3 victory over the Predators in the first round. Furthermore, while he didn't get credited with an assist, his shot off the rush and subsequent strong battle in the corner helped create the game-winning triple OT goal in Game 2 of the Western Conference final. Just watch No. 11 in white below.
Without Desjardins out-muscling Ducks' top line winger Patrick Maroon, this game winning goal never happens. Desjardins and linemates Andrew Shaw and Marcus Kruger scored that winner against the Ducks' best players. Throughout much of this series, this "fourth" line trio has been utilized against Ryan Getzlaf and Corey Perry. Desjardins' strong two-way game allows him to be utilized in a checking role against elite players. A role that is perfect for the gritty Desjardins, and one he was rarely allowed to do as a San Jose Shark.
Deserved More From the Sharks
Desjardins grew up in the Sharks organization as an undrafted free agent and was a terrific fourth liner for a number of years in the Bay Area. However the 28-year-old wasn't treated well at all in San Jose. Instead of playing with third line caliber players in Kruger and Shaw like he does with Chicago, Desjardins was frequently stuck playing with names like Jamal Mayers, Ben Eager, Adam Burish, John Scott, and Mike Brown. Earlier this season with San Jose, just two games after scoring twice in a game against Dallas with talented linemates Tomas Hertl and Chris Tierney, Desjardins was scratched. You read that right. Desjardins scored twice in Dallas, showing instant chemistry with talented linemates but the next game his linemates were John Scott and Tyler Kennedy, and the next game he was scratched.
It has certainly been an emotional season for Desjardins. He and his wife Mandy welcomed their first child not long before being traded to Chicago. Being traded from the team that gave him a chance to play professional hockey as an undrafted free agent and having a newborn? That is quite a lot to deal with. Not to mention, last season Desjardins played in 81 games for the Sharks scoring 17 points. Being scratched multiple times was not something that Desjardins was used to.
Can't Help But Root for No. 11
It is difficult not to root for a guy like Desjardins who was never considered an NHL prospect. He never lit up the OHL in his four years with the Sault Ste. Marie Greyhounds. Going undrafted meant Desjardins had a long route to the NHL. After four years of junior Desjardins wound up nearly playing in Mexico. That's right, Desjardins played in Laredo, Texas, on the border of Mexico for the Laredo Bucks of what used to be the CHL. After one year in Laredo, Desjardins wound up being picked up by the Sharks organization and spent the next couple of years with AHL Worcester before reaching the NHL. All told, Desjardins played 281 minor league games before becoming an NHL regular. It is a tough route when you are considered a checking line center from a young age. But Desjardins went through all those bus rides to get to the big show. A lot of the time we put professional athletes on this pedestal but Desjardins had to work much harder than most to get to where he is in his hockey career. I interviewed Desjardins a couple of seasons ago about what he would be doing if he weren't playing hockey. The answer might surprise you in the video below (1:20 mark for Desjardins interview, apologies for audio quality, might have to crank up your volume).
Sharks and Blackhawks fans are sure glad hockey worked out for Desjardins. He is a fun fourth liner to watch. He is strong in the face-off circle, responsible defensively, can change a game with a big hit, and is underrated offensively. Desjardins has much better play-making skills than the average NHL fourth liner.
Typically it is hard for me to root for a team like the Blackhawks since they have won the Stanley Cup twice already in recent years, but with Desjardins, I find myself hoping Chicago can win a third. Few NHLers deserve to hoist that chalice more than Chicago's No. 11.
Andrew has been credentialed to cover the Sharks since 2010 and the 49ers since 2012. He graduated with his BA in Broadcast Electronic Communication Arts in 2013 from San Francisco State University.