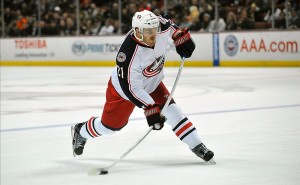 Erik Karlsson, Duncan Keith, Drew Doughty, … James Wisniewski? He seems out of place in a list like that, right? Purely by name-recognition he's not considered as a superstar defenseman. And the story of his start with the Blue Jackets doesn't help. Wisniewski was brought to Columbus as a key piece during the team's active summer 2011. It was a hopeful time, but an era that seems like a stain now. Instead of success, the team imploded and the Jackets dropped to a last place finish. Jeff Carter was gone and the Wisniewski contract was decried as one of the league's worst.
The situation isn't so dire now. As the Blue Jackets have surged, the focus has tended toward reigning Vezina winner Sergei Bobrovsky and the breakout play of Ryan Johansen. Quietly, James Wisniewski has become a catalyst for success in Columbus. Aaron Portzline highlighted the d-man's play in the Columbus Dispatch this January, but Wisniewski's performance to-date is even more impressive with a league-wide context.
Wisniewski's Offensive Production
Point totals are the most visible measure of James Wisniewski's impact on the Blue Jackets. Despite missing 7 games with injury this season, the defenseman sits a comfortable 3rd in team scoring with 36 points (11 ahead of the next-closest d-man). His 31 assists leads all Columbus skaters. Wisniewski's high totals are thanks to his impact on the powerplay, with 20 of his points coming on the man-advantage. Powerplay assists are the norm, but Wiz is always a threat for blueline blasts.
While it's clear that Wisniewski has been productive for the Blue Jackets, a wider lens reveals an even more impressive campaign. His point total is 12th among all NHL defensemen, and 8th at a per game rate.
Taking things even further, Wisniewski's production relative to ice time is more impressive yet. His points per 60 minutes of ice time is 5th among all NHL d-men, ahead of noted offensive performers Shea Weber and PK Subban. Even his less-productive even strength work is a respectable 22nd in the league, just slightly below 1 point every 60 minutes. Whether considered in ice time rates or overall totals, James Wisniewski has been a potent all-NHL level weapon on the blueline. What makes Wiz even more valuable to the Blue Jackets? His impact off the scoresheet.
Blue Jackets Possession on the Blueline
Point scoring is crucial, and James Wisniewski is on pace to have a career year. An underrated aspect of his game is ability in puck possession. Wisniewski is the Columbus leader in 5-on-5 Corsi For %, with an impressive 53.9% as of this writing. The Blue Jackets' d-man also stands tall compared to others in the NHL, 22nd among all blueliners in CF% and 6th with each player considered relative to their teams. What this means? Even when Wiz isn't adding to the Columbus goal total, he has been helping his team keep the puck (and keep the puck away from opposition).
Wisniewski's possession performance isn't a fleeting event either. The following plot shows his 5-game average CF% over the course of his season (with data from Extra Skater's game logs). His performance is the blue data line, with the red showing the break-even 50% mark. While his deployments have been somewhat sheltered, Wiz is excelling with the ice time given. More often than not, the d-man has been a highly positive player.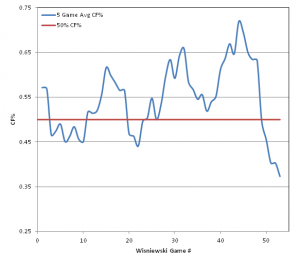 When Wiz is on the ice, other Blue Jackets see a boost. This season all fourteen of his most common teammates have elevated Corsi performances when they play with Wisniewski. It's a remarkable outcome. He's making a mark with point totals and improving his team with puck support.
Wisniewski Leads the Final Push
Blue Jackets hockey is now two games returned from the Olympic break. While it's easy to get wrapped up in the recent storylines (Gaborik's back! Tytuin injury! Trade deadline!), the playoff push at hand is made a bit easier with James Wisniewski in Columbus. His possession prowess and prolific scoring are setting a positive tone for CBJ defenders, and compare favorably to other leaders in the NHL. He isn't seeing the headlines of other elite d-men, but Wiz deserves a mention alongside other Norris Trophy contenders for an outstanding 2013-2014 season.
Matthew is a hockey fan who fell for the sport through watching college games. He now shares thoughts on the Columbus Blue Jackets at the Hockey Writers. When not thinking about pucks, his interests are chemical engineering and good music.