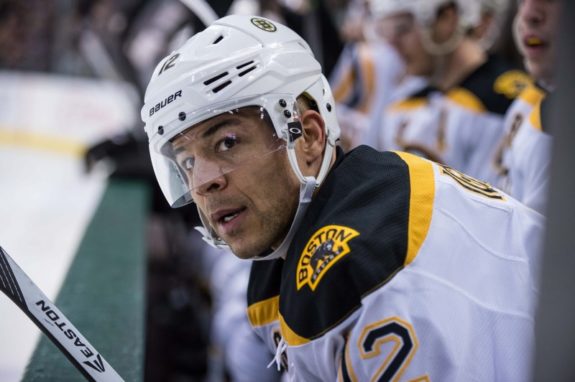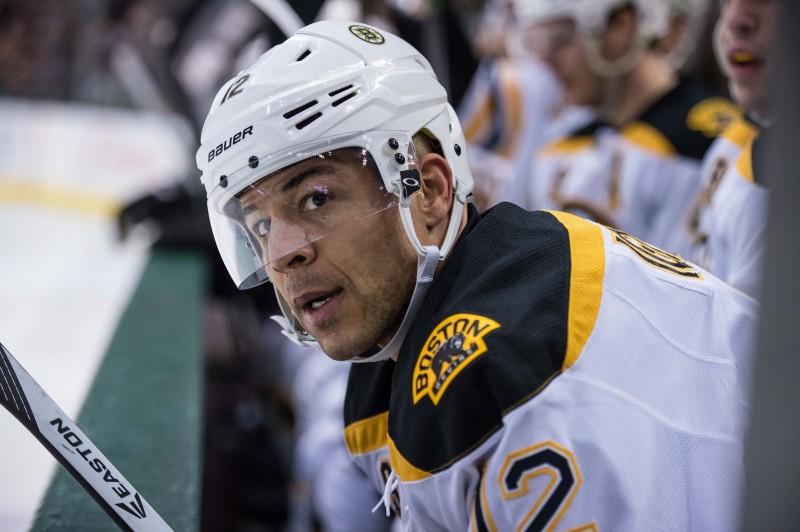 In the Boston Bruins 4-2 victory over the Washington Capitals, Jarome Iginla scored his 30th goal of the season, becoming the first Bruin to score 30 goals in a season since the 2010-2011 season and the first Bruins free agent signing to notch 30 goals.
Throughout the 90 year history of the Boston Bruins, the team has made many, many signings, but, with Iginla's play this season, is Iginla the best free agent signing the team ever made?
Iginla really has been one of the more consistent players this season for Boston. His play on the Bruins first line has made better players out of David Krejci and Milan Lucic, Krejci is projected to have his best point total since his first full season in Boston back in 2008-2009 and Lucic is nearing his career high of 62 points in a season. Iginla is a huge reason why Krejci and Lucic are having pretty good seasons, but not only is he making other players better, he is having a great season himself. Iginla has 30 goals and 30 assists so far this season and has proven his critics wrong about him slowing down at 36 years of age.
Although Iginla's numbers were a bit down during his short time with the Pittsburgh Penguins, the Bruins play style seems to mesh well with the way Iginla plays making this the perfect situation for both Boston and Iginla.
In the past four seasons, the top five goal scorers have been Steven Stamkos, Alexander Ovechkin, Corey Perry, old friend Phil Kessel, and Jarome Iginla. Iginla is proving that he still has the talent to play the game at an elite level and he is a workhorse, almost never missing a game. The fact that the Bruins signed Iginla to a one year, $6 million deal filled with incentives to a guy who is one of the top five goal scorers in the league over the past four seasons is absolute theft. Even though Iginla is in line to reach his bonuses that would make the Bruins pay Iginla the full amount, it is still a great deal for the Bruins both on the ice and financially and a great deal for Iginla as well.
Given Iginla's numbers and his contract, it's really hard to argue that Iginla could very well be the best free agent move Boston has ever made, but another name sticks out that you could made a very good case for: Zdeno Chara.
When the Bruins signed Chara to a five year, $37.5 million deal back in 2006, the Bruins front office couldn't have asked for more out of what Chara has given the team. Chara has been the Bruins' captain since he signed back in 2006 and has become one of the best defensemen and leaders in the game today. During Chara's time in Boston, the Bruins have won a Stanley Cup and has turned into a perennial contender. His size and physical prowess has made him one of the most intimidating players in the NHL.
Chara's play may be among the best in the NHL, but it is his character that makes him a great player and, hence, a great signing. Chara is a strong supporter of the Right to Play campaign designed to support LGBT players and he donated his $24,000 prize from winning the Hardest Shot competition at the 2009 NHL All-Star Game. Chara was also the flag bearer for Slovakia at the 2014 Winter Olympics and exemplifies what it means to be a Boston Bruin.
The two names of Jarome Iginla and Zdeno Chara are the two that stick out as great free agent signings by the Bruins, both by Peter Chiarelli, but another name could have been if it wasn't for a fateful night in Pittsburgh.
Marc Savard was well on his way on becoming a great signing for the Bruins. Savard signed with the Bruins back in 2006, the same day as Chara, after playing three seasons with the Atlanta Thrashers. Savard didn't miss a beat after joining the Bruins, recording a career high 74 assists and one point shy of his best point season in his first year in Boston.
Despite the Bruins losing a seven game series to the Canadiens in 2008, Savard recorded six points in seven games and thirteen points in eleven playoff games in 2009. Savard looked like he was going to be a star in Boston, that was until March of 2010.
In a game with against Pittsburgh, Penguins goon Matt Cooke blindsided Savard in the head giving Savard a Grade 2 concussion. Savard was never the same player after that and has not played a single NHL game since 2011. So, what was going to become one of the best free agent signings in Bruins history became one that the Bruins are still dealing with to this day, despite Savard not playing in three years.
Peter Chiarelli has been making all the right moves lately with the Bruins signing Iginla, Chara, and initially Savard's hot start before the concussion. Hopefully, he will top it in the coming years.
Who do you think is the Bruins' best free agent signing? Iginla, Chara, or someone else? Comment below or send me a Tweet, @MarkWGraham
Mark Wallace Graham has been a writer for TheHockeyWriters.com since March 2013. Growing up in New England, Boston Bruins hockey was in my blood. Follow me on Twitter, @MarkWGraham