By now, if you're a fan of the Toronto Maple Leafs, disappointment is pretty much expected. At the first sign of trouble, the hand wringing begins. The snarky online comments from your friends who like the Boston Bruins, Montreal Canadiens or other hated rivals who might be higher in the standings do not help.
Yet again, for the 37th consecutive year, we can crumble up those fliers for the world's greatest parade down Yonge Street to celebrate the Buds winning Lord Stanley's Cup. It ain't gonna happen.
Sure, technically the Maple Leafs are just two points out of the seventh and eighth spot in the Eastern Conference, albeit with two more games played. If the Columbus Blue Jackets, Detroit Red Wings and Washington Capitals just struggle slightly, the Leafs could slink into the playoffs and set up a first-round matchup with the Bruins or Pittsburgh Penguins. But do you really want that? Yeah, I know what happened last season with the Leafs. They exceeded all expectations in the first-round against the B's. They had Game 7 in the bag. Then, they did the equivalent of Tim Tebow. They Maple-Leafed.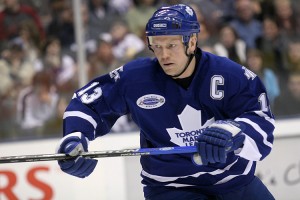 DENIAL
Everything is going to be all right. Around the trade deadline, Maple Leafs fans, mostly those who probably have watched two or three games all season, begin concocting crazy trade deadlines on message boards all over the internet. Or worse yet, they create fake Twitter accounts and spread crazy scenarios about how the Leafs are going to land Sidney Crosby, Alex Ovechkin and Steven Stamkos in a mega four-team trade while somehow staying under the salary cap. Other, more savvy and experienced fans ignore the signs of everything falling apart, have more realistic trade goals, but refuse to believe that this team is worse than it really is. And what's more, we all tend to walk around believing that the Buds are mightier than everyone else, and that opponents should feel lucky to share the same ice with the blue and white. This franchise is the greatest, end-all, be-all of hockey. Toronto is the center of the hockey universe. It is. It really is. Does your city have the Hall of Fame? Didn't think so. It is the kind of thing that drives others mad, and makes everyone hate a team and its fans despite no championships since 1967.
ANGER
Maple Leafs fans are generally too nice, and skip this step.
BARGAINING
Well, we've all seen this. People have made money off of the 'Just One Before I Die' t-shirts, with teams like the Toronto Maple Leafs front and center. How many times have you put hands together and prayed for a winner, making some sort of deal with your god or higher being. Sometimes it might be for realistic things. I'll admit to having done this. I've also wished very bad things upon the Bruins, Canadiens, Ottawa Senators and Buffalo Sabres. So far, my god has only dealt with the Sabres to this point.
DEPRESSION
Nothing a few Molson Triple XXX's won't fix. I've officially entered this stage after Detroit's 4-2 win at Air Canada Centre this past Saturday . It is a natural sadness that has been setting in lately, sometimes earlier in the season. I just don't get how a storied franchise with a rabid fan base just cannot put together the pieces for a championship. My god. The Anaheim Ducks, Carolina Hurricanes, Dallas Stars, Los Angeles Kings and Tampa Bay Lightning have etched their names on the holiest of grails in the past 20 years or so. Franchises in inane places. It is so sad. How can this be?
ACCEPTANCE
It is going to be OK. Someone is going to invent a time machine soon, anyway. Or perhaps find a pool like that one in Cocoon, and we can invite Turk Broda, Wendel Clark, Tie Domi, Doug Gilmour, Dave Keon, Borje Salming, Darryl Sittler, Mats Sundin and Tiger Williams over for a dip, creating a super team that will win multiple Stanley cup titles. OK, that's not quite acceptance. But hey, at least the Toronto Blue Jays are kicking off the regular season this week. And they have championships. And the Toronto Argonauts will return in the summer. And they have championships. And then soon, it will be fall again, and next year will definitely be the year for Hogtown to celebrate a Stanley Cup Championship. Toronto Maple Leafs, 2015 Stanley Cup Champions. It just has a nicer ring to it anyway.
Check out our partners at TiqIQ for the best deals on Toronto Maple Leafs tickets for all 2013-14 games.