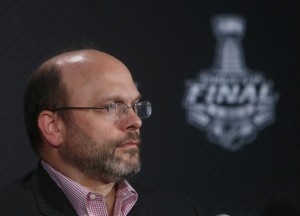 As the 2014-15 off-season approaches, it has become increasingly clear that major changes will take place in Edmonton.
In fact, major changes have already taken place off the ice, as Peter Chiarelli was hired as the Oilers' President of Hockey Operations and General Manager. Further, the Oilers are reportedly also interested in signing one of a number of top NHL coaches, ranging from Mike Babcock to Todd McLellan, while St. Louis Blues head coach Ken Hitchcock could also be available.
With a number of changes having taken place off the ice, the time will soon come for the Edmonton Oilers to make a number of significant moves in order to upgrade their product on the ice. In all likelihood, players previously considered untouchable, in particular the Oilers' young star players, could suddenly be made available on the trade market.
Despite what many in the hockey world may think, the Oilers will need to move one of their young stars in order to adequately improve areas of greater concern, in particular in goal and on defense. Just what player will be on the move has yet to be indicated, however, it may come as a surprise to many that it will likely be a centerman.
---
Trade a Center? Are You Crazy?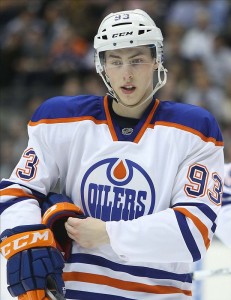 As crazy as it sounds, it will more than likely become a reality.
Although the Oilers have struggled for years to attain considerable skill and depth at the center ice position, the likely 2015-16 Oilers rosters projects to be full, even overflowing with talent at center.
The Oilers, who own the first overall pick in the 2015 NHL Entry Draft, will without a doubt select Connor McDavid, who projects to be a number one, franchise center ice man.
Then there is the "Nuge", Ryan Nugent-Hopkins. At the age of 22, Ryan has already played over 250 NHL games and is nearing the 200 point milestone. Having recently achieved his first 20 goal NHL season, Nugent-Hopkins has been developing quite steadily over the years, especially so since adding considerable strength to his lower body this past off-season.
Oh, and don't be too quick to forget about 2014 third overall draft pick Leon Draisaitl, who made his NHL debut with the Oilers this past season. Despite being returned to the WHL for further seasoning, and rightfully so, Draisaitl also has the size, strength and talent to become a first line NHL centerman.
---
Who Stays? Who Goes?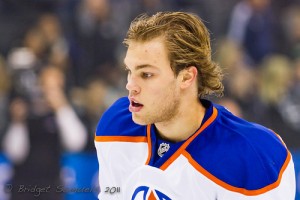 Jordan Eberle and Taylor Hall are elite NHL wingers and are likely top 5 in the league at their respective positions. As a result, they are relatively untouchable and are in all likelihood considered major building blocks heading in to the Oilers' future.
Connor McDavid will supersede Ryan Nugent-Hopkins as Edmonton's number one center, of that there is no argument. However, don't be too quick to ignore the skills, and most importantly the experience of Ryan Nugent-Hopkins, who has been the team's top centerman in the last few seasons despite facing elite NHL centers on a nightly basis.
Edmonton Oilers management has to be pleased with the direction of Nugent-Hopkins' development, especially so in the past few seasons. A budding star, it would be difficult to see the Oilers move Ryan, unless they plan to restart their re-build yet again, this time with McDavid and Draisaitl as the teams top two centers moving forwards into the considerable future.
---
Why It Will Be Draisaitl
A third overall pick, Draisaitl still retains the incredibly high potential of becoming an elite NHL centerman, if properly developed that is.
Although he struggled in his 37 games with the Oilers this past season, scoring a mere two goals and sevens assists, while struggling even more so in the face-off circle, Leon did showcase his tremendous vision and skill on a few occasions.
With relatively little NHL experience, Draisaitl retains a sky-high trade value in any potential deal. With multiple teams mired in re-builds, there will be a number of potential suitors looking to add a sizable centerman to a developing young core… dare I say the Toronto Maple Leafs?
The bottom line is this: when the Oilers off-season begins at the 2015 NHL draft, the selection of Connor McDavid will set into motion a number of monumental changes in the Edmonton Oilers' organization, both on and off the ice. In order to upgrade their ailing goaltending and defense, the Oilers will likely need to trade a young player of significant value.
However, with Ryan Nugent-Hopkins developing well, Jordan Eberle and Taylor Hall amongst the elite, and Nail Yakupov and Justin Schultz stumbling through each and every season, it appears that Leon Draisaitl could be the odd-man out for the Edmonton Oilers, on a team suddenly ripe with talented young center ice man.
At the end of the day, this Oilers' problem is a good one to have.
Brett Slawson is a four-year veteran of The Hockey Writers who covers the Toronto Maple Leafs, NHL prospects, and the OHL's Mississauga Steelheads.
Contact Brett on Twitter @brettslawson92, or by email at brett_slawson@hotmail.com.