Winners of five straight games, the Boston Bruins are shifting into second gear at just the right time.
Carl Soderberg, however, is going in reverse.
The 29-year-old started the first three months of the season strong, scoring 27 points from the team's first 38 games. Boston was struggling to find consistency early on while he was on his way to a breakout season with the Black and Gold. Alongside Chris Kelly and Loui Eriksson, Soderberg centered one of the best third lines in hockey, combining Kelly's grit with the skill and chemistry of "the Swedes".
Since then, 2015 has been a year to forget for Soderberg. The second-year pro has scored eight points from the club's 30 games since New Year's Day. He has not scored a goal in 22 games, tallying just five assists over that span. It has been a frustrating time for the six-foot-three-inch center, but the former second-round pick is confident that the goals will come as long as he sticks to playing his game.
"I know it's going to come. It's always hard when you're not scoring a while and you lose your confidence a bit. You have to stay with it and play a hard game all over the ice and it's going to come."
The Emergence of Spoonman
One player that has hit his stride during Boston's recent run is young prospect Ryan Spooner. The 23-year-old was called up from Providence (AHL) after David Krejci went down with a knee injury the night before in St. Louis. Playing alongside Milan Lucic and rookie David Pastrnak, Spooner has taken advantage of the opportunity scoring nine points in 10 games since joining the big club.
Prior to Saturday's game against the Pittsburgh Penguins, Boston's second-round pick in 2010 had a seven-game point streak, scoring three goals and five assists. This overtime goal in New Jersey was the first of Spooner's career and enabled the Bruins to earn two crucial points in their postseason chase.
https://www.youtube.com/watch?v=ufqLUd9IlMY
The Ottawa native also had a dominant performance in his homecoming games against the Senators on Tuesday night, scoring twice in a 3-1 Bruins victory. Thanks in part to Spooner's strong play, Boston is 8-1-1 since his call-up on February 21.
$oderberg vs. $pooner
It is no secret that general manager Peter Chiarelli is constricted by the salary cap heading into the summer. With Torey Krug and Reilly Smith signed to new contracts, two of Boston's remaining free agents are Soderberg (unrestricted) and defenseman Dougie Hamilton (restricted). The latter is second on the Bruins in points (40) and has taken a giant step forward from his 25-point campaign last season. He is due for a pay raise, especially after watching former Bruin Johnny Boychuk sign a seven-year, $42 million extension with the New York Islanders earlier this week.
Spooner is also up for a new contract in the summer as a restricted free agent.
Soderberg would be a top-six forward on a majority of NHL franchises and should command at least $3 million per year should he reach the open market on July 1. Krejci and Patrice Bergeron are Boston's top-two centers for years to come, so the "One-Eyed Swede" would have to settle for a bottom-six role if he wanted to stay in a Bruins uniform. He has already proven to be a top-six talent in the league and will look to be paid like one in the summer.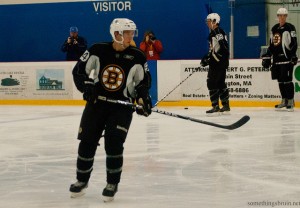 It is hard for Chiarelli to ignore the spark Spooner has given the Bruins during their recent run. The five-foot-eleven center has a ton of offensive upside, but still has holes in his defensive game. Head coach Claude Julien has countered this by starting 55.9 percent of Spooner's shifts in the offensive zone. His young center has responded by adding a dynamic of speed and skill alongside his linemates. Lucic has scored four goals and eight points in his past ten games while Pastrnak has three goals and six assists. It is not a coincidence to see that Spooner's insertion to the lineup has been vital to their success.
Given the salary cap situation, Spooner's potential, and Soderberg's prolonged struggles, it is very possible that Chiarelli could cut bait with number 34. It is impossible not to link Boston's recent success with the play of the Lucic-Spooner-Pastrnak line. Spooner would be a good fit on the third line as he would not have to face top opposition often, leaving that responsibility to the Krejci and Bergeron lines. He would have more freedom to focus on creating scoring chances instead of stopping them.
An interesting decision awaits Chiarelli and the front office this summer. But for now, Bruins fans hope Ryan Spooner and Carl Soderberg can contribute to the playoff push in the final month of the season and beyond.