For the New York Rangers, maybe getting off to poor starts in the regular season is a good sign. After all, who would have had them making the Stanley Cup Finals after they started 3-7-0 in their first 10 games last season? And who would have thought they would own the NHL's best record by mid-March this season, after they were a mediocre 11-10-4 in their first 25 games?
In the midst of the Blueshirts' ascent to the top of the league — a stretch that has seen them go an astounding 32-7-3 in their past 42 games (through the conclusion of Saturday's action) — they have inevitably made history.
Mackenzie Skapski Outdoes Himself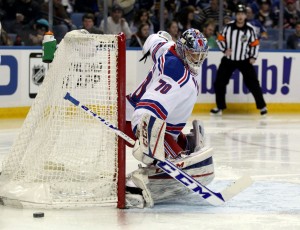 With the Rangers having already gone 3-0-1 in their first four games of a season-long five-game road trip — where they picked up victories against Chicago, the rival New York Islanders, and Washington, behind the stellar play of goalie Cam Talbot — Saturday night's tilt in Buffalo against the lowly Sabres hardly seemed like a forum for anything truly special to happen, in a relative sense.
But Mackenzie Skapski, the 20-year-old third-string goaltender who won his first (and up until Saturday, his only) NHL game in Buffalo last month, got another opportunity and actually topped his sparkling debut performance by shutting out the Sabres. In so doing, he helped make a bit of history for the Rangers, which is made even more special by the Rangers being an Original Six club.
This is the first time in #NYR history that three goalies have recorded at least one shutout: Lundqvist 5, Talbot 5, Skapski 1

— New York Rangers (@NYRangers) March 15, 2015
This franchise record not only speaks to the strength of the club's goaltending, but also to the Rangers' overall play in front of each netminder. The Rangers play a strong team game and have tightened up especially as of late. When there are defensive breakdowns, the goaltending is there for them.
To that point, Skapski only had to make 20 saves to record his first career NHL shutout, but among those 20 were several difficult and highlight-worthy ones, including a sensational stop on a Brian Gionta shot off a 2-on-1.
The Rangers' Stinginess is Back
As mentioned, Skapski and Talbot have been huge for the Rangers, but overall as a team, their defensive game has returned to the form Blueshirts fans have become accustomed to seeing over the past few years. In fact, the stats show that they are playing better than ever in that area, helping them achieve a 4-0-1 record on their aforementioned five-game road trip.
#NYR have allowed one goal or fewer in regulation in five consecutive games, all on the road, for the first time in franchise history. — New York Rangers (@NYRangers) March 15, 2015
The Rangers also only gave up one goal in a 4-1 home victory against Nashville just prior to their road trip, so that's six straight games total of giving up only one goal in regulation. Credit is due to head coach Alain Vigneault and his balanced system. While he has brought more offensive flair to the Rangers' game since he became the club's new head coach before the 2013-14 season, it certainly has not been at the expense of defense.
Since the start of the 2013-14 season, #Rangers have allowed one goal or fewer in 56 games. That's the most in the NHL over the span.

— Seth Rothman (@RothmanHockey) March 15, 2015
In February, they were winning high-scoring games, typically giving up three or more goals per game but still coming out on top. Now here in March, they are winning low-scoring games. So the Rangers can win either type of game, making them a nightmare opponent for pretty much any other team.
Some Other Records and Stats (Just for Fun)
As alluded to at the outset, when a team goes on an extended run of winning like the Rangers have for much of this season, there are going to be some eye-popping and record-breaking statistics that come with it. While some have been discussed, here are a few others — just for fun.
Regarding Skapski's shutout:
#NYR Stats: @Skaps29 is the first NYR goalie to get a shutout in one of his first two NHL starts since Paille in 1957. — New York Rangers (@NYRangers) March 15, 2015
The Rangers are also dominant on the road, and are threatening to break the single-season franchise record of 25 road wins in a season that was just set last year:
The #NYR closed out their five-game road trip 4-0-1 and are now 9-1-1 last 11 on road..their 22 road wins lead the league

— New York Rangers (@NYRangers) March 15, 2015
Rangers 17-1-1 in stretches of three or more games on the road this season. Right, @DocHerceg ?

— Rangers Report (@rangersreport) March 15, 2015
Suffice it to say that the Rangers have had a remarkable season, particularly since early December, at which point they not only shook off a mediocre start, but began to go on an absolute tear. Throw in the fact that the team is 14-2-3 since franchise goalie Henrik Lundqvist was sidelined with a vascular injury (that's two regulation losses in the past month and a half!), and New York's accomplishments become even more incredible.
For the Rangers though, a team that got to the Finals last season, not much of this will really matter unless they win the ultimate prize and hoist the Stanley Cup this year. So much of that is left to chance, but if the Blueshirts keep up this level of play in the postseason, they could very well challenge for Lord Stanley's trophy.
Tom has been with The Hockey Writers for almost four years. After previously covering the LA Kings and the New York Rangers, Tom now covers the Anaheim Ducks.
While in college at Clemson University, the 2016 college football national champions, Tom wrote game summaries and feature articles for the official team website of the Greenville Drive, a Class-A minor-league baseball team and affiliate of the Boston Red Sox. Tom is happy to be able to continue to fulfill his passions for sports and writing with THW.