When it was announced earlier in the month that Henrik Lundqvist would be out for at least three weeks (and likely more) because of a neck injury suffered after taking a shot to his throat in a freakish play, everyone knew that solid backup goaltender Cam Talbot would have to step into the New York Rangers' starting role. The domino effect, though, was a bit of an afterthought. Someone would have to fill in as the Rangers' backup, and ultimately would have to play at some point so Talbot could get some rest.
Skapski Gets His Chance
Enter 20-year-old Mackenzie Skapski. A sixth-round draft pick of the Rangers in 2013, Skapski likely never imagined he would get a chance to play for the big club this year. But New York needed someone to back up Talbot once Lundqvist was placed on injured reserve, and Skapski was the guy, having played himself into the number one role for the Hartford Wolfpack. In 24 appearances for the Rangers' AHL affiliate, Skapski has compiled a 12-7-1 record, with a .914 save percentage and a solid goals against average of 2.38.
Despite Skapski being called up, it was clear that Talbot would get nearly all of the starts for the Rangers during the King's absence. But at some point — especially with the Rangers' busy mid-February schedule — Talbot would have to rest and the team would have to give Skapski his shot.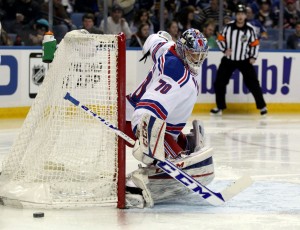 That first opportunity finally presented itself in the form of a February 20 matchup against the lowly Buffalo Sabres. Of note, this was actually a makeup game for a contest that was previously scheduled for November 21, but was postponed because of a blizzard. The rescheduled game ended up being the second of a back-to-back for the Rangers. It was a logical time to give Skapski his first action in the NHL — Talbot needed the rest, and the 20-year-old could get his feet wet against the league's worst team.
A Rough Start
Skapski, who was born one day after the Rangers won their last Stanley Cup in 1994, received a rude awakening to the NHL. Sloppy coverage by the New York defense led to a wide-open Matt Moulson right in front of the net. Moulson took a pass from Torrey Mitchell for an easy goal just 14 seconds into Skapski's first NHL game. Immediately, he and the Rangers were trailing the Sabres 1-0, and his NHL career was off to quite the inauspicious start.
"It was tough," Skapski said about the beginning of the game. "Being on the road and them scoring 14 seconds in, it's not the start you want. I seemed to rebound from that and I was golden the rest of the way." (blueshirtsunited.com)
A Strong Finish
The young netminder was pretty spot-on in his self-assessment, as he would pitch a shutout for the game's final 59 minutes and 46 seconds. The Rangers, meanwhile, would control much of the play and receive goals from Carl Hagelin, Rick Nash, and Mats Zuccarello en route to a 3-1 victory. Skapski settled down and seemed to get better as the game went on, and as the Sabres finally were able to start firing some more shots at him in the third period.
"He had some work in the third period," said head coach Alain Vigneault. "He didn't have a lot of work in the first and second. He had some saves he had to make. It was definitely not the way he wanted and we wanted to start." (blueshirtsunited.com)
Skapski finished with 24 saves — including 13 in the third period — in locking down his first career NHL win in his first career game. His teammates, including captain Ryan McDonagh, were impressed with his performance — particularly how he rebounded after a difficult start.
"Giving up a goal on the first shot isn't ideal; it can make him more nervous and antsy but I thought (Skapski) stayed with his strengths and he stayed relaxed and calm in there," said McDonagh. I'm pretty sure he had a smile on his face all through the game. He made some big saves on the penalty kill. He did his part for us to get a big two points." (Ranger Rants)
With the Rangers not playing any games on consecutive days until March 10 and 11, Skapski might not see much playing time in the near future. That said, there is still no clear estimate for when Lundqvist will return; he has begun some light skating for cardio purposes but not much else. Depending on that and how the Rangers and Talbot — who has had his ups and downs since taking the starter's role — fare, Skapski could see more opportunities. He relishes any additional NHL action he can get.
"I just want to keep winning," said Skapski. "Right now, I'm 1-0. I'm undefeated. Hopefully I can keep it rolling for as long as I can." (blueshirtsunited.com)