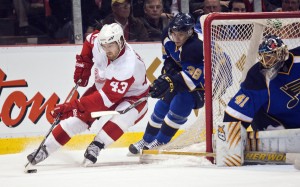 Qualifying an implied statement with a question mark is, in my view, a mild act of cowardice.  Say what you mean with conviction or say nothing.  That's why the headline of this post is a bit bothersome, but I see no other way to express the suspicions that the recent concessions made by the NHL have raised.  What prompted the league to basically surrender its position regarding previously signed contracts?
If Tweets and suggestions made by journalists and "insiders" have any basis in truth, then we should expect this asinine stalemate between the union and the league to end shortly. But the suddenness in the change of tone has given some observers pause.  Speaking only for myself for a moment, it's given me the impression that the change of tone was a scheduled event.
Planned, to put it mildly.  Rigged, to put it fiercely.
It would be arrogant, and certainly naive, to believe that the incessant outrage coming from fans and bloggers has broken the will of the owners; the faction I lay the majority of the guilt in front of.  It does not seem as if the solidarity amongst the marquee players has waned, but perhaps "marquee" is the critical word here.
Most of the players in the NHL are not marquee players. What qualifies a person as an insider is not exactly a science.  Knowing someone knee deep in the industry, earning their trust, and receiving information as a result might be a start.  If this is the case, then try this on for size…
Red Wings not named Pavel Datsyuk and Henrik Zetterberg have a much shorter window of opportunity to earn what they can while they can.  This may prompt marginal players not to cross the picket line, but attempt to move it.  Fourth line grinders are not what the European leagues are looking for, and players like Justin Abdelkader and Darren Helm know it.  Lower level North American leagues are also reluctant to add such players since it would require cutting skaters who are not NHL ready.
Managers of such teams will not risk adding skaters who are gone the moment a new CBA is signed.
The most poisonous election of the last 30 years ended last night.  We have seen what kind of progress comes from austerity: none.  We now have an opportunity to start cutting deals, and deal cutting is the only way people with opposing philosophies can survive and thrive together.
Stubbornness should be saved for the enemy.  The league and the union are not enemies.  Liberals and conservatives are not enemies. Compromising is not a sign of weakness, but a sign of great strength.
Let's get strong.