While the lockout has deprived Dallas Stars fans from seeing offseason acquisition Jaromir Jagr in the NHL, the man himself has been busy with Kladno of the Czech Extraliga. Jagr, who owns and operates the Kladno Knights in addition to playing for them, has dominated the league alongside teammates and fellow NHLers Tomas Plekanec, Jiri Tlusty, and Marek Zidlicky. Kladno sits in second place of the Extraliga, and Jagr and Plekanec are both among the top five scorers in the league.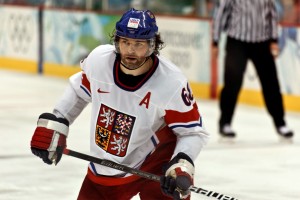 With Stars General Manager Joe Nieuwendyk in attendance, Jagr netted a hat trick in a 5-1 victory over Sparta. He followed that performance with a four point night, leading Kladno to a 7-2 victory over Chomutov. Jagr's 26 points in 16 games is second only on Kladno to Plekanec's 28 points, despite Plekanec having played one more game and being 10 years younger. It's obvious that Jagr is still an elite talent in the Extraliga, but Stars fans should remain aware that success in the small Czech-based league will not necessarily translate to success in the National Hockey League.
Jagr himself is aware of this fact and knows that his time as an NHL player is coming to an end:
"But on the other side … I don't have many games left. I would like to play in the U.S. as soon as possible, like everybody. For this type of hockey, I've still got time left. But for the NHL, I don't have many games left."
Jaromir Jagr signing with the Dallas Stars, for a high priced $4.55 million contract over a single year, has been seen as a both a publicity stunt and an honest attempt to improve the team in the short term, bridging the gap between the present and future of the team, sure to be dominated by numerous above-average prospects throughout the system. The Philadelphia Flyer's Claude Giroux, who went from 76 points in 2010-2011 to 93 points in 2011-2012 with Jaromir Jagr on his wing, no doubt benefited from the presence of one of the greatest to play the game.
Joe Nieuwendyk has admitted that, while the final decision remains solely in the hands of Stars head coach Glen Gulutzan, he would like to see Jagr on the first line with Loui Eriksson and Jamie Benn, two of the Stars' top young forwards who, like Giroux, could benefit immensely from Jagr's experience.
A line like that in addition to a second line featuring Derek Roy, Ray Whitney, and 2011-2012 Stars leading goal scorer Michael Ryder would create a lethal combination of offense and a top six that is vastly improved from last year. The Stars floundering power play, which was dead last in the NHL, should also see an improvement. While Jagr would just be a single cog in the Dallas Stars machine, he's a cog that could bring out another level in the Stars in all aspects on the ice.
It doesn't hurt that the addition of such a player would without doubt be a major draw, helping to increase Dallas' shrinking attendance.
Of course, none of the hopes and plans for the Dallas Stars and Jaromir Jagr matter if the NHL remains locked out. With talks between the NHL and NHLPA having resumed, cautious optimism has begun spreading throughout the hockey world that the two sides may be closer to a deal than ever before. Whether or not any traction is made remains to be seen, but with time running out on the NHL season and Jagr's career as an NHL player, Stars fans are anxiously awaiting to see whether they will be able to see #68 wearing the black, green, and gold of the Dallas Stars.