March 8, 2004.
It was a dark night at GM Place in Vancouver. Everything about the game as we knew it would change forever.
The score was 8-2 for the Colorado Avalanche over the Vancouver Canucks with too much time left in the 3rd period. The Avs clearly outmatched the Canucks in almost every facet of the game except for the skirmishes that took place throughout. The game was clearly out of reach for the Canucks, but the negative feelings that had been brewing over the past several weeks came to a head on one swift and tragic moment.
Viewer discretion advised:
The Hockey Code
Is there such a thing as a Hockey Code? We all hear that hockey players abide by some unwritten rule or code. Here's one rule that seems to resonate with some players:
"Don't go after our star player, or face retribution…"
When Wayne Gretzky entered the NHL, everyone wanted a piece of him. Fortunately, the Edmonton Oilers had a guy named Dave Semenko who looked out for the Great One. But other players weren't so lucky. Mario Lemieux was the lone giant in Pittsburgh for many miserable years until championships and injuries cut his stellar career short. Sidney Crosby was always a target and it's a miracle that he can still play without a bona-fide goon. (Georges Laraque did play alongside Sid but he didn't last very long with the Penguins.) Crosby got rattled around the ice until he got hit on the head by Washington Capitals forward Dave Steckel. In today's NHL, there's hardly any retribution anymore because of the Bertuzzi-Moore Incident.
What led to this? Markus Naslund was doing just fine, leading in the NHL in scoring. He had help from teammates Todd Bertuzzi and Brendan Morrison on the "West Coast Express Line." Naslund had built a fine reputation for himself up to that point. He was a well-respected all-star and captain of the Canucks. Everything was going well until this happened on February 16:
Coach Marc Crawford wanted Steve Moore's head. So did Brad May who offered a "bounty." Todd Bertuzzi labelled Moore a "piece of shit", and many other Canuck players who wanted to exact revenge. Everyone marked March 8 on their calendars. The wheels were set in motion.
The Impact from the Incident
From that moment forward, Markus Naslund would never be the same. Markus played his remaining years with his eyes over his shoulders. His production dropped significantly, and he retired from the NHL in 2009. He retired as a New York Ranger because of his sour relationship with Coach Alain Vigneault.
Brad May's reputation wasn't the same either. He signed with Colorado much to the dismay of local fans who felt May inadvertently destroyed Steve Moore's career. He moved to Anaheim where he won a Stanley Cup in 2007 and finished his career with Toronto and Detroit. May is currently a commentator on Rogers Sportsnet.
Matt Cooke was somewhat under the radar when the Incident occurred. He did earn a fight with Moore six minutes into the game. His reputation & aggressive style of play would later garner some controversy, especially when it came to threatening careers. Just ask players like Artem Anisimov, Scott Walker, Marc Savard, Fedor Tyutin, Ryan McDonagh and Erik Karlsson. So much for following the Code.
According to Steve's brother Dominic Moore, Steve has "never been the same." And Steve Moore's family contends that he "can no longer study effectively on his own. . . . He loses focus and is inaccurate and forgetful. His communication skills, the ability to quickly and clearly follow more complex conversations, for example, are compromised. He has difficulties establishing priorities and making decisions. . . . His judgment is questionable." Clearly, Moore's hockey career is over but his personal living standard may also be affected since the Incident.
In the middle of Moore's $60 million lawsuit against Bertuzzi, Moore's attorney Tim Danson has expressed frustration at the silence from current and former players. thus far, Markus Naslund, Daniel and Henrik Sedin have refused to testify on behalf of Moore. Perhaps because they share a tight dressing room, they follow another unwritten rule: "Don't rat out your teammates." So much for following the Code.
The fall out from the Incident resonates with some players and coaches many years later. In a recent interview, former ex-Avalanche enforcer Scott Parker went so far as to justify what Bertuzzi did to Moore. Was Moore's hit on Naslund in violation of the Code? Yes, you don't do that to a star player. Prepare for retribution, Steve. And since Moore was a Harvard player, what intellectual player in his right mind would leave his feet off the ice and go to elbow the NHL's top scorer? While that may be a "justifiable" arguement, it still doesn't warrant what Bertuzzi did to Moore.
Has the game changed for the better since the Incident? Depends on who you ask. There have been an increased number to head shots, gross misconducts, and man hours lost due to injury, making the game somewhat intolerable to digest. Everyday, there's been calls to take out fighting much to the chagrin of hockey traditionalists. This debate will rage on long after we're done watching the game.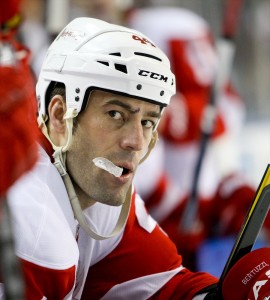 As for Bertuzzi? He bounced around Anaheim, Calgary and Detroit and has been sidelined with injuries. In 2008, he filed a complaint against Coach Crawford for being contractually obliged to hit Moore, to which Crawford denied. The two sides settled in July, 2011. Legal troubles have unfortunately followed Bertuzzi since the Incident, with the lawsuit pending in April.
No matter how long he plays, Bertuzzi will unfortunately be vilified forever for what he did that dark night in Vancouver nine years ago. Fans in Vancouver however will only remember him for this lasting impression:
.
A former novice/atom player, timekeeper and fan of the game, Peter has lived and breathed hockey throughout his life, covering hockey happenings in Edmonton, Vancouver, and currently in Saskatchewan. He is now a contributing writer for the Hockey Writers.