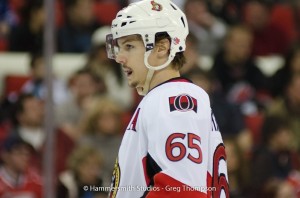 Did Matt Cooke slice Erik Karlsson's Achilles tendon on purpose? The debate has been ongoing, all over social media, since the hit took place. Many fans who have Cooke's dirty reputation etched in their minds' think Cooke returned to his "bad boy" ways and delivered a blow to Karlsson that is crushing to the Ottawa Senators in many ways. A number of Pittsburgh Penguins' faithful believe the incident was an accident.
Senator's Head Coach Paul Maclean was asked about the unfortunate incident. In his post-game comments, Maclean didn't convincingly acquit Cooke of the charges pressed against him. Maclean seemed reminded of the Cooke who's been suspended time and time again by the NHL.
"The injury to Erik, it's unfortunate that it happens on a nothing play that could've potentially been whistled down," said Maclean. "We all know who's involved in it and that's just the way it is. Injuries are a part of the game. We're going to have to move forward."
When asked whether Maclean thought Cooke acted purposely, Maclean stated, "That's not up to me to decide."
The Senators have seemed to hit their breaking point with all of their injuries this season. General Manager Bryan Murray was visibly upset after the game. He is one person who is certain Cooke's actions were dirty.
"It's Matt Cooke," said Murray. "What else should I say? Watch the replay."
With less than 25 seconds remaining in the 2nd period, Cooke and Karlsson went battling into the right corner of Senators' goaltender Craig Anderson. Cooke locked up with Karlsson and began to ride him into the boards. Cooke was taken aback by Karlsson, lost his balance and put all his weight on his right skate. When Cooke tried to regain his balance and bring his left skate to the ice, his skate blade landed inside of the heel of Karlsson's skate. This resulted in the laceration of Karlsson's left Achilles tendon.
This is not the first questionable incident involving Cooke and Ottawa's young phenom, Karlsson. Back in 2010, Cooke took a run at Karlsson when the Sens' best defenseman was completely defenseless. Cooke hit Karlsson from behind after Karlsson was recovering from an initial check dished out by Maxime Talbot.
Even taking Cooke's reputation into consideration, it would be extremely difficult for any NHL player to get their skate blade lodged inside the heel of Karlsson's skate on purpose. The game happens so fast. There wasn't enough time for Cooke to think about what he was doing.
"Obviously, I feel terrible about it. I'm not trying to do that, obviously," said Cooke.
Cooke has a reputation that he is trying to repair based upon dirty incidents that have caused him to be suspended in the past. Over the past two seasons, he has proved that he is a new hockey player. Cooke hasn't been caught in any questionable situations since he was suspended at the end of the 2010-11 season for an elbow on New York Rangers defenseman, Ryan McDonagh.
Last season, Cooke recorded his lowest penalty minute total (44 PIM) since his 1999-2000 season with the Vancouver Canucks. He dressed for 51 games that season. Cooke recorded three minor penalties this season until he was mugged by Senators' enforcer Chris Neal at the end of Wednesday night's contest. Cooke was handed a 10 minute misconduct for the scuffle. He acted as a punching bag and received multiple blows from Neal while dishing out none.
Matt Cooke will be in the clear from this incident. He will not be suspended by the NHL, nor should he be. This was a freak accident. If you still do not believe Cooke is innocent, review the video from TSN. Watch the view at 1:35 of the video and pay attention to Cooke's head. He is looking to his right and has no idea where Erik Karlsson's skates are on the ice.
Bryan Murray and the rest of the Ottawa Senators organization will eventually realize Cooke did not try to purposely injure Erik Karlsson. Once the organization is able to evaluate the video evidence, Cooke should be forgiven for this incident.
Justin Glock has covered the Pittsburgh Penguins for The Hockey Writers since 2011. As a lead writer, his Penguins knowledge traces back over two decades. For any requests, please feel free to contact Justin via email: JGlock10@gmail.com.