According to the Apple software Siri he is! When you ask Siri to "Show me a picture of God" the result is an image of Ottawa Senators Captain Daniel Alfredsson.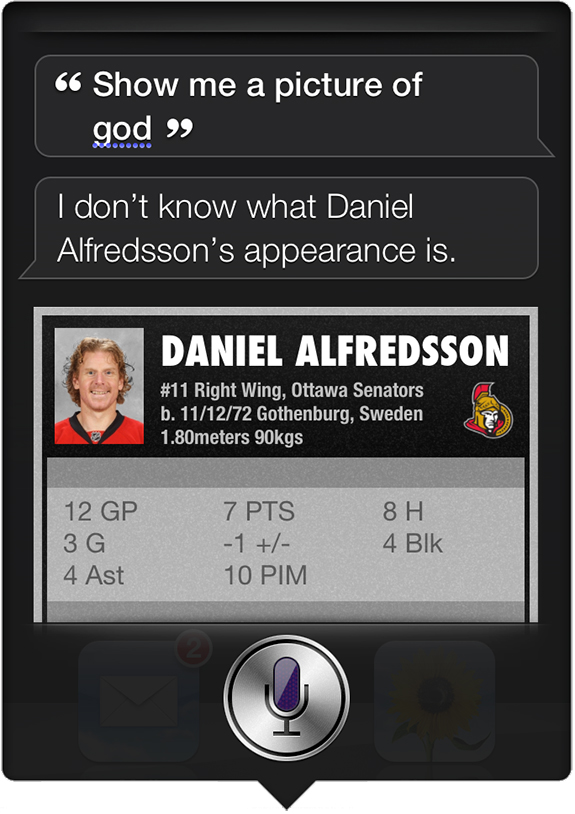 Ottawa radio sports station the Team 1200 has been worshipping Alfredsson for years now on the morning show hosted by Steve Warne who is the founder of the Church of Alfie. The Facebook group of the Church of Alfie has over 2,100 members currently and the phrase "Praise Alfie" is common vernacular in their circles. There is even a Twitter account named @praisealfie.
Nice feature on the Church of Alfie on TSN tonight. High time the church went national… #praisealfie @team1200Ottawa http://t.co/9YhKFRdx

— Steve Warne (@TSNSteve) January 27, 2012
It is easy to see why the Senators Captain is loved and worshiped in Ottawa. His career has been glorious. Alfredsson may not have been a high draft choice being a sixth round choice, 133 overall in 1994. Alfie did however make an immediate impact winning the Calder Trophy as top rookie in his inaugural season. He is a seven time All-Star highlighted by last seasons All-Star Captaincy in his adopted home town of Ottawa.  He is an Olympic Gold Medal Champion with Sweden in 2006 and has played well over 1000 games in the NHL, all for the Ottawa Senators. Alfredsson is the longest serving Captain in the NHL as well. He has had a career worthy of consideration for the Hockey Hall of Fame.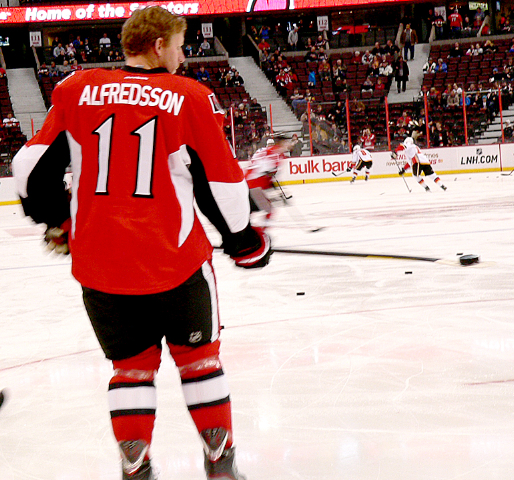 Some of his heroics, or miracles if you will, include scoring the overtime game winning goal to give the franchise their first ever playoff series win over the Buffalo Sabres in 1997. On January 25th 2008 Alfredsson came close to Darryl Sittlers untouchable record of ten points in a game when he scored seven against the Tamp Bay Lightning.  Alfredsson again scored against Buffalo in a playoff series overtime when he would score the winner to send Ottawa to the Stanley Cup Finals.
But perhaps the most endearing memories Sens fan hold of Alfredsson is his mocking of the arch rivals Toronto Maple Leafs Captain Mats Sundin when Alfredsson mocked throwing his stick into the stands, or when again in Overtime Alfredsson ran the Leafs loathed villain Darcy Tucker from behind into the boards, and then turn around to score the game winning goal.
When playing at home, at the 11:11 minute mark of each period, Sens fan can be heard chanting "Alfie, Alfie, Alfie" showing their love for their Captain.
Let's get this one circulating! #PraiseAlfie #Sens @6thSens @SensNation @redscarfunion @silversevensens pic.twitter.com/jfuwI4pT

— Julio Hashem 🇨🇦 (@JulioHashem) April 20, 2012
What does Alfredsson himself think of Siri anointing him as God?
"I guess I need to get to work and decide who the next Pope is," he told reporters.
In Canada, it has been said that hockey is our religion. In Ottawa, hockey fans worship Daniel Alfredsson.  Is he God like? Is he a hockey God? What makes a God a God? If being worshiped makes one a God, then praise Alfie.
Peter Harling of Harling Fantasy Hockey covers the Ottawa Senators for The Hockey Writers. Peter also writes for fantasy hockey coach contributing to the annual draft guide and author of the Fantasy Hockey in Canada column and Hockey Tracker