Underrated, overshadowed, under-appreciated.
It's hard to imagine that those three words can be associated with a player who was an all-star, a top pair defenseman, and an alternate captain (for half of the season) for one of the NHL's best teams in 2011-12.
Yet that is the case for the New York Rangers' Dan Girardi. Because on a roster that lists some of the game's biggest names, Girardi's gets lost in the shuffle.
That is, for those who don't play alongside him or against him.
"He's so consistent on the ice," said Rangers captain Ryan Callahan, who played with Girardi for the OHL"s Guelph Storm for parts of three seasons before the pair joined the Rangers during the 2006-07 campaign.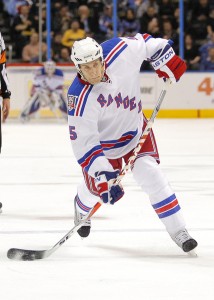 "We can always rely on him in all situations, and when he's (on the blueline) he logs a lot of minutes for us."
Girardi's ice time increased dramatically when Marc Staal missed the first half of last season with post-concussion symptoms. The Welland, Ontario native continued to perform at a high level by keeping it simple.
"I'm not the coach," Girardi said with a smile. "When he tells me to go (on the ice), I go. It doesn't matter who else is out there.
"When I get tapped on the back, I'm ready to go."
Girardi's simple-minded approach has turned him into one of the league's top blueliners. The 28-year-old won't make the flashy play on either end of the ice, and won't be among the league leaders in goals or points for defenseman.
However, that is just fine with Tortorella and company.
In ten games this season, Girardi has five assists, a plus-two plus/minus rating, and is averaging just over 25 minutes of ice time per game.
More importantly, his presence in the lineup — along with defense partner Ryan McDonagh — bolsters and balances the Blueshirts' blueline corps. Never was that more evident than when Girardi missed two games earlier this month with an undisclosed injury.
"When (Girardi) comes back into the lineup, it puts the minutes where they should be," Tortorella said after the Rangers' 4-1 win over the Tampa Bay Lightning last Sunday.
"He's such an important part of our team."
Girardi's ascension to the Broadway stage is even more remarkable because the seven-year veteran wasn't drafted. Even some of Girardi's teammates weren't sure if he would be able to play at hockey's highest level.
"To be honest, I didn't know he was going to grow up to be this type of player," Callahan told the Rangers' official website. "I knew he was good (at the junior level), but the strides he has taken in the last couple years have been pretty amazing."
Girardi may be underrated, under-appreciated, and overshadowed by some, but it's impossible to overstate his importance to the Rangers' success.
Michael Rappaport is a junior at New York University majoring in Sports Management. He is one of the Featured Writers for the New York Rangers for The Hockey Writers, and joined THW in January of 2012. In addition to his work for THW, Michael has been featured in numerous publications such as New York Hockey Journal, Yahoo's Puck Daddy Blog, The Huffington Post, Spector's Hockey, and Kukla's Korner to name a few. You can talk hockey with Michael by sending an e-mail to michael.rappaport@nyu.edu, or if you want to shoot a quick message, following @Mike_Rappaport on twitter.